Celebs
Jeannette Reyes Completes 5 Years of Marriage with Her Husband
Jeannette Reyes who had a modern-themed DC wedding 5 Years ago celebrated her 5th Anniversary and her husband had his wise share of words for the occasion.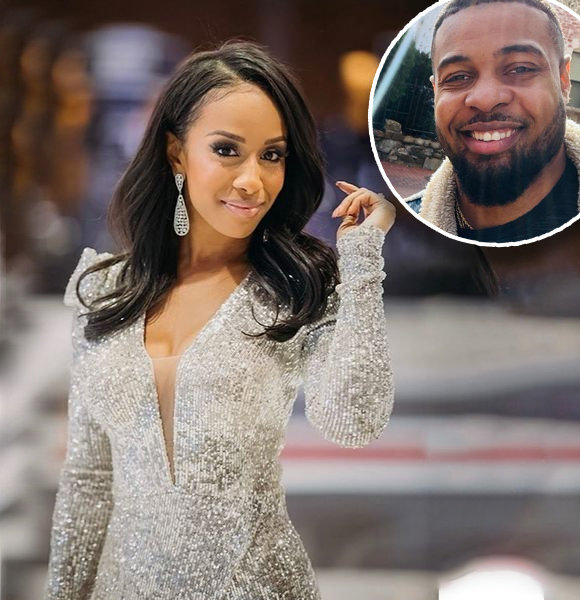 "She's carried me through this marriage. If "imma stick beside him" was a person she's it." As a warm gesture of love and gratefulness, Fox 5's anchor Jeannette Reyes's husband shared a beautiful caption with very raw and real words of emotions on the occasion of their fifth anniversary. 
Sharing beautiful videos of the ever so gorgeous Jeannette Reyes, he shared how marriage is not always glitter and sparkles and that there is a fair share of hurdles. 
Jeannette Reyes's Husband
Reyes's husband took to his official social media to share his in-depth experience with his marriage. While some anniversary posts are limited to good times and happy days, some are raw and real; but each is beautiful on its own. 
Jeanette's husband shared that people take their relationship as 'goals' but maintaining it is very "challenging." He further wrote, 
"Road bumps…sharp turns….forks…ITS A JOURNEY. "
He also credited his strong wife for her capability to go through any "adversity" and finally concluded his note of love by sharing just how grateful he was that she chose him.
Jeannette has been married to her husband Robert Burton since 2016. Her husband, like her, is a news anchor and host who works for 7 News.
The two got married in Carnegie Institution for Science in Washington DC in a Modern themed wedding, and it was stunning.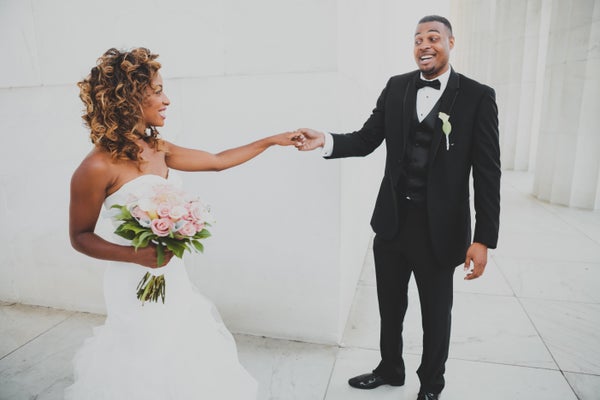 Jeannette & Her Husband On Their Wedding (Source Erika Layne)
The bride was clad in a flowing classic white gown and the groom donned a well-tailored black suit. Both of them complimented each other well. 
As per Essence, the couple met at work and had an annoying date encounter which ensured the two that they were the one for one another. 
Jeannette Reyes, apart from being known for her work as an anchor, is also known for her viral TikTok of posting videos on "News Anchor Voice."
This gorgeous anchor gained a lot of admirers and fans overnight with her video, and by October of 2021, she was named Washingtonian's DC TikTok star.
So it's not much to say that she has a lot of TikTok fans who might be less interested in her professional life and more in her personal life. 
With a million and counting followers on TikTok, she has other promises that she has to maintain in her professional life. Unfortunately, this makes time management hard for her when it comes to her life with her husband. 
More On Another Fox 5 Anchor: Journalist of African-American Ethnicity, And a Mother of 2 Daughters: Dari Alexander's Married Life, Husband
As a result, she is in a long-distance marriage with her husband, who is also occupied with work in ABC news.
When asked by a follower how tough the long-distance marriage was, she shared that it actually is hard, and one has to address the issues before letting it take a bigger shape. Sharing how both partners need to take the initiative on communicating issues, she further said, 
"I always say there's *communicating then there's *over* communicating. Big difference. We learned that the hard way."
Like every married couple, the journey of 5 successful years sure wasn't easy for the couple, but they have somehow made it work, and their love is as fresh as new. 
She also revealed how they plan dates together, quick getaways whenever they can squeeze some times, and do not use their phone much whenever they are together. 
Although the couple doesn't have any kids together, they make the most of any free time they get. For example... well, you guessed it.
MAKING ADORABLE TIKTOKS TOGETHER
The couple makes funny and relatable husband-wife TikTok, and to say the least, fans cannot get enough of these two. 
AND SO CANT WE!
Now backed by a successful marriage and equally rewarding career, Reyes has also had to suffer her share of losses, but she has found the perfect balance to keep her lost ones memory alive. 
Loss of A Parent
Born in Providence, Rhode Island, USA, she belongs to a big family consisting of 11 nieces and nephews.
While answering some fan's questions on her Instagram account, she was asked as to why she still used her maiden name instead of her married name, and her reasoning behind this was simply beautiful. 
She replied,
"I keep it in honor of my dad. He passed away 10 years ago next year. He loved watching and reading the news and was by biggest cheerleader. I think he would've loved seeing his last name on tv"
She further shared how her husband, too, understands her reasoning.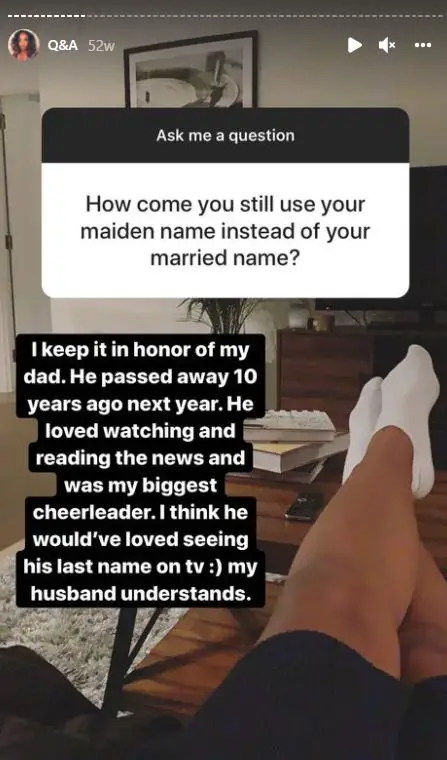 Jeannette Reyes Sharing The News About Her Parent (Source Instagram Story Highlights)
Indeed, he would have been a proud father, and wherever he is today, he sure is proud to see how strong and amazing his wonderful daughter has grown up to be. 
From being one of the most notable anchors in the industry to being a viral social media star, there is nothing this woman can't do.
Keep Reading: Former Fox 5's Amanda Davis Life Too Messy To Have A Married Life With Husband In It? All Of Her Struggles Revealed
It will surely be a treat to see where life takes Reyes in the future as she continues to make a mark in her professional career and write new chapters in her personal life.