Celebs
Jennifer Nicole Lee's Life After Divorce- Dating Someone?
Jennifer Nicole Lee's career has truly been an inspiration to millions. She has come a long way from gaining a significant weight to losing a massive weight to now having a well-grounded career in fitness. 
She is a fitness model, motivational speaker, and author who has inspired millions through her groundbreaking transformation and now helps people through their journey to a healthy lifestyle.
More influential is the fact that she did it all after having two children.
A literal ball of encouragement, what is life like for Jennifer? Follow through to get insight into her personal life, including her husband and children.
Jennifer Nicole Lee's Husband and Family
Born in Rochester, New York, Jennifer Nicole Lee had no athletic background. But, after she had her children, she realized that she had to make a change in her life. 
After both of her pregnancies, her body weight had peaked at 200 pounds. Then, with extreme dedication and hard work, she lost 70 pounds, and there was a career of a fitness guru just waiting to hug Jennifer. 
She now has books, a swimwear line, and hundreds and thousands of people following what she does. 
So in a way, her pregnancy was rewarding for her. With two children and an excelling career, nothing can get better than that for her. 
But along the way, she also had to make sacrifices. One of which was her marriage. She was married to her former husband, Edward Lee, for over a decade. 
The fitness guru was married to her first husband in 1997. Their relationship lasted until 2014, and they eventually divorced.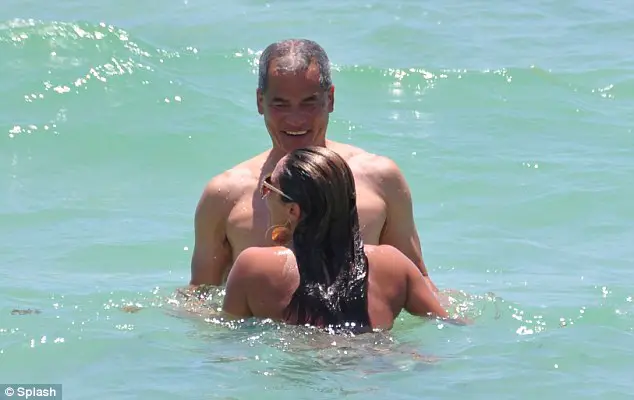 Jennifer Nicole Lee on The Beach With Her Former Husband (Source Daily Mail)
Get to know - Inside Bong Go's Mysterious Family Life
In the 17 years of marriage, the former husband and wife had two children together, two boys, Jaden and Dylan. 
The two boys have been living with her in Miami, Florida. 
What happened between the previous husband and wife is unknown as there hasn't been much information released on their divorce. 
For all we know, she is not married now, and we understand your curiosity is to learn if she is dating now. 
She doesn't talk much about her relationship and keeps the details far from the radar.
She is a busy businesswoman who has a lot on her plate, and she gives most of her time to her clients or to building her business.
So there isn't much other than fitness and the lifestyle she talks about on social media. 
Thus, we cannot confirm her being in a relationship with someone. But, it seems like Jennifer's focus is somewhere elsewhere, and love will find her whenever she wants it to. 
The fitness guru has always been a woman who is hard to please. Her former husband, Edward Lee, was the one she had known since her second year at university. 
The two fell in love with each other, and it was a college romance that ended up in marriage, but it wasn't easy for Edward to impress this beauty. She was acting hard to get before she finally agreed to go on a date with him.
Unfortunately, due to whatever reasons, that relationship did not work out, but that doesn't mean the doors of romance and dating have closed for Jennifer. 
Even if she is in a relationship, we are sure we will find a way to let you in about the specifics as soon as we get the tea. So, keep in touch!