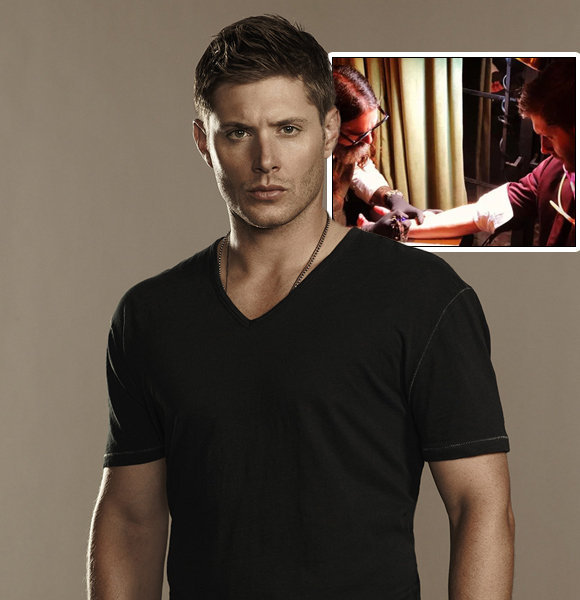 The American television heartthrob Jensen Ackles also most notable as Dean Winchester in the horror-fantasy series 'Supernatural' has only gone from strength to strength in his career over the years.
Over the years, the series has garnered millions of fans and has given immense love to all the stars of the show.
Likewise, the actors, too, have a special place in their hearts for each other. As a result, they decided to get matching tattoos, and let's say fans were both surprised and ecstatic. 
Jensen Ackles's Tattoos
What fan of a show wouldn't be excited when you get to see your fav characters still bonding off-screen and having so much love and respect for each other?
Especially even after the show's end. The show 'Supernatural' ended after 15 years of keeping fans hooked with its amazing storyline. 
Shortly after the finale of the series, an Instagram post popped up that made fans (including us) scream in happiness. 
It was the three characters of the show, reuniting together, in a tattoo parlor getting an ink. 
While looking at the picture, one can think it was just a normal design but reading the caption revealed a purely beautiful moment. 
"@jaredpadalecki [Jared] @jensenackles [Jensen] and myself will forever have a bond that is both special, and permanent. Love you both dearly."
Wrote Jeffery Dean Morgan indicating they got the same tattoo which is now permanent. The three seemed to have inked on the same area of their arm as well.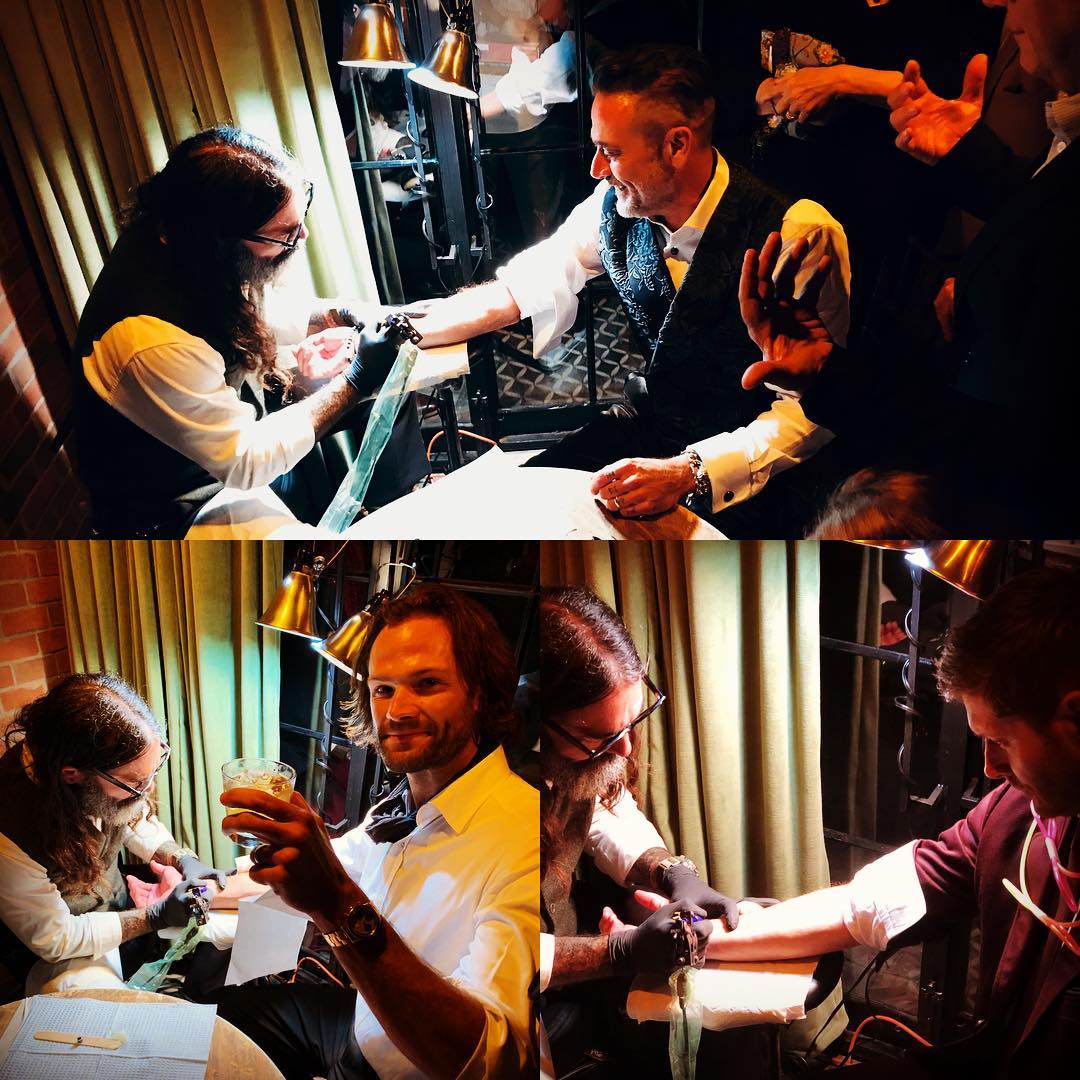 Jensen Ackles's Matching ink with His Co-Stars (Source Instagram)
The trio was Jeffrey Dean Morgan, Jared Padalecki, and Jensen Ackles. In the show, Jeffery played the father of Jared and Jensen. 
Talk about a father-son bonding moment. 
Keep Reading More On The Cast: Is Chasty Ballesteros Married? Or Has A Boyfriend Who Is A Potential Husband Candidate?
Fan's excitement was not just because the trio made matching tattoos. It was also how they were still on close terms with each other. 
[Spoiler Alert]
You see, Morgan's character was killed off on the show, and it was up to his children to continue the legacy. Well, only now their dad seems to be back and having matching inks with his sons. 
But it was astonishing for the fans to see how much love the co-stars share for each other, and they were stoked to see them on such good terms still. 
Apologies, your curiosity must be through the roof to know what the ink was actually about, and here we are going around in circles. 
We just like to build up the anticipation. 
So without further due, what was the design?
What Was the Tattoo? 
As beautiful as the story of the trio's reunion is, not many know how it came to be. It was actually during Morgan's wedding with his now beautiful wife, Hilarie Burton. 
Let's say everyone was at the right place at the right time. 
It was their reception, and a tattoo artist was an attendee who had a small menu of designs. Among the design was a Jean-Michel Basquait crown (if you are a Supernatural fan, then you know) which the groom had especially requested. 
Ackles revealed how his eyes first went to the crown, and he thought, "The crown's kind of cool," but he didn't know that it was actually a Basquait crown.
You Might Like: Catching up with David Haydn- Jones life
He further revealed how Jeff came along and wanted to get the same design, and then Padalecki came about and wanted to do one with them. 
And so they did! But what does it have any relation with 'Supernatural?'
Turns out it actually does. Ackles further said, 
"So now, you know, we're the three kings, [that's] what we call ourselves,"
Adding another reason behind their inks, he went on to say, 
"But also, it's actually a W for Winchester."
So yep! Your fav 'Supernatural' actor might just have a matching ink relating to the longest-running show in CW.