Entertainment
Jep Robertson's Wife Says She Fell for Jep's Sweetness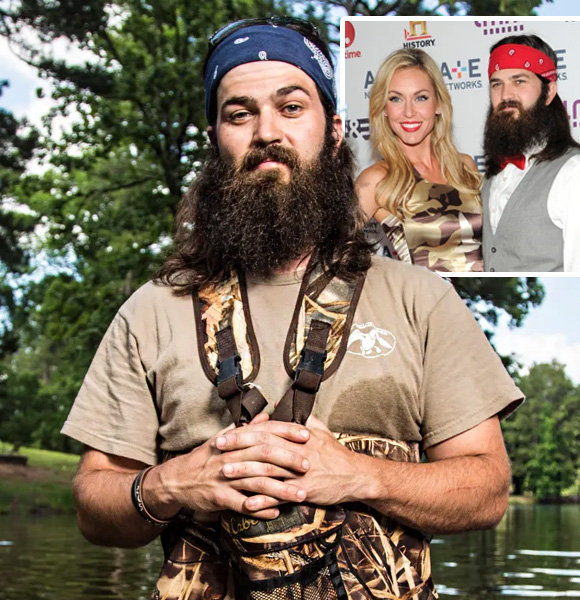 Jep Robertson has risen to popularity with his appearance in the popular reality TV show 'Duck Dynasty.' The show revolved around his family business, including his parents and siblings.
But, Jep has built his own little family with his wife and kids.  After seeing him on the show for so long, viewers have even wondered, 'is Jep Robertson married?' The truth is, Jep is a happily married man.
Who is Jep Robertson's Wife?
Jep has been married to his wife Jessica Robertson since 2001. They have an interesting history together.
It might come off as a surprise, but Jep and his spouse dated for a mere span of four months before getting married.
Their first meeting was at a place you'd never expect to find the love of your life- at the hairdresser. They only exchanged greetings at that time but got to know each other better later, resulting in a marriage that has lasted over two decades.
It might sound like a hasty decision when you hear their love story for the first time, but the husband and wife duo has stood through it all together. They've had their issues in the past and overcame them as a team.
Jessica shared her tale with Fox News and gave a little insight into the early marriage days. She said,
When Jep and I first married we got a little trailer, we never went on a honeymoon, I never had a wedding ring, I had a wedding band. 
The reason behind it was financial issues. In addition, they were young college students, and Jep struggled with drugs, whereas Jessica has a rough past due to her previous relationship. 
On top of that, for the first seven or eight years of marriage, Jep's wife said they could "barely make ends meet."
'Love will keep us alive' was quite their reality back then. So while other couples may have faltered by the pressure and stress, Jep's relationship with his wife only grew stronger over time.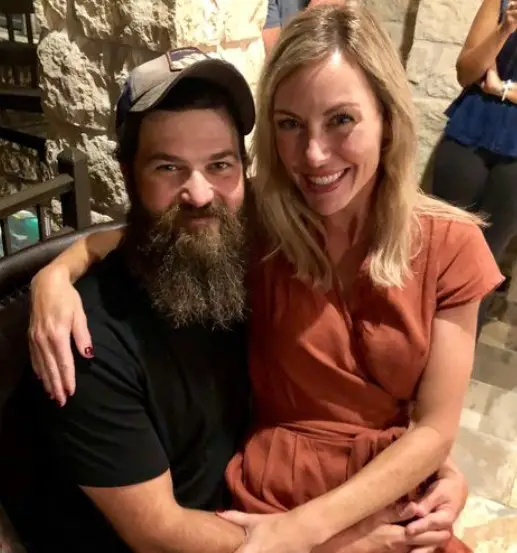 Jep Robertson With His Wife, Jessia Robertson (Source: Instagram)
Get to know - Is Beauty and the Beast Star Josh Gad Gay?
Moreover, Jep's qualities as a man kept his wife beside him. Jessica still fondly remembers how she fell for Jep. His kindness and sweet personality were what stole her heart. 
Soon, she realized that Jep was a complete package, and his family's kindness towards her sealed the deal.
"I, of course, fell in love with the family, and they welcomed me in their home and they were so forgiving of anything I did in my past as a young girl. The way he treated me, so kind and of course he's a cutie," she said.
Jess couldn't stop there and added a few more words of praise for her dear hubby,
I saw so much kindness, gentleness and self control, all these great characteristics that you want in someone.
All those great things kept the marriage going through periods of hardships.
Likewise, Jessica shared some awesome tips on how to strengthen a marriage. According to her, loyalty, forgiveness, respect, and cherishing your spouse are the four main ingredients.
Following those tips, Jep and his wife have become a solid couple and have expanded their family into a seven. 
Jep Robertson's Kids
Jep and Jessica have five kids together. They have three daughters, Lily Robertson Merritt Robertson and Priscilla Robertson, and son Jules Augustus Robertson and son River Robertson.
The pair adopted their youngest son, Jules, in 2016, who goes by the nickname 'Gus.' Jep has become a great father and husband, and Jessica is always beside him.
They are wonderful parents and care deeply for their children. Recently, they moved into a brand new house in Texas and made sure that it had a big backyard for the kids to play in.
Robertson posted this sweet picture of his family in front of the new house.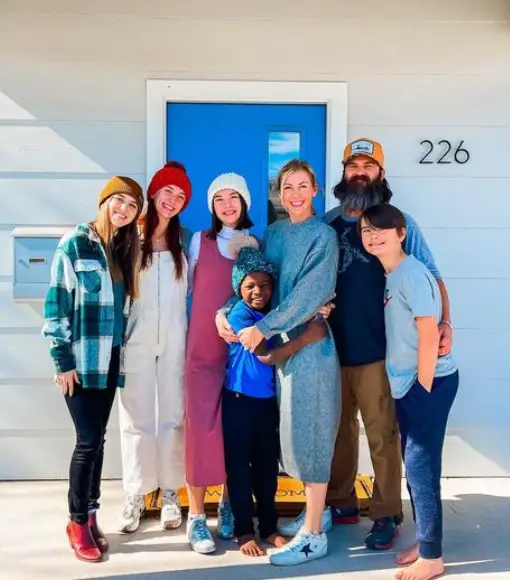 Jep And His Family (Source: Instagram)
The family is all smiles, and the love they share is evident. Jep and Jessica still manage to keep their romance alive by going on dates once a week and spending quality time together.
Similarly, the kids are grown up, but they are still very close to their parents, and they enjoy taking trips together.
Jep is enjoying his time spent with his wonderful family, and with a strong bond, the future is full of love and happiness for the Robertsons.