Entertainment
Jerome Adams's Wife Comes Out As A Survivor After Her Battle With Cancer
Jerome Adams's Has Lived A Contrasting Life As On One Hand He Had To Bear Struggles With his Wife & On The Other Enjoy A Generous Net Worth From His Career.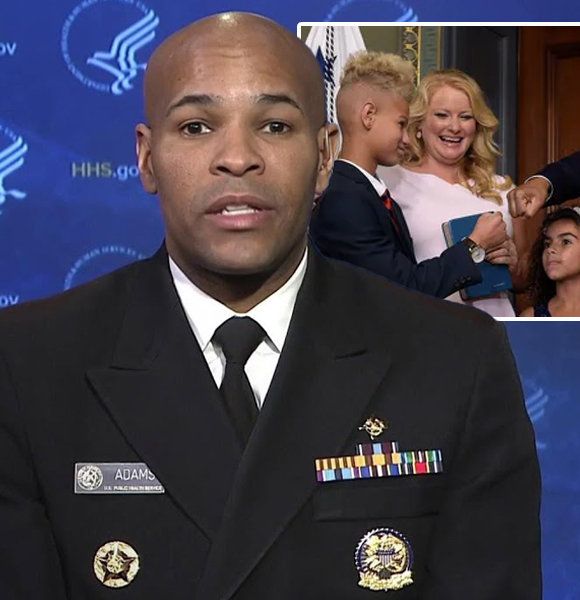 American anesthesiologist Jerome Adams is a hero for many as he belongs to a health fraternity and also served as a surgeon general under the presidency of Donald Trump.
However, what is more, interesting is his wife is a hero of her own, battling a disease that yearly takes away millions. 
Jerome Adams Wife Is A Hero 
The former surgeon general of the United States has climbed a glorious ladder to a successful career that demands extensive expertise and talent. His wife, on the other hand, is a warrior and a survivor of her own. 
Adams married his wife on May 25, 2002, and together they had the blessing to raise three wonderful children together. Two sons Cadenn and Eli, and a beautiful daughter Millie.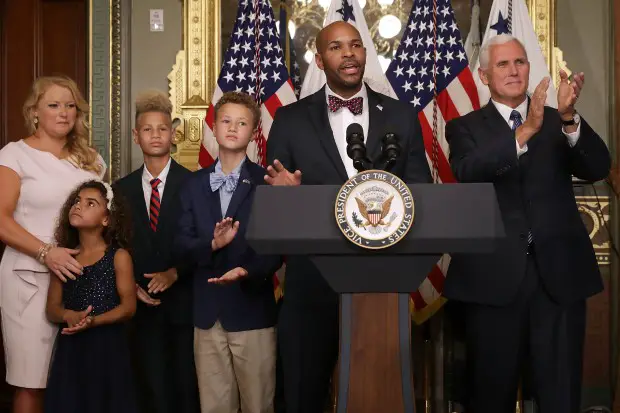 Jerome Adams With His Family (Source TheSun)
However, this wonderful family had to go through their fair share of hardships when his wife, Lacey Ann Ringger, was grasped by cancer not once but twice. 
Articles Related To Trump: Jared Kushner, Son-in-law of Trump, Got an Open Letter From His Own Employee
She now has broken free from the illness and survived the vile disease, and she now speaks very openly about her life now and the stuff that might have led her to go through the experience. 
"At 14 years old, I started using indoor tanning beds regularly-my friend even had one in her house that we both used at least once a week."
Says the twice cancer survivor while hinting that tanning beds are the biggest risks for all skin cancers and melanoma. 
She was diagnosed with melanoma in 2009, seven years after her marriage to Jerome. The early cancer was detected and surgically removed; however, she had to endure the experience again in 2018 when cancer struck her again, as The Sun reports. 
Fighting through it all, in May 2019, after undergoing immunotherapy for a year and more, she received her last treatment and made a full recovery. 
The journey till now sure wasn't easy for his wife, but she came out of it, and it is a blessing that the 47-year-old anesthesiologist is very grateful about. 
Adams stated that he is,
 "blown away at my wife's courage in facing this head on (I'm way more scared than she is)."
However, the experience has somewhat been rough on his children. While his two older sons handled it well, it was hard on his daughter. 
Since then, Lacey has tried to share and speak more on melanoma and skin cancers. 
Another Cancer Survivor: Cancer Survivor Amy Robach: Her Married Life, Husband, and Divorce
Nonetheless, Jerome stood by his wife through all the ups and downs, all the while fulfilling his duty to the country, as a result of which he now can carefreely look after his family and their needs. 
Jerome Adams Salary & Net Worth 
Born on September 22, 1974, Adams firstly entertained his service to the Indiana State as a health commissioner, later to be shifted his duties as the 20th surgeon genera of the US from September 5, 2021. 
Adams would take up the role till January 20 of 2021. He was also appointed to the task force for dealing with the COVID-19 pandemic; however, Adams might not have handed the job so well initially, as he downplayed the pandemic as regular flu. 
Jerome Adams Statement Amidst Pandemic
Adams had also urged people not to use face masks as they were "not effective," and he also stated that wearing the mask could actually increase the risk. 
However, he, later on, reverted his statement and agreed with the general doctors. Adams might get rocky opinions about the way he led the whole situation; however, he now is no longer in the position and currently works as an anesthesiologist. 
Also, we cannot ignore that Jerome might have earned a generous fortune from his service. Now, as per Salary, an average salary of an anesthesiologist is somewhere around $400,700. 
So, undoubtedly the 47-year-old entertains a generous salary and over million-dollar net worth.