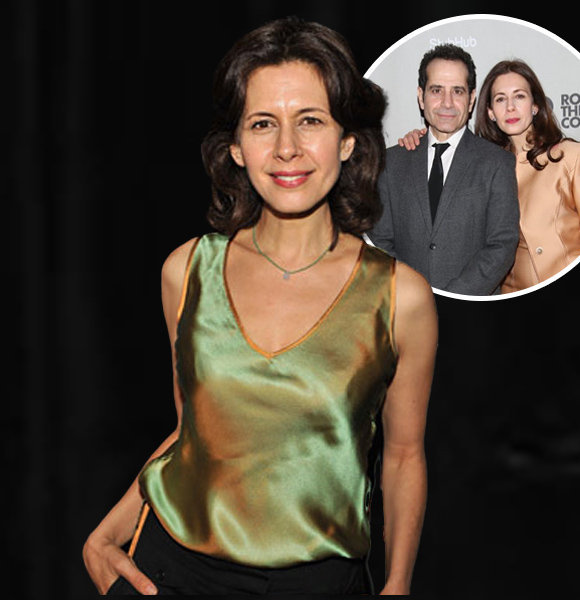 Fiddler On The Roof star, Jessica Hecht has been in the entertainment industry for decades now. Throughout the years, she has won the hearts of millions.
She is most popular for her role as a lesbian life partner, Susan, in the 90's sitcom, FRIENDS. When she appears on other shows, people still recognize her as Susan. 
However, the star hasn't revealed much about her personal life. Fans are curious to know if she's married and has children. Even after so many years, the fans remain unanswered.
Read Also: Missy Peregrym Married Status Now: Meet Canadian Actress Husband
Who is Jessica Hecht's Husband?
Despite being secretive about her life, Jessica has been open about her husband and family recently. She is married to her beloved husband, Adam Bernstein. 
Unlike his wife, Adam is a television and film director. Working in the same industry, the couple fell in love. 
The Hecht-Bernstein couple had a wedding in 1995, where they exchanged vows to love each other forever. 
The couple is very much in love and they respect each other's choices. Moreover, they are growing stronger with time. Jessica says, 
"It's funny, but I've grown to appreciate my husband's aesthetic."
She further shares that her husband calls her "morning hostess" as she wakes up early in the morning and prepares a whole lot of breakfast for the family. 
Jessica Hecht With Her Husband Adam Bernstein (Source: Celebrities InfoSeeMedia)
As it turns out, Adam and Jessica are émigrés from Hell's Kitchen. They lived in a loft for a decade in the mid-West 50s. 
Regarding this, she said to New York Times,
"We bought when Hell's Kitchen wasn't quite happening yet, and it was great, but we decided that having all that open space wasn't so good as our children were approaching their teen years,"
The couple is blessed with two children. Their first child is their daughter Stella Bernstein, who is in her early twenties now. Jessica and Adam have another child, their son, Carlo Bernstein, who just stepped into his twenties in 2022.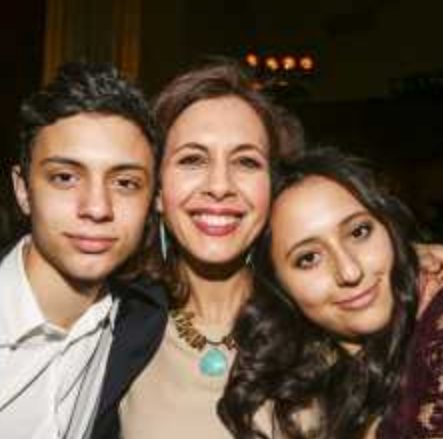 Jessica Hecht With Her Son And Daughter (Source: Celebrities InfoSeeMedia)
The couple is spending the best times of their lives as a family in their home in Midtown Manhattan. 
Discover Out About: Dallas Roberts Wife & Parents | Age 48 'Insatiable' Actor Family Insight
Besides her personal life, fans have been wondering about the details of her life before marriage.  
More About Jessica Hecht's Childhood
Hecht was born to her mother Lenore, who was a psychotherapist, and her father Richard Hecht, who was a physicist on 28th June 1965. Her birthplace is Princeton, New Jersey, USA.
Unfortunately, her parents divorced when she was young. After that, her mother married a psychiatrist; Howard Iger, and they raised Jessica and her sister Elizabeth.
As she grew up, she became a gorgeous woman standing 5 ft 8 inches tall. Her height enhances her figurative body.
The fabulous actress will be turning 57 years old in 2022. For her, age is just a factor as we can see in her work in the recent Netflix series The Sinner, seasons 3 and 4.
Find Out About Her Co-Star in The Sinner: American Actress Abby Miller From The Sinner: Used Past Experience of Dating Affair With Boyfriend to Advantage
Net Worth
Working as an actress for decades, Jessica has earned a hefty sum from her hard work. She worked in movies that highly grossed the box office.
As of 2022, her estimated net worth is $3 million, including her assets and properties. Moreover, she shared a fabulous house with her husband in New York, before they sold it for $3.295 million in 2015.
Regarding the sale of the house, Jessica spoke to The New York Times,
"When you haven't lived in a place long enough or your kids haven't experienced enough in it, your home can feel like a no man's land, and that's the way I felt here for the first three years,"
Receiving tons of love from her fans, Jessica is enjoying her life in New York with her husband and children. Moreover, her career is definitely progressing over time.