Entertainment
Inside Kaitlin Bennett's Challenge During Her Wedding And Life Infront Of The Media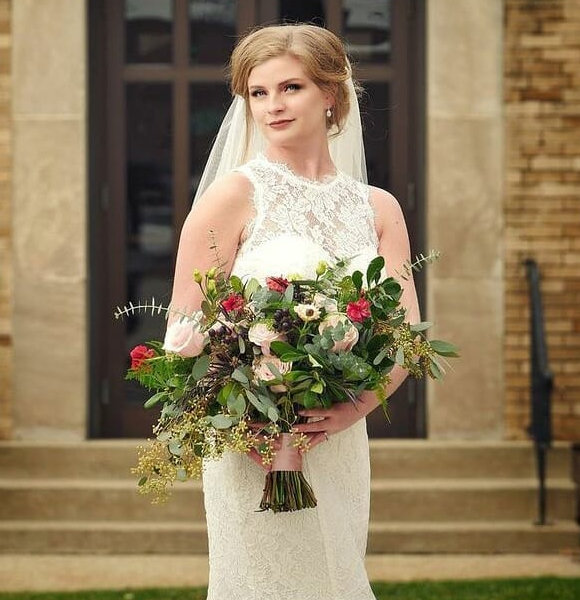 American gun rights activist Kaitlin Bennett looked back at the challenges she and her partner faced during their wedding.
Sharing a fresh wedded image with her husband, Bennett shared how her second wedding was canceled due to the pandemic, but she was happy that they could make one wedding happen. She wrote,
Even through all the challenges we faced this week, including having our second wedding canceled because of a global pandemic, we were still able to make 1 wedding happen! I'm so happy that everything worked out to end up being a perfect day with the most important people. Now he's stuck with me forever.. I love you, Justin!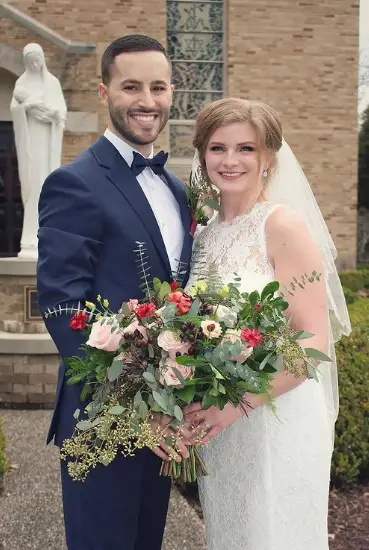 Kaitlin Bennett And Her Husband Justin Moldow (Source Instagram)
Kaitlyn's marriage to her husband happened after almost a year from their engagement.
Life After Marriage
Benett got married to her husband, Justin Moldow, on March 19, 2020. The pair celebrated their one year of successful marriage on March 19, 2021. Bennett's husband Justin took to his Instagram to wish his wife a happy married anniversary.
He called himself the 'Lucikest man alive' to be married to his wife and further expressed his happiness and gratefulness. He wrote,
I am truly the luckiest man alive and can't believe I've been able to call you my wife for an entire year now. The one sight I'll never tire of seeing is the beautiful smile on your face, and I'm so happy I'll get to see it for the rest of my life. Happy 1st anniversary
Justin proposed to Kaitlin on February of 2019, and the couple got married shortly after in 2020.
According to The Sun, Justin is the owner of his political commentary site, Young Jweffersonias, established in 2015. He is of Catholic background and is also a graduate of BS in Marketing.
Bennett and Justin shared the title of boyfriend-girlfriend for 2 years before they got married, marking their 3 years together as of 2021.
Justin's Instagram account is a testament to his love for his wife. Almost all of his Instagram posts are filled with pictures of him and his wife.
The pair enjoy their time going on vacations and baseball games.
Kaitlin and her husband might be happily married to each other, but their marriage is questioned by the outside world quite a lot.
Kaitlin's reputation has struggled quite a bit on social media. She found herself in a hot pit back in 2018 for openly carrying an AR-10 rifle at Kent State University. Since then, she often receives backlashes from social media users for her beliefs and statements.
In Trouble For Her Actions
Kaitlin's beliefs are often taken as conservative beliefs as she, at times, has shown resentment towards the LGBTQIA+ community.
On Jan 16, 2020, a Twitter user shared their hatred towards the 25-year-old when she allegedly caused some trouble on the pride rally. They wrote,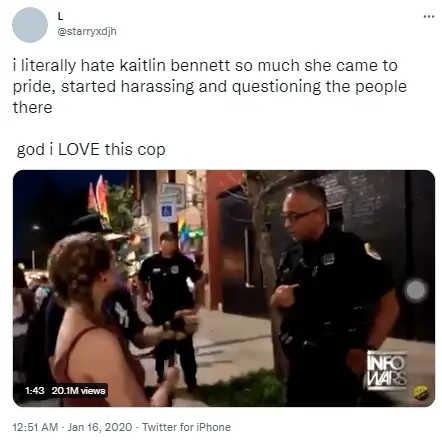 Kaitlin Bennett On The Pride Parade (Source Twitter)
Shortly after her appearance at the pride parade, the Far-right gun activist yet again found herself surrounded by hate when she allegedly harassed a student of the University of Akron, Josh.
PinkNews covered the story where Kaitlin can be heard discussing with John and apparently telling him to "act like a man and not a little ..."
To her statement, Josh clapped back with,
"And you should act like a decent human being,"
When her statement was questioned as a form of insult, the 25-year-old countered it to be a false narrative and claimed that she could not be anti-gay as a gay man approached her to have a picture with her.
Kaitlin's media controversy subjected her to a ton of backlash, which eventually led her husband, Justin, to catch fire as well.
Social media later claimed Justin to be gay. One Twitter user wrote,
Justin, however, has not given any reaction to the remarks, and he stays posting his wife's picture on his Instagram.
More On Kaitlin Bennett
Originally born as Kaitlin Marie Bennett, she is often described as a conservative social media personality.
Born on October 15, 1995, she completed her education at Kent State University.
Her parents raised the native of Zanesville in a city in Muskingum Country, Ohio.
The Sun reports her to be a Trump supporter who holds strong anti-communist and pro-capitalist views.
Kaitlin and her husband are owners of Liberty Hangout, which is a libertarian media outlet.
Apart from that, their store also has their own merch. Although the exact figure of her net worth is unknown, she and her husband's venture surely is a profitable business that helps them sustain their family.