Entertainment
Wedding Bells Ringing For Katie George? Who Is Her Soon To Be Husband?
Katie Geroge might be getting married pretty soon as her husband-to-be got down on his knee and proposed to the beautiful sportscaster in front of a breathtaking view.
American Sportscaster Katie George is a dream girl for many. But sorry to break it to her fans by your favorite Sportscaster will soon be happily married.
Blue sky, snowy mountain, green trees, and the love of her life with one knee in front of her. That is how the American Sportscaster was proposed by her beau back in 2020.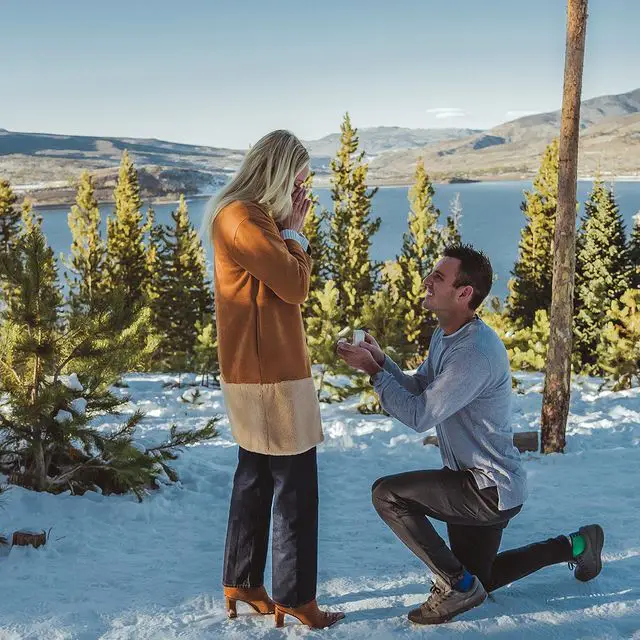 Katie Geroge's Boyfriend Proposing To Her (Source Instagram)
An Instagram post captioned "2020 highlights," featured three images, but the one that catches the eye is the last image that shows the moment of the couple's proposal.
The picture was posted by George's soon-to-be brother-in-law, with an outstanding view, complimented by two couples completely in love and ready to take their life on to the next chapter.
Another Sportscaster: NBC's Sportscaster Charissa Thompson: Married Life and Divorce? Current Boyfriend?
New Begining In Life
Katie and her boyfriend, Paolo John Prince DelPiccolo, have been in a long-term relationship. Paolo's post with his beau dates back to June 2, 2015, where he thanked his girlfriend for a lovely birthday weekend. Posting pictures with his stunning girlfriend, he wrote,
Thanks for a nice little bday weekend boo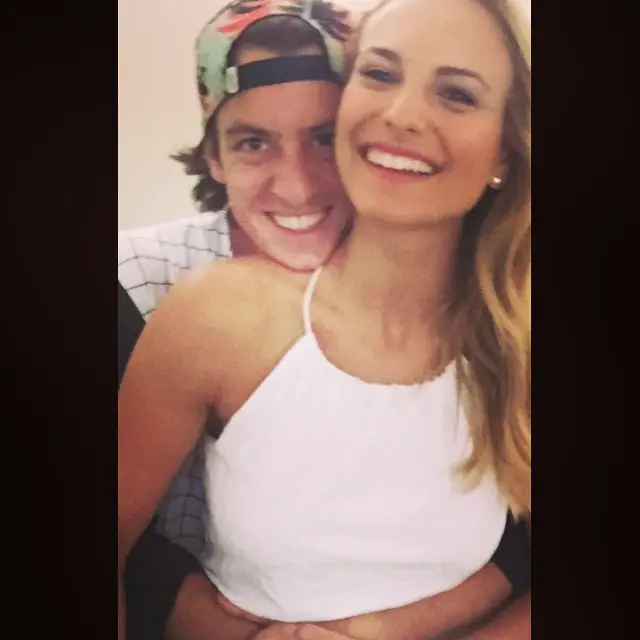 Katie George With Her Boyfriend Paolo (Source Instagram)
From a birthday post to a commitment of a lifetime, the couple sure has come a long way. As of 2015, Katie and Paolo were already dating for three years, which means that the couple has been together for almost a decade now.
The title should really have been "10 years together", but we wouldn't spoil that easily, would we?
Paolo is an American soccer player, and looking into the career that Katie is invested in, it is only fair to call them a match made in heaven.
Their well-wishers, along with us, are undoubtedly excited about their wedding, and we cannot seem to get enough of the cuteness. But it has been a long since the couple has posted anything about each other.
While this does cloud some doubts in mind but the couple may be planning to bombard their fans with a wedding announcement soon.
You never know!
While her soon-to-be husband is a professional sports player, George also has had her fair share of play in sports.
Career That Gradually Evolved
Geroge attended the University of Louisville after graduating from high school. In her college, George was a force to be reckoned with when it came to volleyball.
She played for the Louisville Cardinals women's volleyball team and helped her team win regular season and tournament championships in three different conferences.
In 2014 the Cardinals won their first-ever ACC team title, and in 2015 she was named ACC player and settler of the year.
Katie then shifted her career objective towards modeling when she was crowned Miss Kentucky USA in 2015. Although she did not get to win Miss USA, it was not the end of the road for George as she already had a promising future ahead.
Miss USA Winner: Cara Mund, The Winner of Miss North Dakota is Now Crowned as Miss America 2018
After completing her bachelor's degree in 2015, she worked as a reporter at WDRB at a local station. Eventually, she joined Fox Sports Wisconsin and covered the 2018-2019 NBA season.
She currently works with the ACC Network and ESPN as a sportscaster.
George lives a fulfilling life with a loving partner and a satisfying career, but that is not all she has in her life. She has a loving mother that is very proud of her and a family that shares an unbreakable bond.
Loving Family Of Katie
Katie was born on December 3, 1993, to parents Tim Geroge and Annie George. She belongs of Lebanese descent that emigrated from Beirut to Lebanon, Kentucky. 
Like Katie, her mother is also very active on her socials; on the occasion of National daughters day, her mother, Annie, uploaded a series of pictures on her Instagram and expressed how proud she is of her daughter and her daughters-in-law. She paired the picture with the caption,
"Happy National Daughter's Day! I am so proud of my beautiful daughter and daughter-in-laws."
Likewise, Katie's parents also share a tight-knitted marital bond, as the couple have been together for well over 34 years now. 
Now, all that people are waiting for is to see Katie's post of her wedding with her beau, and that time may be coming soon enough!