Entertainment
NBC's Sportscaster Charissa Thompson: Married Life and Divorce? Current Boyfriend?
The majority of people feel embarrassed to talk about their failed relationships and their weakness. However, today we have a story about a bold woman who doesn't only hesitate to talk openly about her broken relationships but admits her mistake as well.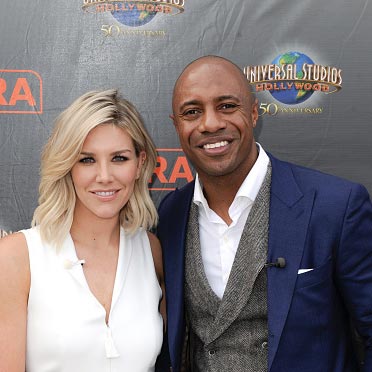 Quick Information
Career

2007-present

LinkedIn

linkedin.com/in/charissa-thompson-97596883

Instagram

instagram.com/charissajthompson/?hl=en

Twitter

twitter.com/charissat

Facebook

facebook.com/charissajthompson

Body Measurements

36-23-35 inches

Hair

Short

Feet (Shoe) Size

8

Weight

58 Kg

Height/ How Tall? 5 Feet 6 Inches (1.68 Meters)
College

University of California(2004)

High School

Inglemoor High School

Date of Birth May 04, 1982
Awards

Daytime Emmy Awards(2016)

Net Worth

$2 Million (Estimated)

Ex-Boyfriend

Jay Williams(2011-2014)

Relationship Status

Single

Ethnicity/Race

White

Zodiac Sign

Taurus

Birth Name

Charissa Jean Thompson

Profession

Television Host

Birth Place

Seattle, WA

Nationality

American
The majority of people feel embarrassed to talk about their failed relationships and their weakness. However, today there's a story about a bold woman Charissa Thompson, who doesn't hesitate to speak openly about her broken relationships and admits her mistake as well.
Married Life; Husband & Divorce!
Nobody knew that Charissa Thompson had once been married until she revealed it. Charissa confided in an interview that the ex-marriage was a childish act. She did it without much thinking, and it later resulted as the biggest mistake of her life. She explained,
 "Oh, yeah, at 25, it was the best and worst decision I ever made. I learned quickly that I don't need to be married again, but there are people who come into your life for a reason. I love my ex-husband and it has taken us a long time to get back to being friends. I went to break up with him one night when we were going out. He recognized it and said, "Are you going to break up with me?" I said, "Yeah, it's not working out." Well, I ended up walking out of that restaurant, drove to Hollywood, got a tattoo on my finger and got married that Saturday. That was me literally living in the moment and thinking, "Maybe he's right, and maybe I am always running away from relationships. Sure, let's get married." Whoops".
But the bliss of marital life became momentary for her. She and her husband soon developed conflicts and later ended the relationship. Charissa claimed that the affair could not move further due to her busy schedules which did not let her spend quality time with her former husband. She said,
"If we're being honest, my first marriage failed because I was doing this job and I was never home and I couldn't allocate relationships with my boyfriend. There are a lot of things that you put on your back burner because of your profession"
Although she gave other description, Charissa did not disclose the name of her ex-spouse. But after her revelation, the curiosity has increased among people about who was her ex-husband. She mentioned in the interview that she has a friendly relation with her ex-husband now. Do you think he is from the media line?? Or does he belong to some other profession?
Married Life Talks:- Daniel Krauthammer Wiki, Age, Married
Nonetheless, people even suspect that the revelation she made about her ex-marriage is hypothetical. Well, it's not known if she was telling the truth or not. But one thing is for sure that she seriously dislikes her former husband. As she said in a show that she would kill her ex-husband if she would get away with it.
After her divorce with the first husband, Charissa started dating Jay Williams. Jay is a former basketball player for Blue Devils Star and now ESPN basketball analyst.
She met boyfriend Williams when she was working for ESPN in 2011. Charissa shared a harmonious relation with Jay Williams for more than a year. But unfortunately, the couple later separated in 2014 without revealing the reason for the split.
In an interview with Sports Illustrated, she talked about how she and Jay faced harassment for being an interracial couple.
You would be appalled at the s**t Jay and I dealt with as an interracial couple. I was called a mudshark and other horrible things.
Furthermore, she added, 
And the stuff they said to Jay about his motorcycle accident. I feel bad for him he still has to deal with idiots like that.
One can only imagine the emotional damage to both of them with comments like these. Was this one of the reasons they split? Fans can only speculate. Her relationship with Jay seems fine now when she pointed out
He is still my best friend and we didn't break up in a contentious nature.
After her breakup with Jay, she hasn't had any relationships and looked 100% focused on her career. In the interview with Sports Illustrated, she talked about wanting to do something involving kids. She told Sports Illustrated, 
When I am done with this trivial job that I current do -- and not to reduce it because I do love it -- I will do something involving kids.
But, Charissa doesn't seem to have any time for bearing children or getting married. She talked about her career plans and said,
 For me, when the opportunities come, I will take them all. I don't mind if I have five jobs. So there's probably a reason I'm not married and don't have kids.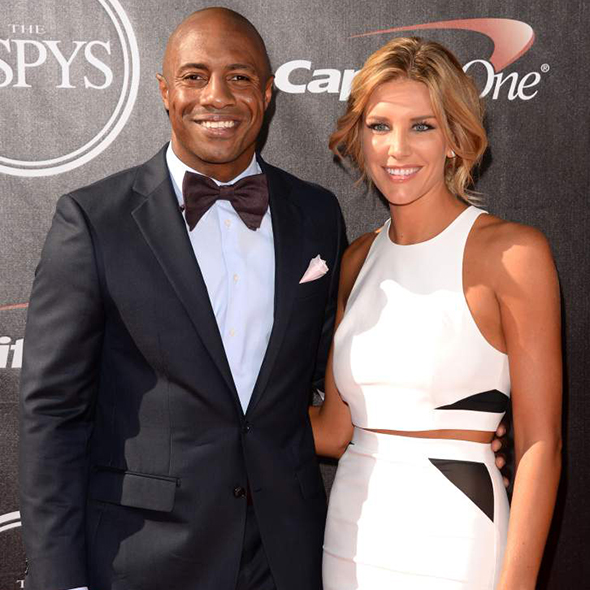 Charissa Thompson and Jay Williams at the 2014 ESPY Awards. (Source: fabwags.com)
On the other hand, Jay is now a married man, who shares his household with wife Nikki Bonacorsi. A former athlete, Nikki has even taken up her husband's last name and now proudly identifies herself as Nikki Williams.
The couple became parents to a beautiful daughter named Amelia Brooklyn-Rose Williams, who was born on 10 October 2018.
New Baby Arrival:- Greta Gerwig Pregnant, New Baby, Boyfriend
Well, maybe, Jay always wanted to have a family, but Charissa was not in the position to fulfill his wish. She was busy due to her professional commitments and hectic schedule, which is why the couple could have broken up in the first place.
Charissa's Bond With Larry David:
Before you think something else, let us reveal that Charissa Thompson and Larry David, an American comedian, and actor, are close friends these days. She shared on Fox Sports Live with Jay and Dan Wednesday night about how she gave a haircut to Larry David. Isn't it strange? Charissa also shared about a bet of finding the scissors from the pharmacy. However, in the end, she gave a beautiful haircut to his almost bald hair.
Sexist And Unwarranted Criticism Thompson Faced
Charissa is a stunning and amazingly hot individual. As so she's always faced sexist comments in her career. People criticized her and speculated that she would be nothing, but an attractive sideline reporter and some even called her a broad that tried to get a career solely with her beautiful features. In 2008, when Charissa decided to dye her hair black to change her "Barbie girl" image, she was criticized even more.
Deadspin wrote an article on 21 October 2008, about this change and implied that she was "continuing down a suicidal path to Frumpyville" and added,
 If this is an attempt for Thompson to be taken more seriously as a sideline reporter, somebody should shake her before this goes too far. Next week she'll add a prosthetic pregnant belly and one of those weird animal hats Lesley Visser used to wear. 
In an interview with HBO, she talked about the backlash when she colored her hair black and all the useless comments she faced.
Leaked Images:- Maisie Williams Is Dating Her Boyfriend But Also Shares A Kiss With Co-Star! Leaked Pictures To Affect Her In GOT?
Further, she got involved in another controversy when several nude pictures of Charissa surfaced online in 2018. She defended herself saying that she had taken the photos a long time back and the images were stolen from iCloud.
Charissa's Short Bio:
Born on 4 May 1982, Charissa Thompson completed her graduation of B.A in Law and Society from University Of California.
Charissa is a sportscaster for Fox Sports News and NBC. She co-hosts Fox Sports live and syndicated entertainment news show "Extra." She also serves as a studio host for Fox NFL Kickoff since 2015.
Charissa joined Fox Sports human resources department, as an assistant in 2006.
Before Fox, Charissa worked as a host on ESPN from 2011 to 2013. She co-hosted a show named Numbers Never Lie alongside Micheal Smith. She also worked as a host on ESPN First Take and Sports Nation. Apart from that, she has covered the news events for various channels including versus, Yahoo channels and others.