Music
Lakeyah's Transition from Poetry to Rapping!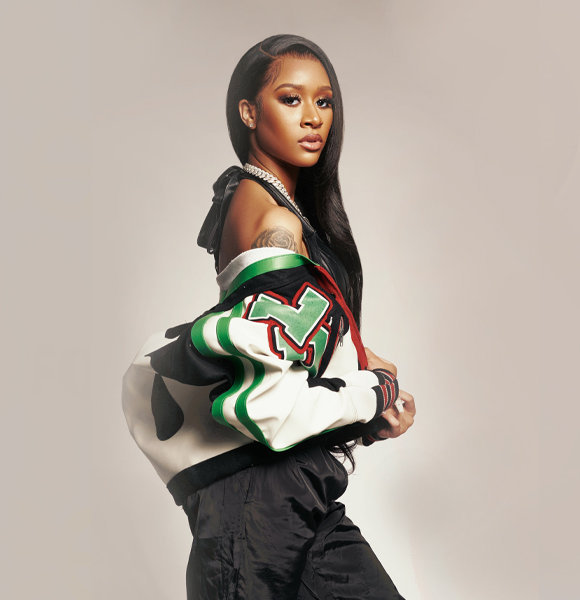 Lekeyah has had quite an early start to success in her career. At just the age of 21, she has already achieved a lot, with more milestones yet to be conquered.
The young rapper's career skyrocketed in 2020, and she instantly amassed a lot of fame and fans who have been loyal to her. 
While people are very aware of how talented she is, and she is an upcoming talent that will soon sweep the world away with her talent, there is much of her that people don't know. 
So let's discuss more on Lakeyah, her real name, her age, and more.
Get to Know Lakeyah: Age, Real Name & More
Lekeyah was born in February of  2001. Her birthday falls on the 28th of February. She recently reached the age of 21 and was born in Milwaukee, Wisconsin, U.S. 
Her real name is Lakeyah Danaee Robinson. 
She has expanded her career as a rapper and songwriter in the span of just a few years. She began rapping very early when she was just the age of 15, and by the time she was 18, she was already signed to Quality Control. 
Her career skyrocketed; it went on a really fast pace. Of course, it was not an overnight success, but she was known to the world very swiftly. 
The origin of her career was from Atlanta, as things sped up when she moved there. 
A newcomer, she was suddenly working with people like City Girls, Lil Baby, 42 Dugg, Gucci Mane, Yung Bleu, and many more. 
Her song Female Goat was a top hit, and people suddenly started seeing the young talent everywhere. She was in Savage X Fenty, XXL magazine, and just everywhere.
She released her debut album in 2020 named Time's Up, and in 2021 she was named ambassador for Rihanna's lingerie line. 
Lakeyah From Her Instagram Account (Source Instagram)
Her second album was released in 2021 named, In Due Time, which had talents such as Gucci Mne and Yung Bley. 
She was 4th on the list of Rolling Stone's Breakthrough 25 charts. 
Also Read: LaToya Tonodeo's Everlasting Love with Husband-To-Be
She was named to the 2021 XXL freshmen class in June of 2021. The talented rapper is on her way to success, but she is also just 21, and while she might have seen more success than many of her age, she has also had her share of struggles in life. 
Struggles and tragedies such as losing a father figure in her life. 
More on Her Parents
Lakeyah's ethnicity is black, and she does not speak any other languages except for English. Talking about her life with her parents, it hasn't exactly been good always. 
The artist's biological father left her and her family when she was just four years old. 
In a video, she revealed how she was only the age of four when her father "cut her loose" and that she does all she does for her mother. 
She seemingly was close to her little sister's father, who later died from a homicide, she revealed in Hot New Hip Hop. 
In his memory, she even made a song called Missing You for him, which was quickly loved by many. 
The rapper then started doing poetry and writing to express her feelings. 
Her rap journey started with poetry, and eventually, she found her gift and passion in rap. She surely is not a one-hit-wonder and is here to stay, and she will stay. 
The young talent has talked about wanting to collaborate with the Queen of the rap genre, Nicki Minaj, and hopefully, it all works out for her. 
The world is yet to see more of the rapper, and they sure aren't ready!