Sports
Leonard Fournette and His Brother's Desirable Bond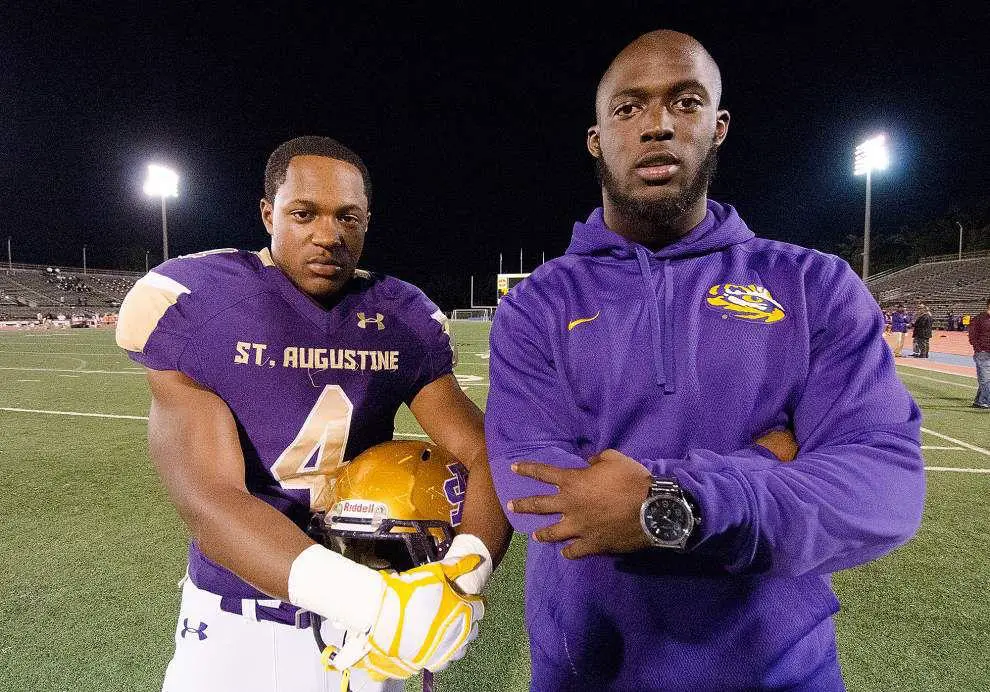 Leonard Fournette is a well-known name for NFL and Tampa Bay Buccaneers fans. He has caught everyone's eye with his performance on the field and impressive statistic records.
But something people might not know is that Leonard has a brother who is an aspiring footballer too. His younger brother is inspired by him and is navigating his career in football.
Leonard Fournette And His Brother
Leonard was born in New Orleans to Leonard Jr. and Lory Fournette. He has three siblings, including his little brother Lanard Fournette and sisters LaNata and LaTae.
Leonard plays in the NFL now, but before getting drafted, he used to play in the same team as Lanard.
They played for Louisiana State University (LSU) in their college days. They even have a special record back at LSU for rushing for more yards than any other sibling combination in LSU history.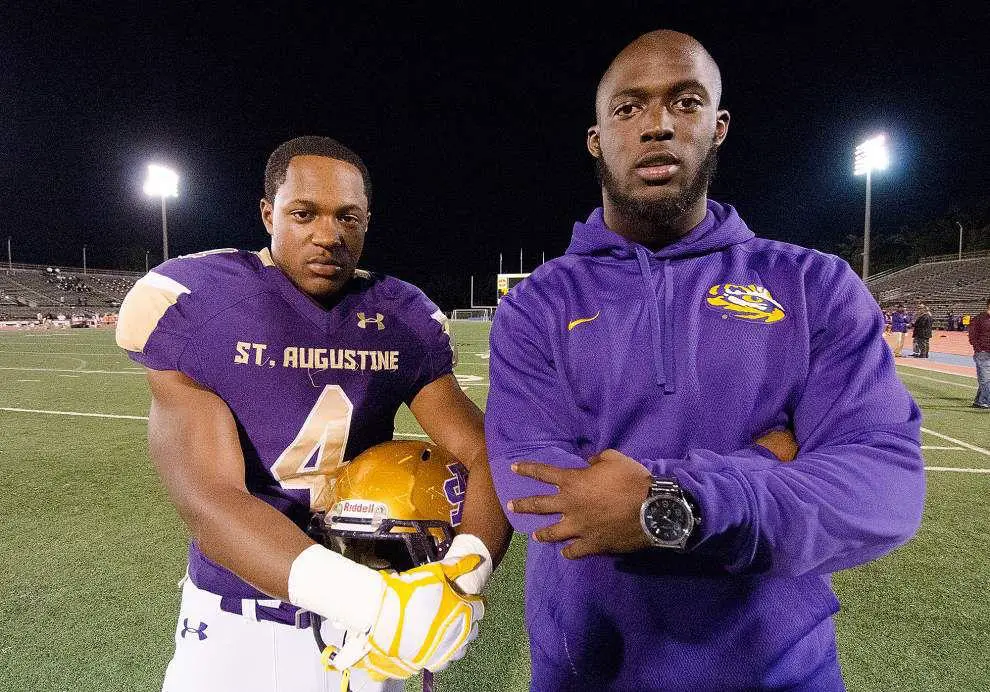 Leonard Fournette With His Brother Lanard Fournette (Source: nola.com)
The siblings trained and played together, but it turns out they are not much alike and have an approach of their own both on and off the field.
Leonard is known for his big body build and offensive gameplay, but Lanard, on the other hand, uses his speed to his advantage.
Likewise, while talking with nola.com, their mother Lory describes the siblings as opposites to each other in terms of their personalities.
She said, "If Lanard doesn't know you, he isn't going to talk to you. Leonard just makes friends with everybody. They are opposites." You know what they say; mom knows best!
Leonard has made it big and needs no introduction, but Lanard's talent and potential don't go unnoticed either.
Lanard's coach Cyril Crutchfield speaks highly of him and advises, "You want to make your own legacy, and you want to make your own mark. That's what he's doing. He is a high character kid with a great work ethic."
Despite having their differences, the Fournette boys get along with each other pretty well. They have a loving relationship and are supportive of each other.
Sharing his appreciation for his big brother, Lanard said,
He's always been real protective and always watched everywhere I went and always telling me to be safe. We've always been close like that.
Similarly, Leonard stated that he would miss Lanard when he went to college. He said,
Everywhere I go, he would be with me, so it's a little different now that I'm in college.
Moreover, they have been through a lot together as a family, and it hasn't always been about success and glory for the Fournettes. They've faced many difficult situations together, the adversities of Hurricane Katrina being one of them.
As per ESPN, the family had to sleep under a rain-soaked sheet on a bridge for four nights.
They recited scriptures together, and the faith of God held them together. This event left a lasting impact on Leonard Fournette and brought him closer to his family. Maybe that explains his care and protective nature towards Lanard as well.
Also check out: Ian Book's Never Ending Support From His Parents
Nonetheless, the Fournettes share a strong bond, and of course, Leonard is proud of his little brother's progress and achievements. Lanard showed great potential, and people were rooting for him, but he chose a different path in life in the end.
It came as a surprise when Lanard Fournette quit his beloved LSU team in 2019. Sources told ESPN that he "just wants to move on with his life."
Well, the heart wants what it wants! Further news about Lanard joining the sport again hasn't been announced yet, so we're guessing he's taking a break from the field. However, we wish him nothing but the best in his future endeavors.