Celebs
Lori Lightfoot Shares a Loving Bond with Her Wife and Daughter
Lori Lightfoot has made history as the first openly gay black woman to win the city mayor election.
Her victory in the 2019 elections was a win for many in the community she represented. She has been making great reforms as the mayor, and her wife stands by her side as a sturdy support system.
Indeed, Lori has been open about being lesbian and has flaunted her relationship with her partner with pride.
Meet Lori Lightfoot's Wife
Lori is married to Chicago Public Library employee Amy Eshleman. They had their wedding in 2014 and have a daughter, Vivian Lightfoot.
They have been married for eight years and have built a lovely family together. Lori and Amy haven't shared their wedding pictures yet, but they love to share recent captures on their social media.
Especially, Amy is all for it. She wholeheartedly supports her wife and even has her Instagram username set as Chicago's first lady. 
"To the amazing wife and wonderful mama we love more and more each day. We are so proud to be your family," she wrote on Lori's birthday.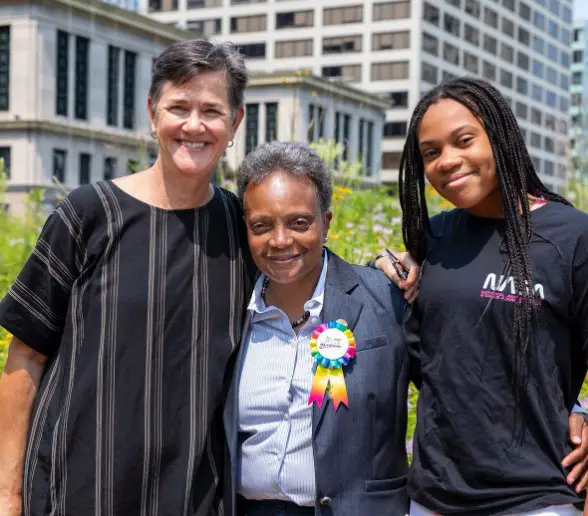 Lori Lightfoot's Wife and Daughter (Source: Instagram)
Lori and her partner have a wonderful relationship now, and she has always been open about her sexuality. But as you may know, things weren't always so easy for queer couples back in the day. 
Lightfoot understands the issues and is conscious of the positive changes time has brought.
"53 years ago, marriages like ours were illegal. Today, I'm raising an incredible child freely and openly with the love of my life," she wrote in an Instagram post.
Lori and Amy got married in 2014, the exact day same-sex marriage was legalized in Illinois. 
Read more on: All You Need to Know about Rae Dawn Chong's Parents
Furthermore, their marriage is still fresh, but they have been together for longer. The pair met each other through their friends and have spent almost two decades together as a couple. 
They also have one daughter whom they adopted. So, why the rush to get married as soon as it was legalized since they were already living as a family together?
She told The Chicago Tribune,
You want certain things for yourself, and falling in love and having a family and doing all those things felt really important to us. To be able to be married on that day felt really big.
Now, she stands as a proud mom and a loving wife to her family.
Moreover, as the mayor, she is sure to bring further reforms to the LGBTQIA+ community. Finally, she gave everyone a ray of hope with her victory speech, sharing her visions for the city of Chicago.
"A lot of little girls and boys are watching. They are watching us and they are seeing the beginning of something, well, a little bit different. They are seeing a city reborn," she state, "A city where it doesn't matter what color you are . . . where it doesn't matter who you love, just as long as you love."
Truly, Lori Lightfoot is an icon of inspiration for all, but she is a bundle of love for her spouse and daughter.
Amy has been by her side, supporting her through all the ups and downs, and as a result, she stands proud now as Lori reaches different heights and progresses.