Music
M. Shadows And His 6th Grade Romance Led to Marrying His Wife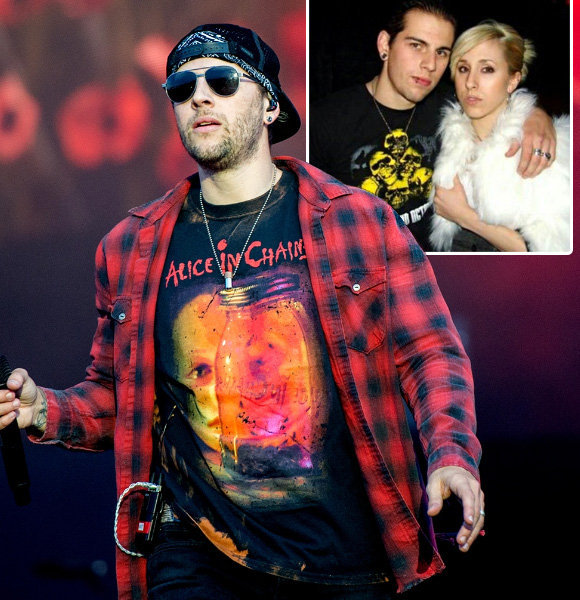 Avenged Sevenfold's founding member M. Shadows has always been a talk of the town for his successful music career.
The lead vocalist of the band's successful career and the story of his attractive tattoos are a discussed matter, but what needs to be addressed is his life alongside his wife. 
His marvelous professional life is backed well by a fulfilling personal life that entertains almost three decades of togetherness and, not to forget, a family that gives him much happiness. 
M.Shadows's Wife 
A lifetime of love and happiness is what M.Shadows cherishes as of today, and the same happiness has been sticking to his life for the past 27 years. 
Shadow has been married to his wife, Valary DiBenedetto, since 2009. Yes, their married life spans over 12 years now, but their presence in each other lives extends to 27. 
Childhood love is one of the purest forms of love ever to exist. Perhaps, it fits like a glove in the case of these two childhood sweethearts.
Two childhood friends who met when they were in the 6th grade, who knew what turn of events would unfold, and they would be attached to each other for eternity. 
Yes, the two met when they were in 6th grade and have been inseparable ever since. Back in 2019, on the occasion of their 10th anniversary together, his wife reflected on their love life that they have been cherishing forever. 
Valary posted a striking picture from their wedding holding each other to their arms, followed by many throwback pictures of the two throughout their time together.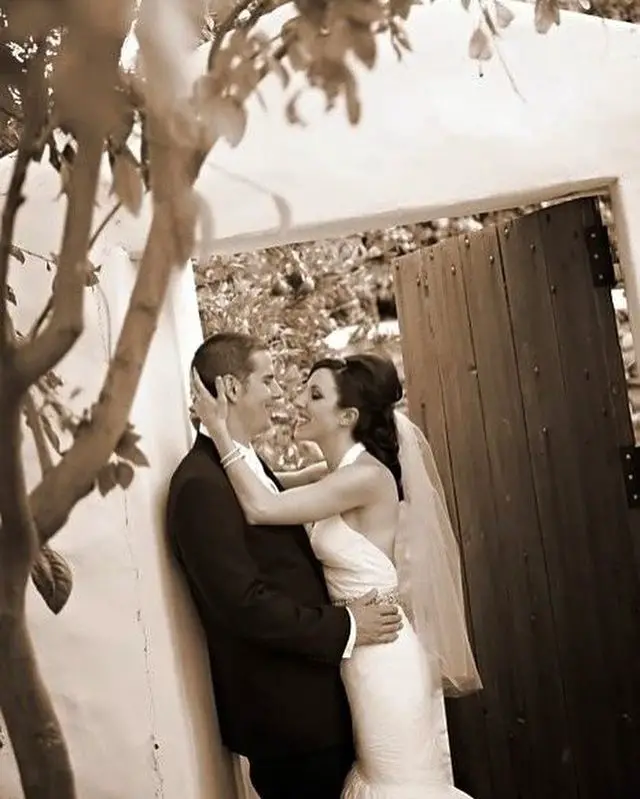 Throwback Picture of M.Shadows And His Wife From Their Wedding (Source Instagram)
The two might have grown, and so have their love along the way, but the essence of their love still remains fresh as new. The post is truly a walk down through a memory lane of their love life, and it absolutely tickles our hearts. 
"10 years on paper. 25 years on life. We were just kids. But I swear the first time I settled eyes on you I knew."
Wrote Valary on their anniversary post.
She concluded the paragraph with added words that are just too wonderful even to begin to explain." It wasn't as if we were meeting but merely reuniting. I feel I've loved you through infinite lives. And I live this life to love you more."
Valary is a BA graduate in Creative Writing and also was Avenged Sevenfold's tour manager for four years from 2001-2005. Valary is now the founder and owner of her brand named Saint Owen. 
The two also are parents to fur babies Bella and Shadow, along with parents their two sons, River Sanders and Cash Sanders. 
Living a merry married life alongside each other, the two cherish their life alongside their two children. 
Another Member Of Avenged Sevenfold: Synyster Gates's Amassed His Multi Million Dollar Net Worth Through Touring?
M.Shadows Life with Children
Motherhood is surely the hardest job that one can take upon, and for Valary, it is the job that has the biggest payout as well. 
The mother of two children usually takes to her Instagram to shower love to her young ones.
Valary, who has done a perfect job raising two wonderful boys, never fails to credit her husband for being the best dad ever. So much so that she gives him an award for it.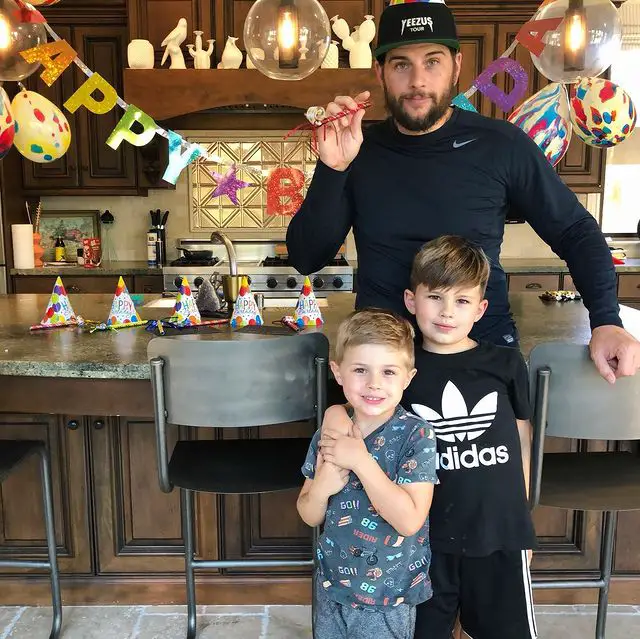 M.Shadows With His Children (Source- His Wife's Instagram)
Posting a picture of her two sons with her husband, she forwarded her gratefulness of having him as a father and a husband. Sharing some candid pictures of her dapper husband with her stylish sons, she further wrote, 
"The loooooove of my life, the hero for my children. Beyond grateful for this incredible father and husband. Our champion. Our rock. Our everything."
As much happiness, Shadows career has given him; his personal life has been the prime reason for all of his smiles. After all, the family of four is one happy family that is surrounded by love and light all around.