Entertainment
Martha Sugalski's High-Profile Divorce With Her Husband
Martha Sugalski's presence with no wedding ring on her finger basically confirmed her divorce from her husband of almost a decade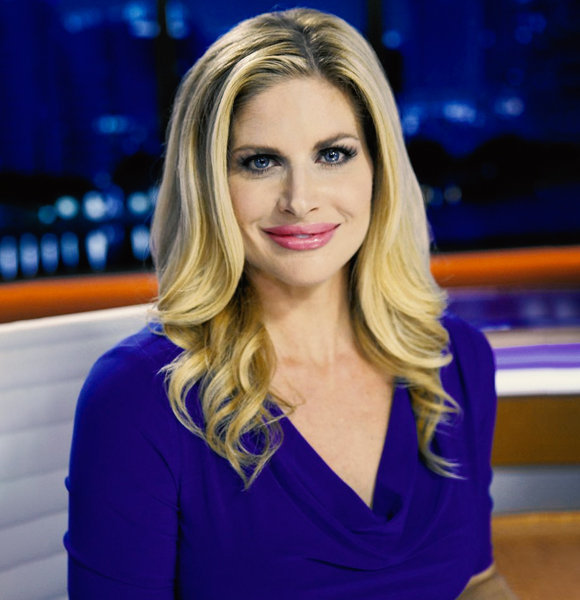 Two times, Emmy winning Anchor Martha Sugalski's divorce was confirmed after she was seen without a wedding ring on her finger. 
No Wedding Ring!
WFTV anchor Martha Sugalski got married to her husband, Robert Reich, in 2009. 
Although their marriage lasted for almost a decade, their married life has not been easy for the two. 
Six years ago, the then-husband-wife talked about their struggles to have children and how they could not bear children with one account of miscarriage. Despite all the hardships, the two stuck through each other, but after things started to get bitter in their marriage, her husband Robert Reich filed for a divorce. 
Martha, being a big personality, led the case to become a high-profile case. Reich sued his wife for divorce through a petition on July 10th, 2019. 
Upon the divorce, Robert filed for financial assistance. He claimed that his wife makes 5 times what he makes annually as Florida law permits a partner to pay for another's finances if they have more income than the other partner. 
His lawyer read, 
"Presently, the Husband makes approximately $96,000/year gross. Although the Wife has not yet filed her Financial Affidavit, the Husband estimates that she makes at least five times what he makes in income per year."
Her now-ex-husband, Reich, is the leader of several technology companies. He is the founder and CEO of three companies, NextDeal, MicroTesla, and Hydrogen On Demand. He also hosts the podcast named U Heard Me! Podcast.
But the matters got even bigger when Martha countered the petition by providing another petition stating that her husband forged her signature "to move and dispose of some of her retirement assets" and also addresses that she has "knowledge of one failed attempt of the Husband to take out a loan in her name."
During the ongoing battle, the two still lived together. However, Reich revealed that the Channel 9 anchor had put away his pictures from their wall and did not disclose the whereabouts of the items. 
The letter provided by Reich to the court read, 
 "Wife's behaviors cause needless stress for the family and jeopardize the emotional well-being of the minor children who do not deserve to see a lack of respect of one parent by another in violation of the administrative order's guidelines as to shared parenting."
After the news of their divorce, Martha was seen without a wedding ring on her finger, and people were quick to notice that. This went on to confirm that the ongoing battle finally came to an end, and the two parted ways. 
Married life has now ended for Martha, but her life as a mother is just getting started. 
Life With Children
Martha and Robert had many problems conceiving and birth to a child; thus, they opted for a fertility center. With their help, happiness flew into their life. 
Struggling to birth a kid, the family suddenly had three little ones in their life. Martha was blessed with triplets and gave birth to healthy babies, but she is not just the mother of three children. She is the mother of 6!
Yep! The beautiful woman has children from her marriage with her ex-husband, Craig Minervini. Her marriage with Minervini was her first marriage that lasted until 2005. 
Martha enjoys life alongside her kids and her dog. She loves hanging out with her kids and does it whenever she gets a break from her hectic schedule. 
As a reward, she gets welcomed by love letters by her kids after they come home. She currently spends most of her time with her triplets.
On August 10, the mother of 6 shared a picture with her three children on their first day of third grade. 
Despite her hectic career, Martha finds a way to be invested in her children's lives and support them however she can. The posts shared on her Instagram reflect the type of environment she has set for her children to grow in, and nevertheless, they seem happy. 
Former Channel 9 Journalist: Laurie Oakes Takes Retirement From An Extensive Channel 9 Career! Says It's Time To "Quit" 
More On Martha Sugalski
Martha, age 51, currently works on WFTV Channel 9, where she hosts the evening/nightly segments on TV.
She calls herself a fitness addict on her Instagram bio (2021). As of now, she has over 22k Instagram followers. 
The American Journalist grew up in Florida, USA. She completed her education from Florida Atlantic Univerisity in Bachelor of Arts in Broadcast Journalism in 2002. 
According to Famous Info, Martha boasts a staggering salary of $50,000 to $100,000.