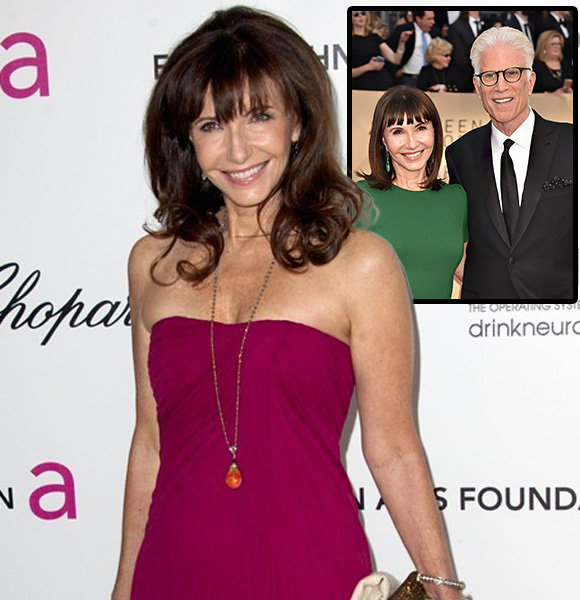 'The Last Man on Earth' star, Mary Steenburgen, is one of the finest individuals in Hollywood who has marked prominence in acting, singing, comedy, and songwriting.
Her versatility has grasped the attention of hundreds and thousands of audiences. In addition, Mary Steenburgen has lit up her professional life with immense success.
At the same time, her personal life is captivated by the aura of love. She has been leading her resounding life with a husband who has been holding her hands for decades.
Mary Steenburgen's Husband
Reversing the time to 1993, Mary and her husband, Ted, first landed their eyes upon each other on the set of 'Pontiac Moon.'
Then, her spouse, Ted Danson, was going through a struggling phase of his life- he bid a farewell to one of those shows that handed him the crown of a global superstar, 'Cheers.'
After eleven long seasons and years of effort from the astounding cast members, the show ended. 
Moreover, he went through one of the costliest divorces in Hollywood. He had to hand over $30 million to her before the divorce. Also, Mary was a single mother who shared quite a similar story with Ted.
Despite standing amidst the bitter years of their lives, both ignited the spark of mutual understanding and kicked start their relationship.
The couple soon started dating and eventually tied the knot. Mary didn't just accept Ted as her husband; she also welcomed the kids he shared with his ex-wife with open arms.
Also, on the other hand, her husband welcomed her kids, Charlie and Lilly McDowell, with all the love he had to offer. Mary and Ted often proclaim how proud they are of their kids. The family bonding they have is mesmerizing. 
Keep reading Rita Wilson's Love Story- One for the Books
The bond they tied years ago hasn't loosened up a bit; the strength their relationship holds to this date is immaculate.
The essence inbuilt in their relationship is intact even after decades of their wedding. In an interview with the US weekly, he openly expressed his love to Mary, saying,
I'm madly in love with Mary Steenburgen. She's a remarkable human being, so I'm just incredibly blessed. It feels like heaven on Earth. If I were to die, I could say I know what it's like to be loved and to love.
Their Instagram page is flooded in with adorable pictures. Recently, marking their 25th marriage anniversary, the couple took a lovely photo and caption to Instagram.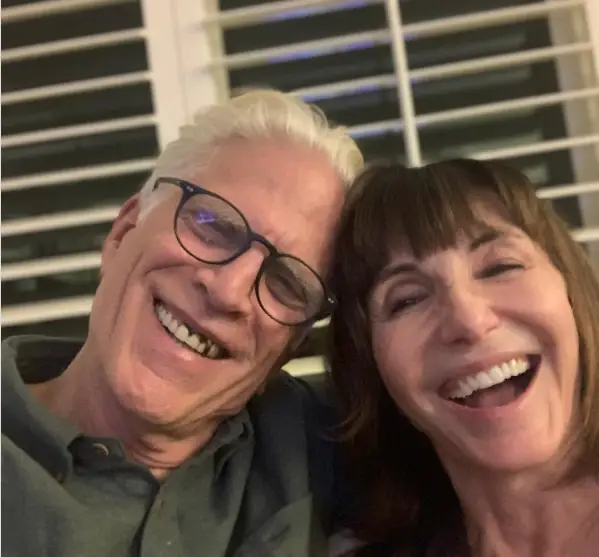 Mary Steenburgen with her husband, Ted (Image Source: Instagram)
The post read as, "Happy 25th Anniversary! This was SUPPOSED to be a sweet loving anniversary photo but you have a big piece of salad in your teeth. So there it is. Thank you for making me laugh today and every single one of the last 9,125 days. You are the goofiest, wisest, kindest, dreamboat in the world. True, that is a big a** piece of salad but even that doesn't mar your legendary beauty. I can't believe how lucky I am. Happy Anniversary, Ted. Love, Mary"
The couple doesn't just express their love during their special days; to them, every instance spent together is special, and they openly express their love most of the time with eye-fixating pictures and captions.
They have the brightest smiles when together. Holding their hands, they have still not stopped reaching the heights of success.
Whether it be social media or real life in general, Mary and her husband always ensure to have each other's back and show support and appreciation to each other's efforts.