Entertainment
Mayim Bialik Has Prader-Willi Syndrome? Whats the Truth?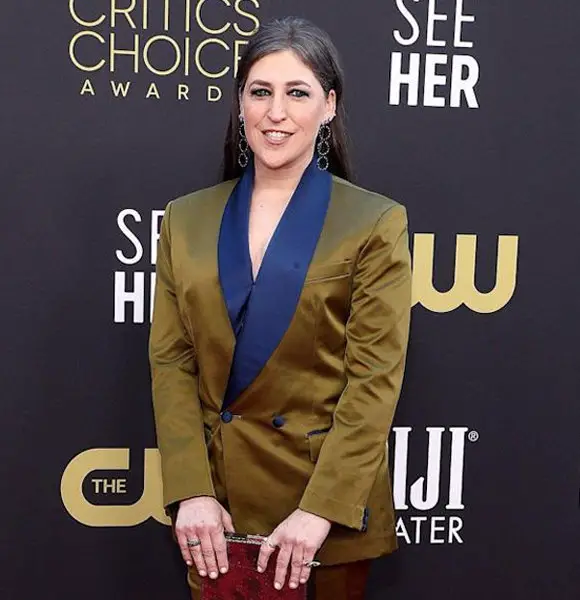 Four-Time Emmy nominated actress Mayim Bialik is notable for her sitcom 'Blossom' and also 'The Big Bang Theory.' 
Bialik has been the up-front actress for her hilarious sense of humor, and not to forget to mention the outstanding work she does as the host of 'Jeopardy!'
And what do we know, this actress has got a lot more in her than most wonder. There has been an ongoing curiosity, 'does Mayim Bialik have Prader-Willi syndrome?'
Interestingly, this personality has a relationship with the syndrome but not exactly how people have thought for it to be. 
Does Mayim Bialik Have Prader-Willi Syndrome?
For most, an actor's life is quite limited. You know they go to their workshops, glamorous red carpets, events, and everything, and most of them have either trained for all their lives in an acting school or have always worked hard to get on top in the industry, 
Sure, Mayim came with all the talent in her bag, but Bialik was a Ph.D. holder at UCLA before she became a recognizable name. 
Shocked? Well, quite unusual, sure, but we are not shocked.
Ever since 'The Big Bang Theory,' if people knew any other thing about Mayim that she had a good future in the industry was that she was pretty smart. 
Mayim went to UCLA and earned a Ph.D., and the topic for her dissertation was on the rare genetic disorder, Prader-Willi syndrome. 
So no, Mayim does not suffer from the genetic disorder herself, but it is an area that she seems passionate about, passionate enough to make a topic of her dissertation. 
The game show host has always encouraged awareness and conversations regarding Prader-Willi. 
As a matter of fact, the Prader-Willi syndrome association of the USA has also acknowledged her achievement. 
Well, beauty with brain, indeed!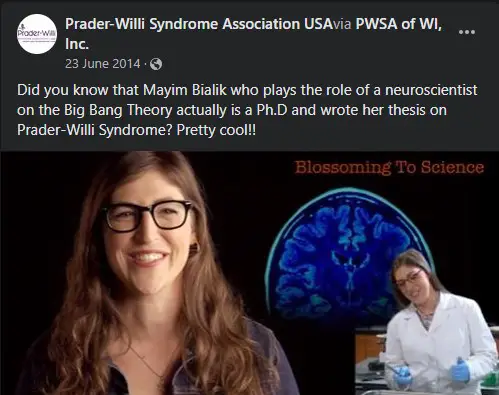 Prader-Willi Syndrome Association Recognizes Mayim Bialik's Contribution (Source Facebook)
She has also talked about the syndrome on the official page of the association, which now has over 199k views on Facebook. 
For all it seems, Bialik puts in her time and effort to make people more aware of the Prader-Willi syndrome.
While this might not be something she is diagnosed with personally, Bialik has her share of health issues.
More on Mayim: Mayim Bialik Says She Grew Up with Gay Couples Around
Mayim Bialik Fights Eating Disorder 
The neuroscientist from 'The Big Bang Theory' has been dealing with an eating disorder, and as per her interview with USA Today, she has shared that she has been recovering from ED. 
She revealed that she has been going through anorexia for two years, but she has also been on the road to recovery for the past two years. 
Sharing how that was the first time she had ever talked about it, she further addressed how people's comments kept her from sharing. She said, 
This is the first time I've ever talked about it, because people are like, 'Well, why are you so overweight?' Well, because I'm a compulsive overeater in addition to being an anorexic and restricter.
Moreover, sharing her struggle with the disorder, Bialik said, "I eat too much when no one's looking ... eating so I don't have to feel anything."
Bialik, who also hosts a podcast, is usually very transparent about her feelings and opinions, and she has also shared her struggle with mental health on her podcast. 
Bialik, no wonder, has a lot on her plate, but we give her all the power and love in this world.
After all, for someone who has given people years of happiness and laughs, Bialik deserves all the love and joy in the world and more.