Entertainment
Michelle Payne's Out & Public Relationship Is Still On?
Michelle Payne who was once in a public relationship has now made her fans curious if the two are now married & if her then-boyfriend is finally her husband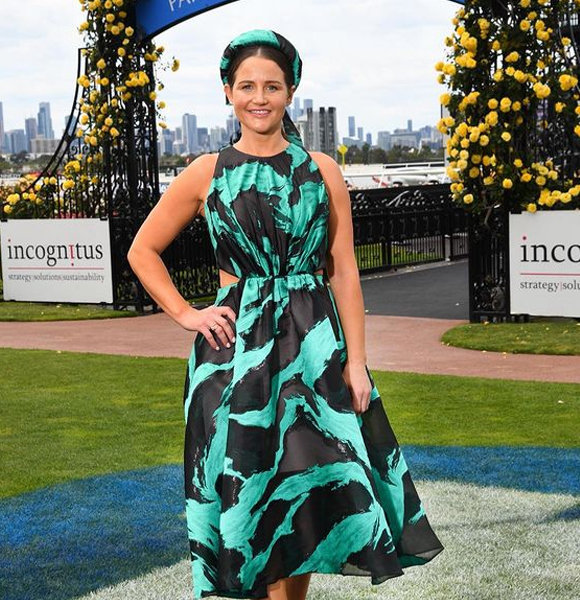 Winner of 2015 Melbourne Cup, Australian Jockey Michelle Payne, has appeared in news headlines several times due to her chemistry with her partner. 
From walking red carpets together, attending events together, to being caught sharing a steamy moment, Payen's relationship has been in front of the world for a while. 
Is Michelle Payne Married?
It sure was a treat for Payen's fans and well-wishers to see their fav being all cute with her partners. The couple had attended the Australian Open in early January 2017. 
The Melbourne Cup winner was served with a gentle kiss by her boyfriend, which was captured by the media portals. 
Her charming boyfriend was Gerard Pardon, and they started dating in 2016. Undoubtedly the two look perfect sitting next to each other, and the age 36 female jockey was no less than fluttered from the gesture. 
Pardon, like Payne is also a jockey. Seeing the two, they sure looked inseparable; however, any details of the two being together now is unknown as Michelle has very quietly kept the details of her relationship away from the headlines. 
Who knows, maybe they are husband and wife now?
Nonetheless, Michelle was a happy woman in the relationship. While addressing the hard times of her life and a battle with depression with the Sunday Mail, she touched on a ray of sunshine that was shining in her life at the time. 
Reflecting upon having a partner like him, she said, 
"Gerald rides... in Ballarat and we met through work... I was not necessarily looking for somebody in racing or another jockey, but it just works because we known what we're in for."
Payne's relationship might not have come to light; however, the heartbreaking news of tragedies in her family life is a known matter for many.
Another Female Jockey: Pro Jockey Hayley Turner Is Married Or Casually Dating Boyfriend?
Tragedy In Family 
Payne was born to parents, Paddy and Marry Payne. Michelle was born in Australia and grew up alongside nine other siblings. She is the youngest out of 10 children. 
Michelle was raised by a single father from a very young age. The jockey's mother, unfortunately, passed away after a car accident. 
And Michelle's elder sister, Brigid, had to take up the role of their mother at a very young age. 
The Payne family is known for having strong women who are in the field of horse riding. However, unfortunately, another tragedy struck the Payne family when the mother figure of the family, Brigid, passed away from a heart attack in 2007. 
As reported by BBC, the reason for Brigid's death might be linked to her fall from a horse that happened a year before her passing. 
After her win in the Melbourne Cup, she took a moment to thank her family and everyone who has supported her to date. 
Michelle Payne Winning The Melbourne Cup
Despite integral losses in her life, it did not stop the 36-year-old from following her dream and achieving milestones in her career because if which Payne now lives a life surrounded by hefty net worth and love all around. 
Another Female In Sports: Will Tara Lipinski Get Married to Her Long-Term Boyfriend in 2016? Her Soon-To-Be-Husband Todd Kapostasy & Dating History
Michelle Payne's Net Worth 
Having been in the career since the early 2000s, Payne has never given up her love for riding despite challenges in life. Back in 2004, she fell in a race and fractured her skull, but she was back on track after recovery like nothing had happened. 
She bagged her first big win in 2009, and since then, the 36-year-old has made a mark whenever she was on the race track. 
Her famous win in 2015 was the one that landed her as a prominent figure in the field of the jockey. Her Melbourne Cup win helped her bag a generous sum as the owner took away 3.6 million. 
She has also won $487,000 prize money from a race, and the horse with which she rides has won almost $26 million cash, and little known fact, the jockey's get 5 percent of the earnings. 
So, undoubtedly Payne has accumulated a large sum in her career, which has resulted in her net worth reaching up to millions. 
As of now, she is a trainer at the Nottingham Farm and also serves as an ambassador for Hot Temple and Racing Victoria and another charitable organization, MyRoom Children's Cancer Charity.