Entertainment
Mike Budenholzer Experiences A Divorce After A Happy Marriage
Mike Budenholzer who gains a massive salary from his career front, lost something massive in his personal life after he got divorced from his long-time wife.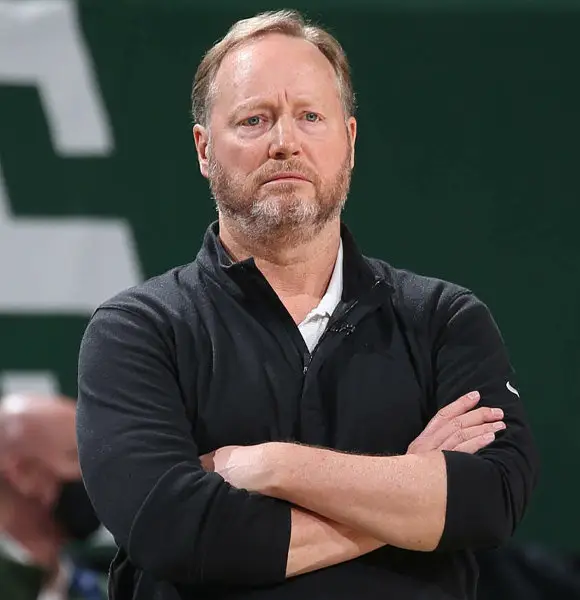 Professional basketball coach, Mike Budenholzer who once credited his wife for her support after achieving a milestone in his career, now seems to be living a life without her. 
In 2013, Mike was appointed as the head coach for The Hawks. Remembering his sweet family on the auspicious occasion, he started his opening speech by appreciating his family. He said, 
"I want to start by thanking first my family; Mary Beth, my kids Will, John, Hannah living back home. Their support, without it I wouldn't be here."
His speech truly shows how much he appreciates his wife and children but now the once so in love, Budenholzer appears to be separated from his wife.
Just a heads up.  
Their divorce was *whisper* messy. 
Messy Divorce?
Since we have taken your anticipation to "the next level," we would like to reveal that there is nothing much to cover about their divorce.
SORRY! But the coach likes to keep his personal matters very personal. Very!
Thus, the only known fact about their divorce is from an article by, The Athletic, where it is revealed that the couple had quite a messy divorce in 2018. 
Mike was married to his wife, Mary Bet Budenholzer, for a long period d of time, and the couple has four children together, namely, William Vincent, Savoia Elizabeth "Livvy," Hanna Louise, and John Bent "John." 
As private as he was about his married life, he is also very private about his life after marriage. 
And the only time the world heard from him after his divorce was on June 19df when the 52-year-old professional basketball coach, stepped on the NBA Awards stage to take the award of Coach of the Year. 
While thanking everyone in the business, he shifted his gratitude towards his family. With an emotional and stumbling voice, he said, 
"For my family I want to thank my kids my daughters Libby and Hannah , my sons will and John, You guys make me proud every day you inspire me everyday and as a coach and in life I hope I do the same for you"
He also thanked his siblings and his parents for the achievement he has made till now in life. 
Mike Budenholzer's Acceptance Speech 
The charming coach now seems to live a life without a partner, but looking into his fulfilling career, it won't be much to say that he is "too busy" to focus his gaze anywhere other than the court. 
Career Highs And Lows
Coming this down in the article, it is pretty evident that Budenholzer is a kind and humble human being, and like his personal life, his professional life has had a fair share of ups and downs. 
Do you remember how the father was so proud to be the coach for the Hawks? Well, that did not go so well for the 52-year-old in the long run. 
The father of four first started coaching in the 1996-97 season, where he was an assistant coach under Gregg Popovich. 
He later got the job of a coach in the Atlanta Hawks in 2013, where he signed a contract of $6 million for a whole of 3 years, and he was paid an average salary of $2 million.
An Atlanta Hawks Player: NBA Kevin Huerter Stats,Jersey, High School, Salary
With the outstanding results he brought to the team, giving them 60 record wins and the deepest playoff in 48 years, he was named NBA Coach of the year in 2014-15. 
Following his win, he was promoted as the president of basketball operations. Sadly, coming in 2018, he got into an altercation with The Hawks, and they eventually decided to part ways.
As a result of which he was removed from the title of president on May 5, 2017.
He now works with the Milwaukee Bucks. His career as a head coach provides him a handful amount of salary, and as per celebrity net worth, he is estimated at a networth of $3 million.