Nikki DeLoach has been relishing a happy life alongside her family and husband after moving away from the acting industry.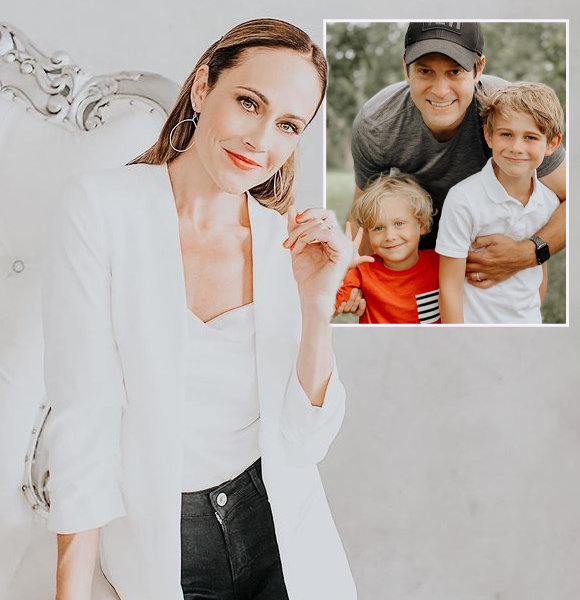 TOGETHER FOR 100 YEARS! Never imagined that we would start an article writing this, but that's what American actress Nikki DeLoach writes on her Instagram post where she wished her husband of 12 years a happy marriage anniversary. 
Confusing right?
Well, let's say for Nikki, the 12 years have counted as a century of togetherness. 
A Lifetime Together
No, DeLoach, age 42, hasn't been with her hubby for 100 years. Certainly not!
However, this year on their anniversary post, that's how she counts being together with her husband. 
Today we celebrate 12 years of marriage and roughly 100 years of being together.
Wrote The Net 2.0 actress while wishing her husband a happy anniversary. She further addressed how the year was challenging for them with losses, but they have also had their fair share of adventures. 
They traveled from Georgia to Schitt's Creek, and DeLoach would want nothing but to be stuck with her husband without a paddle in the Schitt's Creek. 
Pure Love!
For those wondering, Nikki is married to Ryan Goodell, who is a member of the former boy band Take 5. Ryan, age 41, was a Pianist in the boy band. 
Goodell had fair success in the group, but he decided to change his career path and become an Attorney. 
After earning a degree in law in 2009 but he had already begun working in the legal field. 
2009 was the same year when the two decided to get married, and coming into 2021, the pair have two children together. 
The family of four is one of the happiest families together. Actually five!
They also have a dog that is an integral part of the family.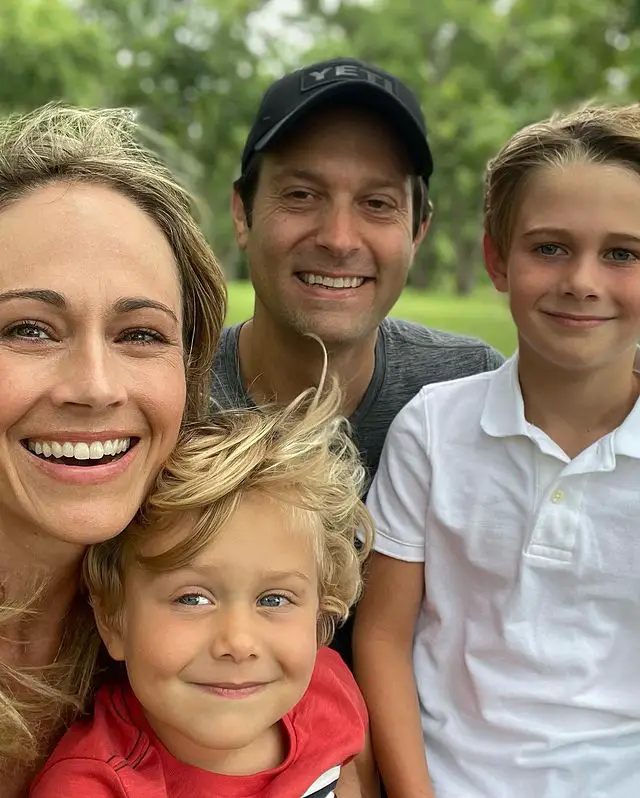 Nikki DeLoach And Her Family (Source Instagram)
The mother of two accompanies her sons on movie nights, and every little celebration and her husband loves to tag along.
Together they celebrate life and in the best way possible.
A personal life that is so rewarding and amazing, Nikki has tasted a big spoon of happiness in her professional life as well. 
Professional Life
DeLoach's career started when she joined All-New Mickey Mouse Club in 1993. Sadly the club was canceled in 1994. 
After the cancellation, she started working on the screen. She briefly worked in the film industry movies such as Gunfighter's Moon and The Traveller. 
But she again joined another girl group named Innosence. However, the group too called quits in 2003. 
After her venture into the music career, she came back to her acting career and achieved a successful run. 
She worked in the movie The Net 2.0 and a comedy film named Hollywoo. With her career in the music and acting industry, she has undoubtedly accumulated good net worth. 
Another HollywoodPersonality: Mix Ethnicity Comedian, Michael Yo, Honeymoon With Newly Married Wife in Italy
She has since moved away from the glitz and glam of Hollywood and is now a spokesperson for Children's hospital L.A. and Alzheimer's Association. 
She is also a founder of What We Are, an organization devoted to celebrating sisterhood all around. 
Despite movie away from the industry for a while, she still has a significant base of fan following with 156k followers on Instagram. 
More On Nikki DeLoach
Born on September 9, 1979, her real name is Ashlee Nicole DeLoach. She is 42 years of age.
Ashlee was born in Waycross, Georgia, and she is the eldest of three children of her mother, Terri. She practices the Christianity religion. 
While growing up, she won multiple pageantry awards from state to nationals. 
Also, she worked in a print ad campaign while she was young. 
As of now, DeLoach has multiple ventures in life, and she actively works for the welfare of women, children, and Alzheimer's patients.