Entertainment
Noah Schnacky's Wonderful Journey With His Girlfriend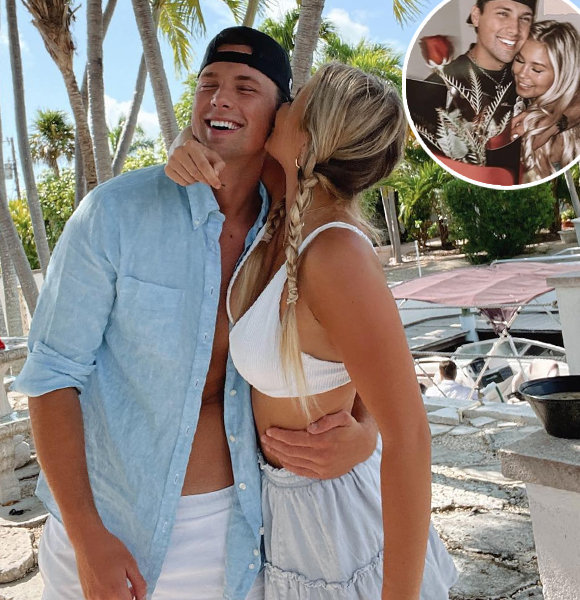 The charming social media star and singer Noah Schnacky sat down on his YouTube video to share the newest chapter of his life, where he introduced his girlfriend among the masses. 
I met [Katie] a few weeks before Covid happened... she came to this church that i led worship for like 6 years... but i can remember her first time walking up.
In a YouTube video titled 'Our Love Story,' Noah sits down to give the full background of how he met the love of his life and how the flower of love bloomed. 
Noah Schnacky's Girlfriend 
Schnacky describes that he was bumped to see her with his friend, but he expresses that he was happy to know they were just friends.
The video takes the viewers through the memory lane of their love while a soothing sound creates a magical feeling in the background. 
'She was so pretty.. I just didn't think I had a chance, and I did not wanna ask her out and get completely rejected'
Noah Schnacky Explaining His Relationship With Girlfriend
The singer further addresses how he wanted her to bring her into his friend group as he wanted to know her better. 
Eventually, Noah's wish did come true, and he was not rejected. 
As after a few days, Schnacky finally asked her out, and he got a yes. But he also revealed that the two did not think that they were the "one" for each other. Reflecting upon the date, he said,
"She said yes and i met her at the breakfast.. we went out on boat for a talk and we both agreed that we weren't the ones for each other"
Cut to today; the two are happily engaged. 
YEP! She said YES for the second time as well!
The pair who marked their fifth dating anniversary in October of 2021 are now happily engaged couples. 
Another YouTuber: Jordan Yeoh Fitness Routine Made Him The Hottest Fruit Seller; Learn His Workout Tips Here
Noah Schnacky's Soon To Be Wife
In a video titled 'We are Engaged,' the charming Noah takes Kristin, oh yeah, it's Kristin, by the way. 
We haven't introduced her, have we?
The one that took this gentleman's breath away is none other than Kristin Marino, whom he also calls Kay cup. So, Noah takes Kristin to a jewelry shop, where he indirectly finds out her ring size. 
And what do we know, during lunch while they are talking about what she wants to do after five years and eventually, Kristin finds a ring and runs to inform her friends and mom. 
Kristin as any girl would be, gets really excited, which is evident from her voice. However, eventually, Schnacky reveals that it was all a joke. 
A PRANK!
Noah Schnacky's Engagement Video 
Schnacky then proceeds to tell her that he did not know where the ring came from [which he did not], to which Kristin's response was, 
"I know I was pranking you"
It keeps getting better!
Therefore, the two aren't engaged, and it was a prank planted by his girlfriend. However, their fans are still not over it, and they genuinely do want them to be together. 
Well, we shall be waiting for a day when Noah will introduce his beau as his wife, and hopefully, it's not a clickbait. 
Relationship Of Another YouTuber: Check Out This Bio: FaZe Rug Of Age 24 Reveals Girlfriend In Video And It Looks To Be True
Noah Schnacky's Net Worth 
Noah, age 24, is also a musician. He has several songs listed on several streaming platforms, and he generously earns from his tours. 
With 533k subscribers on his YouTube [2021], his youtube earnings are estimated to be anywhere from $80k to a million. So no wonder that Schnacky entertains a net worth valued in millions. 
As much of a loving boyfriend, he is equal times a good son and a brother as recently he purchased his grandpa and sister a car as well. 
As of 2021, he has released a single named "Dont You Wanna Know."