Sports
Olivier Giroud Adresses Controversies Surrounding His Wife And Being Gay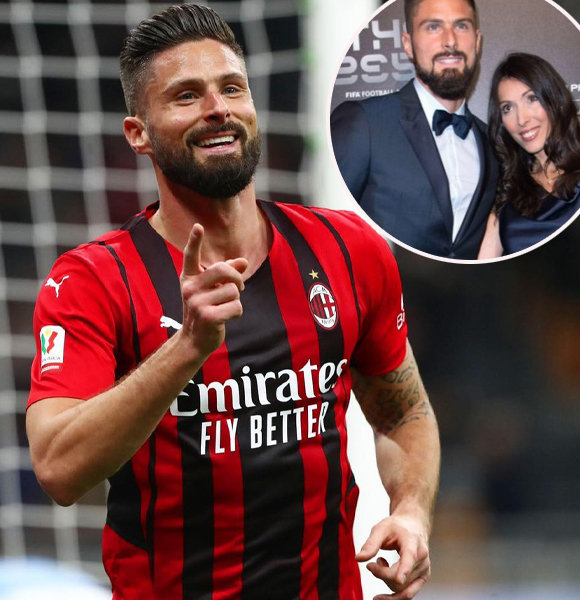 Being a public personality sure appears fun and glamorous from the outside, but it has its drawbacks, just like every other good thing. One of the inevitable parts of being famous is that your personal life is on blast at all times.
Soccer player Olivier Giroud and his wife faced a similar scenario once when their intimate situation surfaced in the media.
Tension Between Olivier Giroud And His Wife
Olivier's relationship with his wife Jennifer Giroud was treading on risky grounds a few years ago when rumors about the athlete's unfaithfulness surfaced in the media.
News broke in 2014 that Olivier was supposedly cheating on his wife with model Celia Kay. A picture of him wearing only his underpants in a hotel room was leaked, which caused a stir among people.
The model allegedly accompanied Giroud to his hotel room before a game. The news upset fans as well as his family. On top of that, he had just welcomed their first child a few months ago, so obviously, he got a lot of bad rep from the controversy.
The former Chelsea player took to Twitter to address the personal issue that had gone inexplicably viral. He issued a public apology directed towards his wife, family, and team. He wrote,
I apologise to my wife, family and friends and my manager, team-mates and Arsenal fans.
Furthermore, he reflected on his actions and, with an apologetic tone, added, "I now have to fight for my family and for my club and obtain their forgiveness. Nothing else matters at the moment."
Later on, he included his justification for the messy situation and said he had not committed adultery with Celia.
He clarified that it was a mistake and something was going on between him and Celia, but later, he insisted that the situation was misread.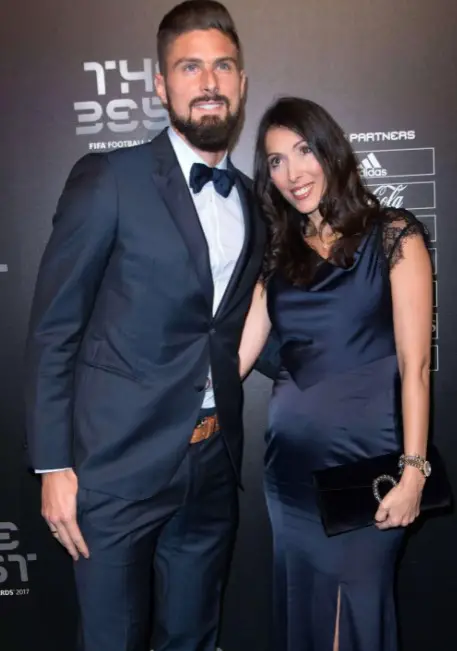 Olivier Giroud And His Wife, Jennifer Giroud. (Source: The Sun)
On the other hand, Celia has a different story about what went down that night, but Olivier has denied any accusations. 
Moreover, he has managed to mend things with his wife.
In fact, he is still together with Jennifer, and they have expanded their little family to a group of five now. And, she's frequently seen in the stands supporting her husband during his matches.
Olivier and Jennifer's relationship has a history of over a decade. The couple got married in 2011 after a few years of dating.
Subsequently, they had their first child, daughter Jade in 2013 and son Evan in 2016. In 2018 they welcomed their third child, son Aaron Giroud.
More on players: Ian Wright Regrets His Decision Regarding Marriages? Why So?
He and his family have moved on from the controversy and are leading a happy life now.
However, Giroud has wished to maintain some privacy for his children. Even though he cannot refrain from sharing adorable pictures of the young ones on Instagram, he makes sure to cover their faces with emojis for a sense of privacy.
Unfortunately for the star player, this isn't his only experience of being a part of public controversy. The next time, he was subject to speculations about his sexuality.
Olivier Giroud Addresses Gay Rumors
Olivier has shut down any rumors about being gay, sharing that "it's impossible to be openly gay in football."
However, he is an open advocate and supporter for the LGBTQIA+ community.
Tackling all controversies aside, Olivier enjoys a content life with his wonderful family and thriving career in soccer.
He is currently playing for the club AC Milan and has been a member of major clubs such as Chelsea, Arsenal, and Montpellier in the past.