Celebs
Prue Leith's Love Life At Old Age & Mistakes In Life Surrounding Her Extra Marital Affair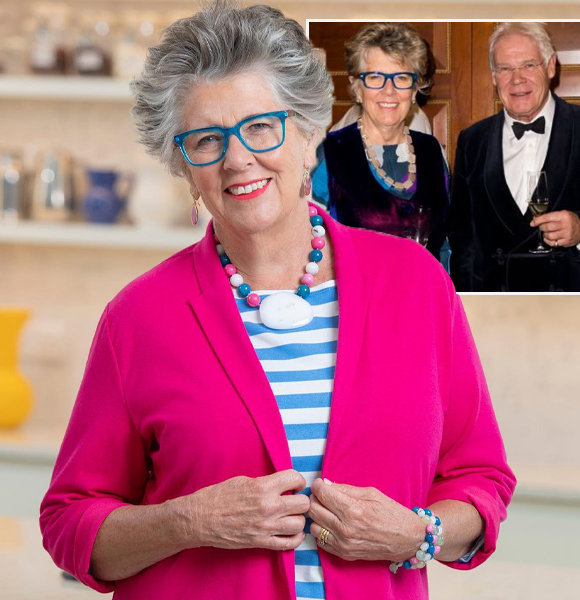 British-South African restauranteur Prue Leith has garnered significant attention after her appearance as a guest judge on BBC Radio 4's Desert Island Discs. 
Her magnetic aura and pleasant personality are a treat to witness.
Apart from her decade-long journey in the culinary business, where she has tasted delicious success, she also savors a flavourful palette of a happy married life alongside her husband. 
But unlike many marriages, her marriage with her partner has been quite unusual but extremely beautiful. 
Prue Leith's Husband
They say, "It is love in old age, that is true love," and in the case of Leith, this statement fits true.
There is something rather unique and endearing about love in old age, and a testament to it is Prue Leith's marriage with her husband at 76-years-of age. 
The rewarding professional front that life blessed with for Prue just needed a dash of sweetness in her life to make it complete. And the dash of sweetness came in the form of love, her love, her spouse. 
This gratifying visual of love started back in 2011 when she and John Playfair met.
After staying together for a while and Prue still enjoying her craft of baking in the culinary world, decided it was time to put together a majestic cake for her own wedding. 
After all, for the couple, it was time. The two married in 2016 in Scotland when she was 76 years of age.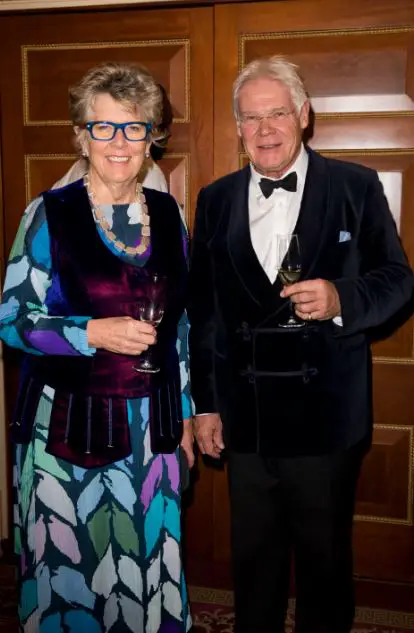 Prue Leith With Her Husband (Source - Yahoo)
While many portals do argue that they met when Prue was 76, going by her age (as she is 81), and their marriage happened in 2016, we might not be wrong to assume that the two got married when she was 76. 
76 year young Prue got married to 70 years young charming retired fashion designer John Playfair. But as unusual as this old age romance was, the more interesting was the couple's decision to not live together until recently. 
You Might Also Like: Amaury Guichon's Beau Gives Insight On Their Love Story Through Instagram
Met in 2011 and married in 2016, the two never shared a home until November of 2020. As called by her partner, their new home is their "retirement home." Talking about their decision to move in together finally after almost a decade of being together, she said, 
"We have to face the fact that we're going to live together for the very first time. It just feels like the right time now."
The two sold their separate homes back in 2020 before moving together.
While Leith described the move by her husband to have "irretrievably throwing in his lot" with her, this move demanded a major sacrifice from the judge of BBC Two's Great British Menu's side as well. 
She had to sell a manor that she bought back in 1970 with her first spouse, late Rayne Kruger. She also described how she would miss the area of her house that houses her late husband's ashes. She said, 
"I think the lake and garden are what I will miss most on leaving. Rayne's ashes are in the water, scattered after his death in 2002, and I'm rather sorry mine now won't be."
While her first marriage left a taste of never-ending sourness in her life, it still rewarded her with the blessing of having a kid, her son Danny.  
But the story of her first marriage, too, is anything but usual. 
Prue Leith's Marriage with Rayne Kruger 
She was married to Rayne, who was her mother's best friend's husband at the time. The two got married after 13 years of a serious relationship. 
Talking about her affair with Rayne in her book, 'Relish: My Life On A Plate by Prue Leith,' she shared how she realized it was "unforgivable." She further added, 
"Poor Nan had no idea what a serpent she had allowed into her nest."
Nan seems to be Rayne's wife of the time. "I must have been a very good liar to keep my affair secret for so long," She said of her secretive affair.
However, the unstable differences in marriage resulted in Prue leaving Rayne as he was not ready for the child. 
After separating from Rayne, she began dating another married man named Jake, who eventually left her and reunited with his life.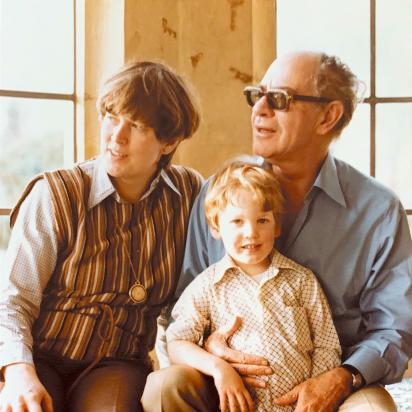 Prue Leith With Her Ex-Husband Rayne and Son (Source The Times)
Prue then again decided to get back with Rayne and had their son Danny. Danny is a Member of Parliament of the United Kingdom. 
Also Read: Koren Grievson: Just Dating Or Planning to Get Married to Her Lesbian Girlfriend? Bio and Net Worth?
Alongside a son, she relishes life with her adopted daughter Li-Da Kruger. Her daughter is founder and creative director at Relish, a production company catering to empowering women. Her adopted daughter has a baby boy who is adopted.
Her ex-spouse died on Christmas of 2002, and sadly he passed away 15 minutes before Prue arrived in the hospital. 
Despite all the challenges in her life, primarily regarding her love life, life has rewarded her with a loving husband a fulfilling family as she is a grandmother to four grandchildren now.