Entertainment
Rico Nasty Wonderfully Raising Her Son After Being A Single Mother
Rico Nasty who is a single mother to her son had to take care of her kid alone after an unfortunate incident took place in her life.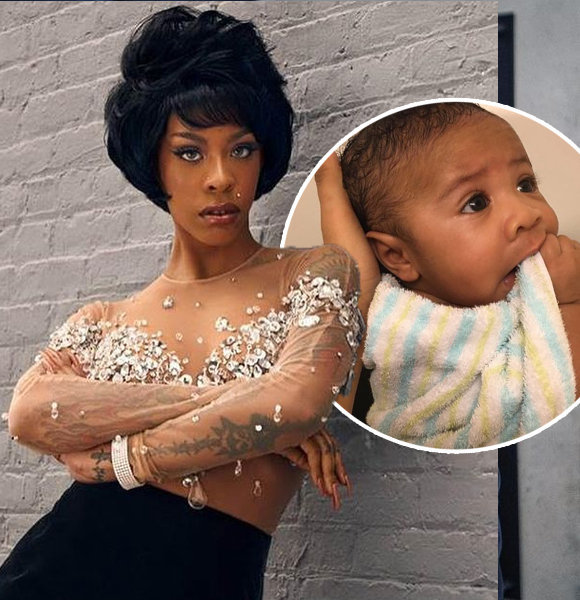 American Rapper Rico Nasty has, over the years, marinated herself well in the hip-hop business. One would look at this young and aspiring individual and think that given her amazing personality, life would be smooth sailing for her. 
However, that is not the case. Life would not have prepared for the storm that it would bring for the now-24-year-old rapper as she unwantedly had to take up the responsibility of a single mother. 
Journey as a Single Mother to Her Son 
No, by unwanted, we do not mean she didn't want to be a mother. On the contrary, it is a blessing that Nasty enjoys wholeheartedly.
However, in the past, she faced an unfortunate circumstance where she had to part away from her baby father without knowing she was pregnant. 
Sadly, Nasty lost her boyfriend and her baby father due to Asthama. She lost him before her son was born, and devastatingly her boyfriend did not even know she was pregnant. Neither did she, 
"The whole crazy part with me is that I didn't know. My child's father had died and I didn't know I was pregnant,"
18-year-old Rico had to bear the burden of losing her boyfriend, an experience she recalls made her "depressed" and "trapped." 
She further says, 
"I was sad about losing my boyfriend. So I wasn't going to school, I wasn't doing shit. Just depressed as fuck. And I damn near didn't graduate. I was trapped." 
She wasn't a popular figure back then; however, some part of this experience might have given her a boost to move forward in a specific direction in her life. 
Keep Up With: Awesome Rapper Da Brat: Partying With Her Girlfriend in Club, Lesbian or Bisexual? Boyfriend Issues
The "iCarly" singer is now a singer mother who is enjoying her responsibilities as a mother and life with her young son. 
Recently, she posted a cute Instagram video of her son as it was his first day of kindergarten. The emotional mother shares that she could not believe her son was getting so big and that she cried. 
Nasty often shares pictures of her kid on her social media, and truth be told, she has given him everything that her child deserves and needs and has left no stone unturned to fulfill his life. 
All of which has been possible through the amazing and rewarding career that has landed her a fortune of net worth. 
Rico Nasty's Net Worth 
The "Poppin" rapper started her journey as a rapper by releasing mixtapes and solo singles. 
After gaining prominence on the Sound Cloud, she gained even more recognition after signing to the Atlantic Records. 
Her debut studio album, Nightmare Vacation, was released in December of 2020. Likewise, her collaborative mixtape release, Anger Management that she released a year prior gained critical acclaim all over through names such as Billboard, Rolling Stone, Noisey, and more. 
As of 2021, he announced her mixtape named Rx, which will release soon enough. Nasty might be new to the industry, but she has carried on this talent forever with her. 
You Might Also Like: Kirshnik Ball "Takeoff" All You Need to Know About: Dating, Girlfriend, Affairs, Wiki, Bio and Age
As a result, she now earns generously from her song sales and concert tours, all of which lands her net worth in the six-figure range. 
She might yet have time to flourish in this competitive business, but she has already stepped foot in the right direction, and it is only a matter of time when we see her collaborating with big names such as Nicki Minaj, Drake, Lil Wayne, and more. 
More on Rico Nasty
Born on May 7, 1997, as Maria-Cecilia Simone Kelly, she professionally changed her name to Rico Nasty. 
She was born to a Puerto Rican mother and an African-American father who was the one to introduce her to rap music.
Later on, her father was sent to prison, and her parents divorced. 
Nasty has at times been speculated to be gay. However, she doesn't seem to be interested in women. But she is a strong ally for the LGBTQIA+ community and also is considered an idol for gay people.