Sports
'The best day of my life!' Scott Frost's Wife Remarked About Their Wedding
Scott Frost's adorable Instagram posts say it all about his blissful life with his wife, and their spectacular wedding is something not to miss.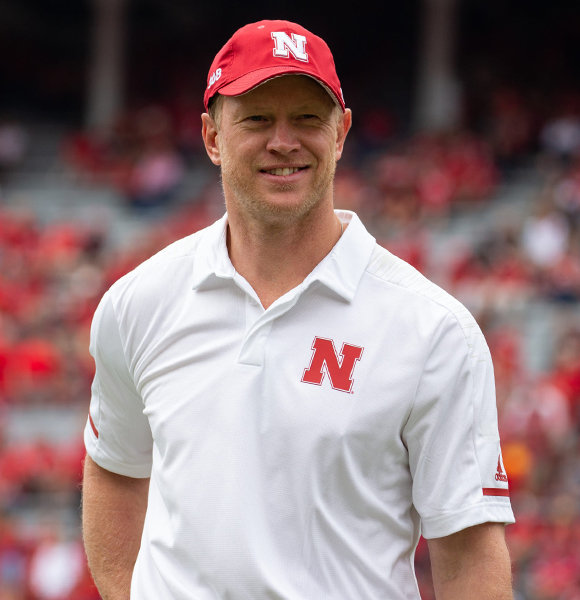 "The best day of my life!," is what the American football coach Scott Frost's wife says about their wedding. 
Reminiscing the day the lovely couple shared their commitment to remain a family until their last breath, Scott's wife took to her Instagram to share a glimpse of their holy ceremony. 
The dreamy picture she shared on her social where the newly wedded couple shares a passionate kiss says it all about their love for one another.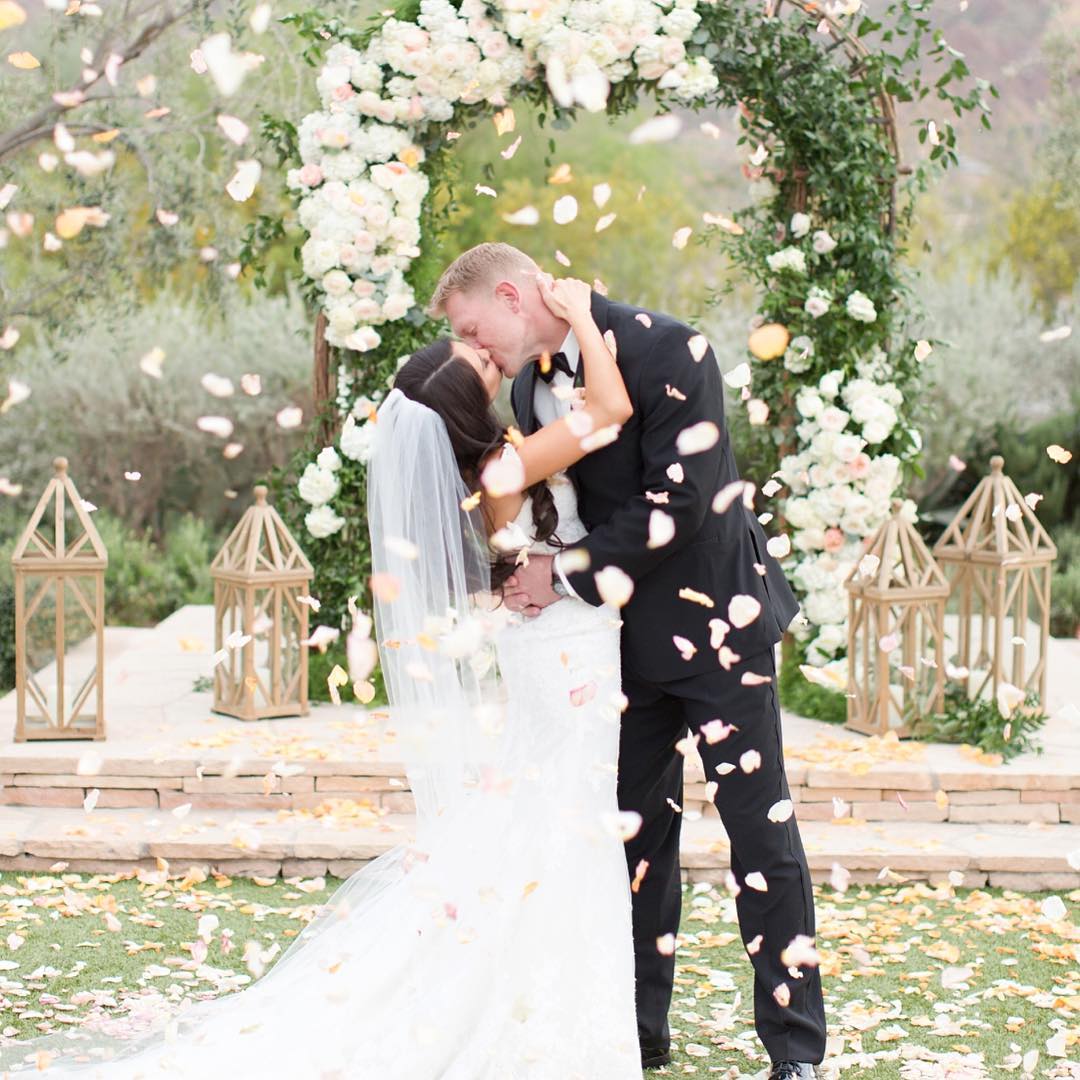 Wedding photoshoot of Scott Frost and his wife (Source: Instagram) 
Keeping their relationship intact through all these years, the couple's bond has not aged a single day. 
Scott Frost's Wedding Bliss 
Scott flashed his romantic side when he stunned his now-wife, Ashley Neidhardt, with a surprise proposal back in 2015. Five months after the proposal the pair were ready to embark on to the new chapter of their relationship, tying the knot on March 11, 2016. 
The beautiful wedding, as covered by Brides, was held in Camelback Mountain in Arizona. The mesmerizing wedding venue was already magical, while the mountains on the backdrop added to the magical day. 
As they exchanged their 'I do' at El Chorro, the ceremony was witnessed by one hundred and sixty-three guests. 
The wedding planner Stephanie Antoinette's expertise added a different charm to the whole event. Scott's wife, who was genuinely thrilled by the wedding design, took her time to share a glimpse of the beautifully planned event and thanked the designer with a whole heart. 
Personal life of - Wedding Bells Alert!! Congratulations Are Surely on the Way For Dylan Walsh
Another delight of the event was the photography by Amy & Jordan which probably hangs on the memory wall of the couple's house, reminding them of the start of their new life together.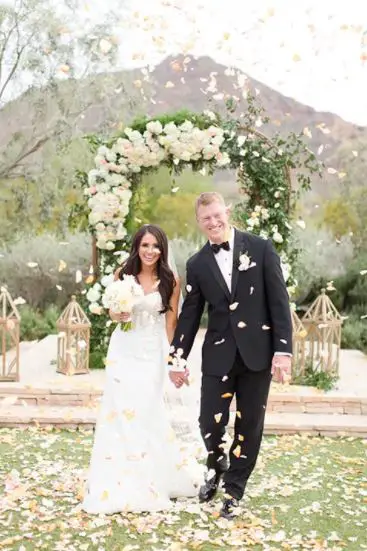 Scott and his wife posing as a bride and groom (Source: Brides)
Well, their dreamy wedding would be incomplete without mentioning their fabulous wedding attires. Scott wore a black tuxedo with a classic element to it, making him appear sharp, while his wife picked her wedding dress in hassle just five days before the wedding. 
But we must say, her last-minute pick, a sweetheart-necked modern trousseau wedding gown, could not have done more justice to her big day. And, the bridal bouquet, a combination of ranunculus, roses, dahlias, and peonies, was the chef's kiss.  
With a flourishing wedded life, the couple expanded their family, welcoming their firstborn in 2017.
More on - Sara Eisen Married Matt Levine on May 29, 2016. Relive Their Wedding and Meet Her Journalist Husband
Scott and His Wife Embracing Parenthood
As the couple is not very flashy about their personal life on socials, Scott's wife's Instagram posts of her adorable kids are there to spare us with few glimpses of their family moments.
Ashley, a registered nurse, took to her social handle for the first time to share a glimpse of her son, Ryan James, on February 10, 2018, when the little guy just turned three months old.
Since then, the couple's son has been a major attention stealer on Ashley's Instagram. A few posts later, she updated her followers with a beautiful monochrome family portrait and expressed her gratitude towards her husband with a caption that read,
I appreciate this hubby of mine every day. RJ and I are big fans of you.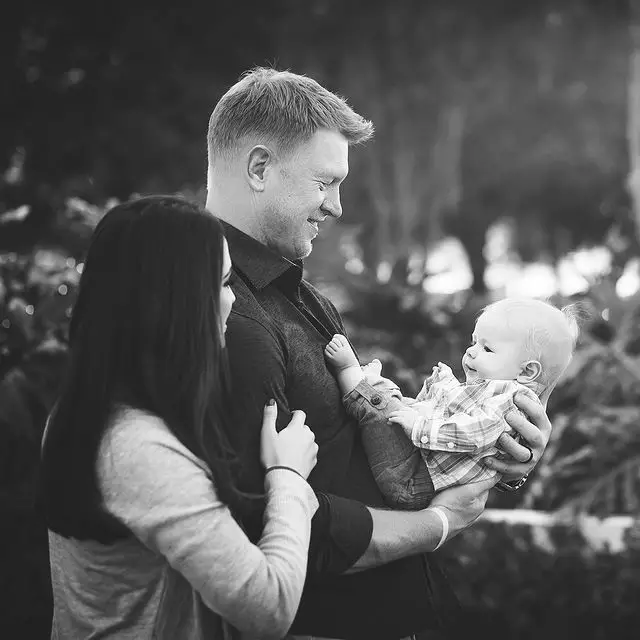 Scott's family picture with his wife and son (Source: Instagram)
The family of three soon expanded with the addition of another child, their daughter, Alli. Ashley dedicated another one of her Instagram posts to share glimpses of their baby girl.
Proudly flaunting a series of pictures of their two kids' bonding time, Scott's wife treated the Instagram followers with their monochrome pictures.
Scott indeed has everything, from fulfilling family life to an accomplished career. As responsible and flawless he is with his work as a football coach, he is no less in carrying his father's duties wholeheartedly.