Sports
Sean McVay's Astounding Net Worth - How Big Is It?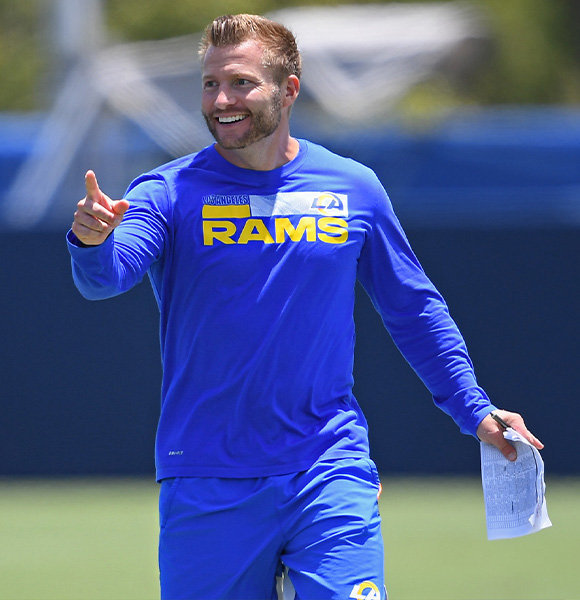 American football coach Sean McVay is the head coach for the Los Angeles Rams of the NFL. 
He has done marvelous work as a coach during his time in the Rams, for which he has been widely appreciated and loved. 
He has also made history by being the youngest head coach in modern NFL history. He became a head coach at the age of 30.
So one can wonder what talent McVay possesses when it comes to football. 
It seriously is no joke, and neither is his outstanding net worth which is unbelievably massive. His recently purchased mansion has also made headlines in the news portal, which we will be discussing promptly. 
For now, let us take a deep dive into his career and the impressive fortune that he has accumulated throughout his career. 
Sean McVay's Net Worth and Career
Like many head coaches and professional football players, Sean, too, started his football journey with college football. 
He played in the wide receiver position from 2004 to 2007 for Miami University. 
His brilliant performances in college football landed him the position of assistant wide receivers coach for the Tampa Bay Buccaneers in 2008. 
He eventually was tasked to Florida Tuskers and then to Washington Redskins. 
But life hit the jackpot when he was hired to become the 28th and the youngest head coach for the Los Angeles Rams. 
He was at the age of just 30 when he was hired. He has been coaching the Rams ever since and has helped them bag many prestigious wins. 
His recent house purchase made quite a buzz on news portals and social media. It was reported that he brought a whopping $14 million mansion in Hidden Hills. 
His purchase has added significantly to his net worth and skyrocketed his already impressive net worth by millions. 
As reported by Celebrity Net Worth, his salary is a striking $15 million. So, one can definitely wonder how big is net worth is going to be.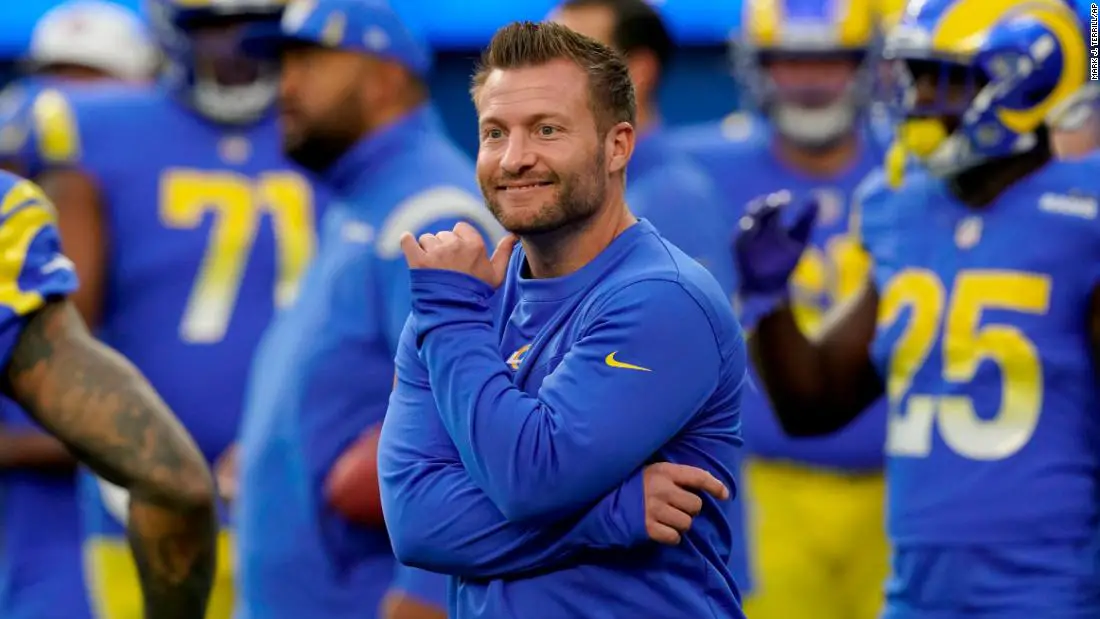 Sean McVay Supporting His Team on The Field (Source CNN)
He has a recorded net worth of 40 million dollars. 
IT'S 40 MILLION DOLLARS!!
This figure is a lot but not a lot for someone as deserving as Sean McVay.
Head Here: Aaron Donald's Sweet Relation with Brother, Sister & Parents
There have been his retirement news, but McVay, a son to a former NFL coach father, seems to keep the family legacy alive. He still has a long road to go in his career, and he doesn't seem to be retiring any time soon.
Apart from his hefty net worth, McVay shares his fortune-filled and happy life with someone special. 
Is Sean McVay Married?
No, Sean is not married, but he won't be holding the status for long. He is happily engaged to his fiance Veronika Khomyn. 
The two got engaged in 2019 and have been waiting to start a new chapter in their life, probably with the addition of some kids soon.
The head coach popped up the big question when they were vacationing in Portofino, and without a second thought, his financee said yes to him. 
Shortly after saying Yes, McVay's fiancee took to her social media to share the happy news among her social media followers.
Sharing a beautiful picture of the recently engaged couple, she wrote, "The man of my dreams, my best friend and the love of my life asked me to marry him...And I said YES!!! to being his McBae forever."
Such a beautiful moment, after all. 
We are now waiting for the two to exchange their title of husband and wife, and when that happens, we will be sure to let you know first.