Entertainment
"I want to be a family man" Said Shemar Moore, So Is He Married Now?
Shemar Moore's plan for taking his life on to the next level is set but who is the lucky girl? one of his girlfriends from his dating history or someone new?
Shemar Moore's want to share his life with someone clearly reflected on his statement when he talked about wanting to have a family and take his life to the next level. 
"I want to be a family man. I want to be a father, I want to have a partner in crime, a woman to share [my life] with. I want to continue to evolve, I want to continue to take the next step in my life. In my personal life,"
He quoted and according to reports the S.W.A.T actor made the statement to Watch! Magazine.
So, now fans wonder what life is like for him and if Moore finally has someone to share his life with. 
Who Is Shemar Moore's Wife? 
Shemar Moore's claim to have someone in his life suggested that he would very soon open a new chapter in his life. However, the pages have been unturned till now. 
Moore is yet to marry someone, and even more, he is yet to get into a relationship. 
Sure, this charming and handsome personality has had girlfriends in the past, but as of now, he is single. 
Well, he sure seems to be. But as well built and attractive he is, CBS' Criminal Minds star might not be single for too long. 
More On Criminal Minds Star: Sobbing Aisha Tyler Leaves 'The Talk' Just A Month After Divorce With Husband!
Nonetheless, Moore did have quite a few relationships in the past and was linked to few women in his life.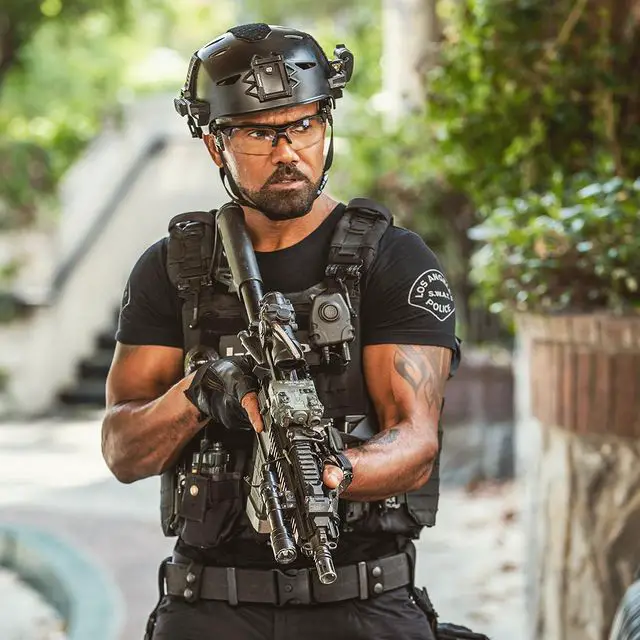 Shemar Moore On S.W.A.T (Source Instagram)
His last known relationship was with Quantico actress Anabelle Acosta with whom he was in a relationship for a year or so. 
Once talking about wanting a family and children, his statement changed quite a bit when he was interviewed about his relationship with Acosta by ET Canada back in 2018. 
"We are not getting married. There's no little babies running around. We are still brand new. Like first base,"
He said, while also addressing that he now has this conscience due to his prior relationships and wants to "have fun" and "take baby steps."
But the 51-year-old, Daytime Emmy Award (2000) winning actor has stayed in the dating game for quite a long time now as he has captivated people with his charm since the 2000s. So, we might have to make a different section to discuss further on the topic.
Moore's Dating History 
Ever since Shemar entered this business, he has captivated quite a following and admirers. As a result, he has had many link-ups and relationships. 
Let's do this in ascending order ... or descending. Sorry, we are bad at this. But you'll understand.
Before dating Anabelle, he dated Shawn Gordon for a year from 2015 to 2016. Prior to that, he also dated Lauren Wood during 2014.
He also dated Swiss actress and model Lauriane Gillieron in 2007 after being rumored to date his co-star Victoria Rowell in 2006. 
Another Relationship History: Kelly Evans' Relationship History: Secretly Married to Mystery Husband Or Dating?
During the same year, he was linked with Gabrielle Richens, as reported by Ranker. 
... And before this, he also dated Kimberly Elise from August to October 2005. But, again, before that, he dated Ashley Scott for a year (2002 to 2003) and Halle Berry for ... again a year, 1997 to 1998. 
He also dated ... hold up! We aren't being lazy, but this is going in one tone, so we don't know how else to give this information to you, but this is last, we promise!
His charm has worked not only since the 2000s but also in the '90s as he dated the ever so famous Toni Braxton from November 1994 to May 1995. 
Phew! Need a cup of coffee. 
Even after all of these relationships' Moore has to time and again defend his sexuality rumors.
While posting an Instagram video in 2017, he cleared that he was not in a relationship with Phaedra Parks and he was not gay and loved woman. 
Shemar, as of now, lives his life without letting any news of his dating life come to the surface and has maintained the secrecy until now.