Entertainment
Shohreh Aghdashloo's Marital Life- Who is Her Husband?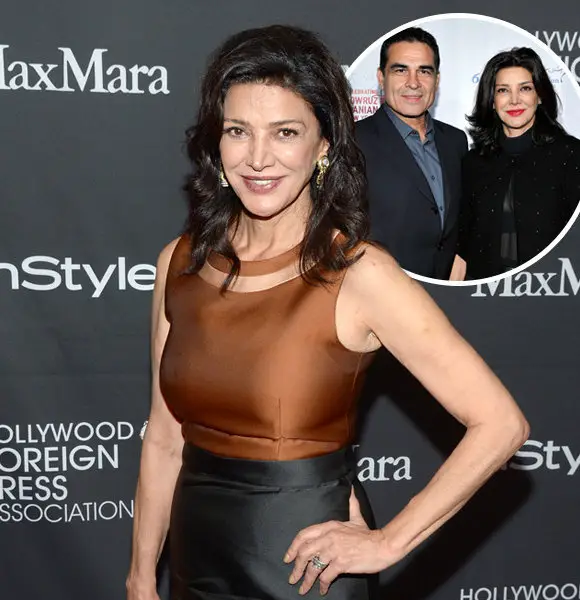 The 69-year-old 'The Expanse' star Shohreh Aghdashloo has had her share of setbacks off-screen due to her roller-coaster marital life. 
Her rough road to marriage includes her failed first marriage. However, who is the one who mesmerized her again and swept her off her feet? 
Given that the beautiful Iranian-American actress lives in the hearts of millions, how Shohreh is doing with her second husband has been a major curiosity for her admirers.
Shohreh Aghdashloo's Husband
With a little hope for comfort, the Iranian actress turned to her friend from her home country; instead, she found everything. 
During the mid-1980s, she met her husband, Houshang Touzie, a fellow actor from Iran. The couple instantly fell in love and decided to get married after dating for a while.
In 1987, Touzie and Shohreh tied the knot following Iranian traditions. They held a beautiful wedding ceremony and celebrated their love amidst their loved ones. 
They can be called a power couple as their togetherness doesn't only limit to love. 
Find More On Iranian Personality: Nasim Pedrad Potrays a Character of a 14- Year- Old Boy?? Who Is Nasim Pedrad Dating?
The power couple has made a great contribution to the Iranian entertainment industry.
After the 1979 revolution, the Theatrical and Acting Workshop in Tehran was shut down. But, they couldn't just sit back and do nothing.
So, Touzie and Shohreh founded Workshop '79, a Los Angeles-based drama production company.
Their love continues to be powerful as Touzie shared a picture in 2021, with the caption, 
I love you not only for what you are but for what I am when I am with you.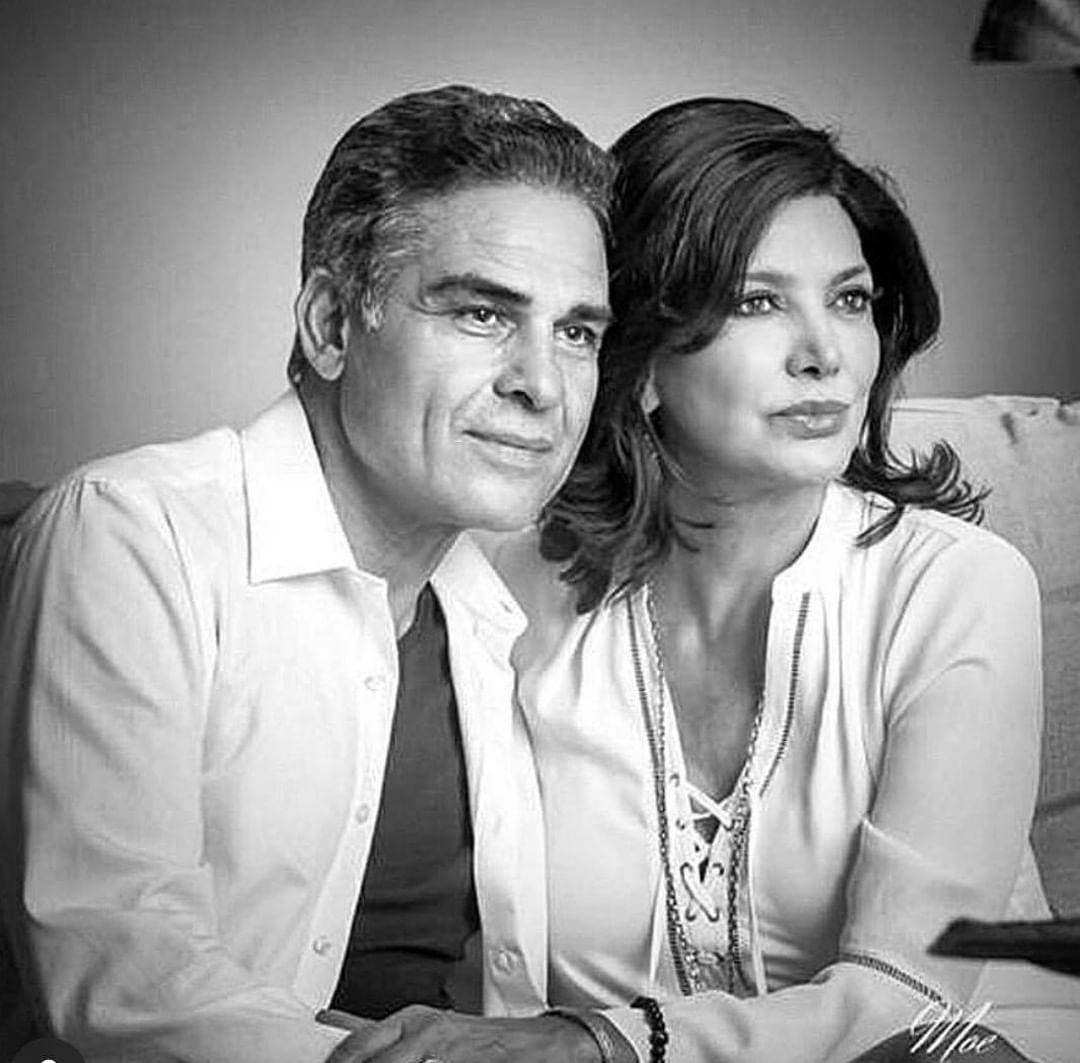 Shohreh Aghdashloo With Her Husband (Source: Instagram)
The adorable couple continues to share a family and be each other's home. 
Explore About Celebs' Children: Tanner Foust has a Daughter? Who is His Wife? Dating and Girlfriend History of Racing Driver
Shohreh's Relationship With Her Daughter
After two years of marriage, the couple decided they were ready to have children and start a family. So in September 1989, they welcomed their beloved daughter, Tara Touzie, into this world. 
Looking at Shohreh's tweets, she has a tight-knitted relationship with her daughter. 
In 2018, she made a special post to shower her daughter with immense love and gratitude. As we can see in the tweet, she has a lot of appreciation and love for Tara.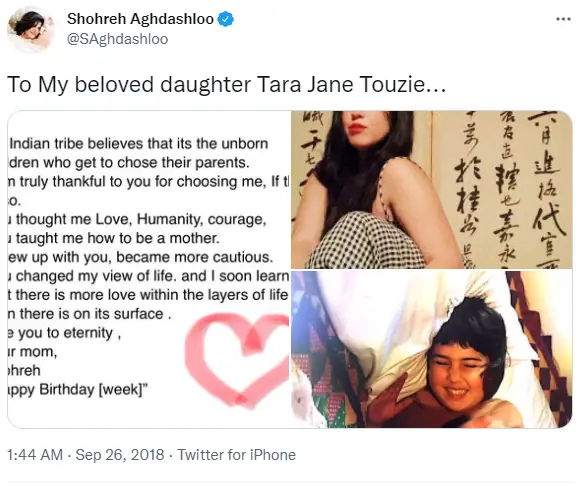 Shohreh Aghdashloo Tweet (Source: Twitter)
Unlike her parents, Tara chose to become a writer. Shohreh and her husband accept her career choice and are proud of her.
The actress even made a special appreciation post dedicating Tara as she expressed how proud she is as her mother.
Although Shohreh continues to live happily with her husband and daughter today, some people are curious about her past. 
More On Divorced Actresses: Divorced Actress, Delphine Chaneac Rumored to be Getting Married to Her Super Hot Partner Eric Morais
First Marriage
Before finding her present partner, Shohreh was married to Aydin Aghdashloo for seven years. 
Being with Aydin for almost a decade, she decided to end the marriage and move on.
However, after Iran's 1979 revolution, it gave her the courage to end her marriage, which was already on the brink of collapse.
At the time, Ayatollah Khomeini's religious regime brought suppressing restrictions on women and their involvement in art. The unexplainable suffocation to women changed with the revolution.
After leaving her former husband and her past behind, she started making history in the entertainment industry.
Even now, she shares her past struggles as an outsider in Hollywood. But, her fandom always made her feel at home, admiring her talent.