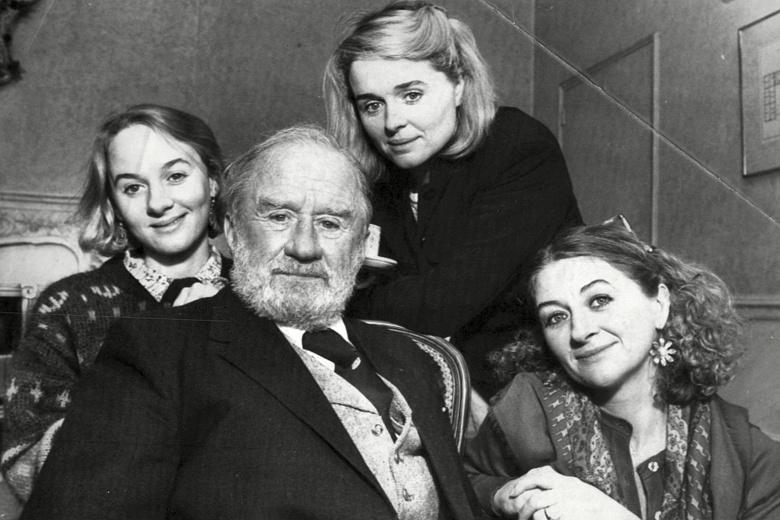 'Father Brown' actress Sorcha Cusack has a notable career in acting, especially in the theatre scene of Ireland, America, and the UK. But, you might also be wondering where else you have heard the surname 'Cusack.' 
In fact, Sorcha belongs to a family with her parents and siblings with predominant careers in the entertainment industry. 
Born into a family of actors, the 'Casualty' actress and her siblings had a lot of inspiration growing up, and they continue to pass on the love for cinema to their younger generations.
Sorcha Cusack And Her Siblings
There must be something special in the Cusack genes as the whole family is a bunch of talented actors and filmmakers. Sorcha was born in Dublin, Ireland, to actors Cyril Cusack and Maureen Cusack. 
She has four siblings. Her sisters are Niamh Cusack and Sinead Cusack. Both of them have appeared in popular television shows and theater stages. In addition, Sorcha has a half-sister Catherine Cusack from her father's second marriage.
Likewise, her brother Padraig Cusack and Paul Cusak are also a part of the industry. But they've chosen a slightly different path from their sisters and parents. Padraig is a theater producer, whereas Paul is a director and producer.
All the Cusack siblings have found their way into the entertainment business, and each one has notable credits to their name. The three sisters are often seen in the same roles in the theater, some time apart.
Niamh, the youngest, is often the one who does the roles after her elder sisters. She told the Independent.ie,
This isn't the first part that Sinead or Sorcha has played that I'm taking on after them. I'm always the one who is doing them last.
Despite them all being in the theater scene, they have collaborated and appeared on the stage only once. The sisters and their father Cyril appeared as father and daughters in the 1990 play 'Chekhov's Three Sisters.'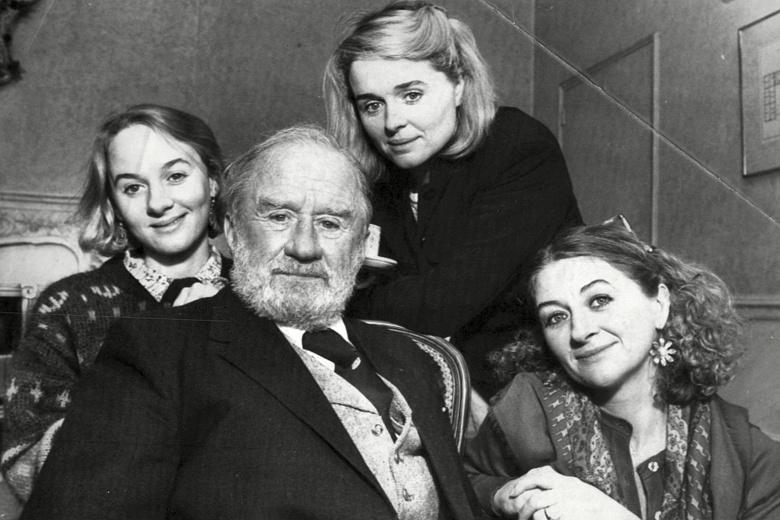 Sorcha Cusack With Her Siblings And Father (Source: The Sunday Times)
Speaking of Cyril Cusack, he was the perfect person to look up to for the Cusack siblings. He's considered one of Ireland's greatest actors, and he was a man wholeheartedly dedicated to the art of cinema.
So much so that he ended up being an absent father for his children. On that note, Niamh once said, "He was an actor before he was anything else, including a father."
On another note, the siblings learned work ethic from him, and once they were in the same busy industry, they understood.
However, they weren't all prepared to carry on their family's legacy. Sorcha shared that acting wasn't her first career choice, and she wanted to be a teacher instead.
I thought there were far too many actors in the family and I would do something else. 
But, fate had it for her, and she is still active in the industry in her 70s.
The same goes for her sisters, who are all following the profession. Additionally, a career in acting isn't the only thing they have in common. Interestingly, all three sisters are married to fellow actors.
Read more on: Watchmen's Jeremy Irons Son, Net Worth, Wife & New Facts
Sorcha Cusack's Extended Family
Sorcha Cusack is married to actor Nigel Cooke and has two children with him. Her daughter has taken up her footsteps and is active in the theater scene.
Similarly, Sinéad is married to award-winning actor Jeremy Irons and has two children. Keeping the family legacy alive, her son Max Irons is also an up-and-coming actor.
Niamh, on the other hand, is married to actor Finbar Lynch. The two have a son, Calam Lynch, who is, you've guessed it, an actor too.
Moreover, their half-sister Catherine is also married to actor Alex Palmer. Adding to the list of artists, Pádraig's daughter Megan has also chosen the same path.
Clearly, talent runs through their blood. The Cusacks have all made their name in the industry, leaving an impactful impression. 
Despite having a star-studded family, the Cusacks have learned to put rivalry and bitterness aside to maintain a healthy relationship with each other, and they are close to each other as a big, famous family.