Entertainment
Stefania Spampinato Admits to Being Attracted to Her Co-Star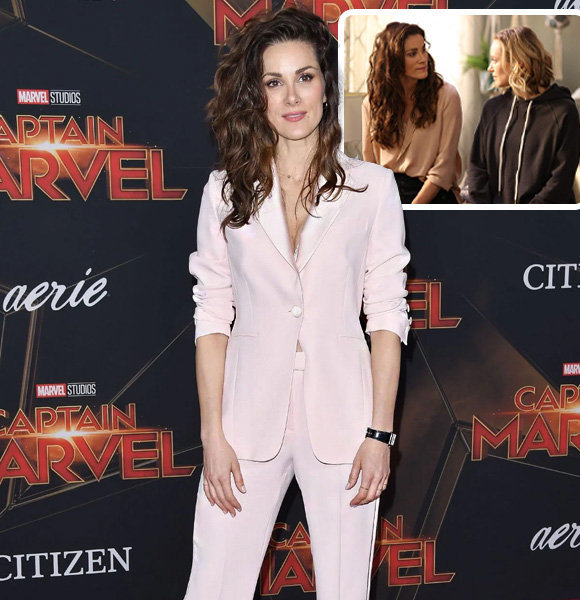 'Greys Anatomy' fame, Stefania Spampinato is an Italian actress that has grown on people throughout the years with her amazing work in the industry. 
Moreover, she has also worked in the role of Dr. Carnia DeLuca in 'Station 19.'
Stefania Spampinato balances a very healthy mix of professional and personal life. Who doesn't love to be at peace after working tirelessly for hours?
By the looks of it, Spampinato likes peace and quiet in her life. But is there someone special in her life? Someone like a husband or a boyfriend?
Does Stefania Spampinato Have A Husband?
As we said earlier, the actress likes to keep peace and quiet in her life. She has been able to maintain a level of secrecy when it comes to her personal life, which makes it extremely hard for us to make assumptions about her personal life. 
Although she does not have a husband or a boyfriend, we can still give you some very interesting insight into her personal life. 
Spampinatio has worked with actress Danielle Savre and their on-screen romance .. well, let's say it has been loved to a point where fans have wanted to see the two actually together in real life. 
While we cannot tell if Spampinato is gay but one thing we surely can't deny is their chemistry is picture-perfect. 
The More You Know: Dan Povenmire's Daughters Inspired Phineas and Ferb Characters
It's not like the Grey's Anatomy alum doesn't believe it herself. When she was asked about her chemistry with Danielle and how it was portrayed so well in an interview that she did recently, she had this to say, 
"We choose our friends because we have chemistry with them... because we have a connection with the.. I feel like we're attracted to each other, we had this chemistry."
She did adhere to the fact that they were actors, but in conclusion, she pointed out how when there is a natural connection and a natural comedy then, it makes the acting job much easier. 
Stefania Spampinato and Danielle Savre's Kiss (Source Facebook)
We might not know if they are in a relationship with each other, but we sure do know that they are very good friends with each other, and Danielle's feelings toward the actress are also mutual. 
She has talked about how Stefania is a gift to work with. 
The actress, as of now, might be single, but by the looks of it, she was in a relationship with a Blackhawks hockey video analyst named Andrew Contis. They seemed to have dated around 2019 but later on parted ways. 
The reason for her and her previous partner's separation, however, is not mentioned, and there is just very little known about the relationship that the two shared. He remained only as a partner and did not make it to the 'husband' title in her life. 
In fact, she has never mentioned having a husband or partner in the past either so we're guessing she wants that part of her life out of the media.
For now, Stefania's and Danielle's on-screen relationship is enough to give us all the heat on her love life. But, if ever the 39-year-old actress decides to share more personal information on her husband or dating life, then you know where to find us to get to know all about it. 
Keep updated with us to get to know more information on the actress's life and her dating life.