Celebs
Does Steve Doocy Have cancer? Is His Wife Suffering from a Chronic Illness?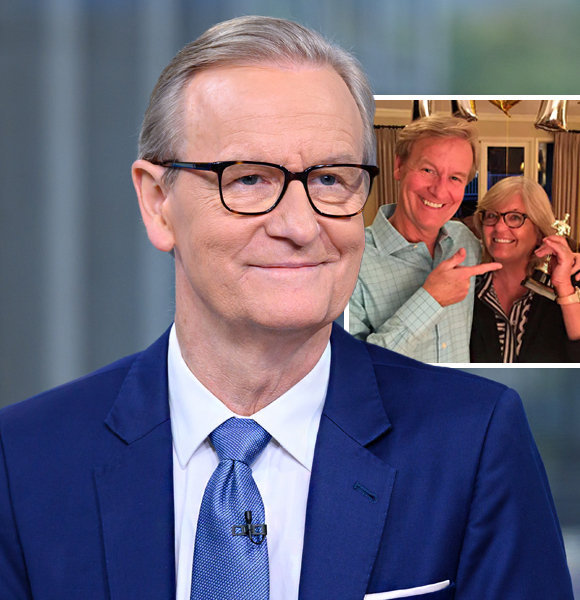 A political commentator, television host, and author, Steve Doocy, is one of those who have settled down in millions of hearts so far.
He is a talented individual and a barrel of laughs who embraces his audience within his warmth of happiness. But, recently, most people who adore him are worried about whether Doocy and his wife are suffering from some chronic illness or health problems. Many also doubt cancer.
Does Steve Doocy Have Cancer?
This question has been revolving quite a lot on the internet. This is because so many skeptical theories and fake posts came forward regarding his illness. However, all of the sporadic news was later declined by Doocy. 
Not cancer, but he was suffering from the omicron virus. The virus affected the whole family, including his wife. He said,
"A lot of people trade gifts, we traded omicron. It pretty much went through our whole family."
When asked about the spread of the virus, he mentioned how his daughters, Sally and Mary Doocy, had been suffering from the Delta virus hitting them right in the lungs. But, the omicron it's quite different; it hit Peter Doocy, his son, and Steve right on the throat. The omicron was quite threatful in the case of Steve's wife, Kathy, but luckily she beat the virus. 
However, the family recovered soon after, and today Doocy is back into his profession and is portraying his lively personality as ever.
Moreover, the laughing faces had once gone through threatening phases of their lives. A few years back, Doocy's wife was diagnosed with eye cancer. 
All of this started when the couple had planned for a trip to Florida. Before getting there, Kathy bought a pair of sunglasses. After then, they drove off to pursue a journey they thought would be lovely. 
On the way, while Kathy was flaunting her glasses, Doocy noticed a slight freckle emerging in her eyes. He got worried and rushed her immediately to the hospital. Initially, the doctor consoled them for not worrying much and visited again after a few months.
They returned to the place months later, and the doctor asked them to visit a retina specialist. For a few days, they switched to different hospitals and doctors. After a long journey, the doctor finally revealed that she had cancer. Likewise, Doocy's wife was diagnosed with ocular melanoma.
The term "cancer" left Doocy and his wife extremely heartbroken, as they hadn't expected any of it. However, the doctor had mentioned that the disease was curable as she was in the initial phase. 
Despite hearing the comforting words, Kathy was devastated. She was not worried about her, but she worried about the family. The only thing that revolved around was what would her family do if she died? How would they cook for themselves?
Worried by this, Doocy's wife started writing recipes for their sake which he later published. This is how the Happy Cookbook Series was born.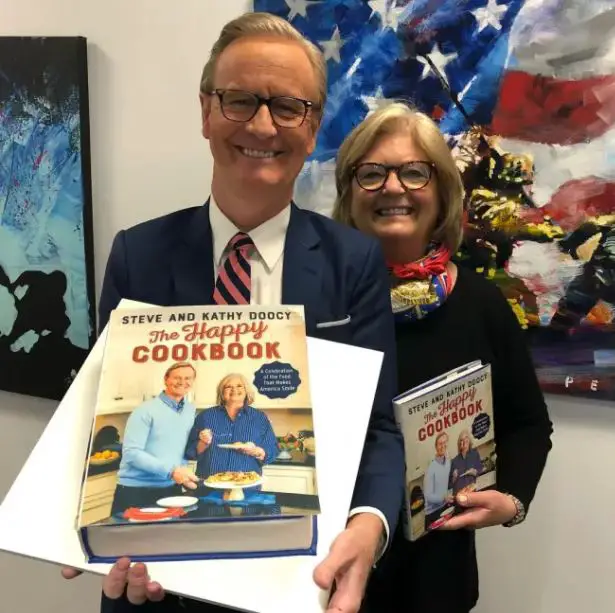 Steve and Kathy Doocy with their Happy Cookbook (Image Source: The Sun)
Afterward, the treatment began. The entire family was extremely nervous regarding the treatment. However, after five consecutive days of the treatment, the doctor came up with a happy face saying it was successful. That day came up as the best days of their lives. The entire family lit up the brightest.
Doocy family is one of the most exemplary families around. The way they stick by together, the love that nurtures from within, the day doesn't complete without having dinner together, and their way of celebrating each day with happy faces makes them stand out from the rest.