Entertainment
Shedding Light on Terry Chen's Gay Speculations and Personal Life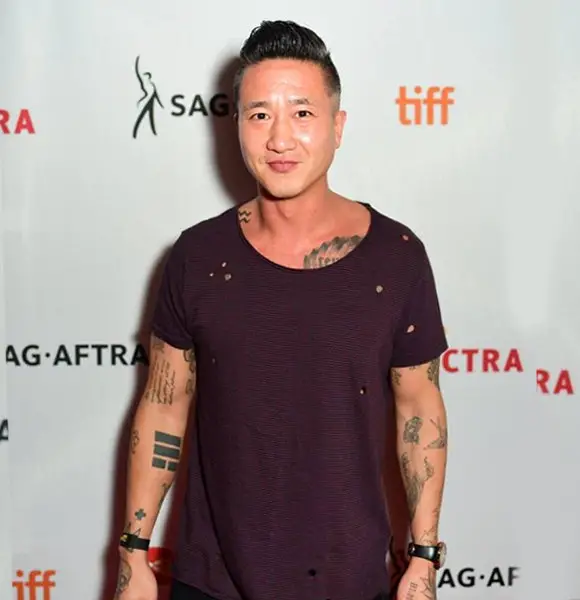 One look at Terry Chen is enough for him to make way into your heart with his stunning appearance and performance.
He probably already has worked his magic in capturing many hearts, especially that of ladies, but his recent portrayal of a gay character has the fans wondering about his sexuality in real life.
Keep reading if you want all the tea on the ' House of Cards' actor's rumored sexuality.
Is Terry Chen Gay?
As LGBTQIA+ representation is becoming more normalized in mainstream media, many actors have gladly taken on the roles regardless of their actual sexual orientation.
Likewise, Chen also appeared as a gay character in the movie 'Falling' alongside Viggo Mortensen as a married couple.
The two shared a steamy kissing scene in the movie that caught much attention and led to speculations about him being gay.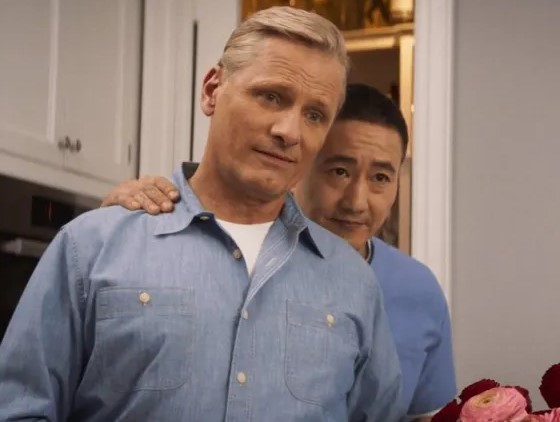 Terry Chen and Viggo Mortensen appear on 'Falling' as gay partners (Source: Metro Weekly)
However, the actor remains secretive about his love life.
He has appeared in a variety of roles ranging from action, drama, and thriller to romance.
But he has not mentioned any links to his personal life from the character and has not directly addressed the gay rumors either.
His co-star, however, has been vocal about the subject. In fact, Viggo believes that someone's sexual identity is not everyone's business. 
"And how do you know what my life is? You're assuming that I'm completely straight. Maybe I am, maybe I'm not. And it's frankly none of your business," he told The Times.
Moreover, he shared that he has no idea about Terry's sexuality despite playing gay partners on-screen.
People have even asked him about it upfront, but his answer is simple. Gracefully maintaining privacy for Terry, he said,
And the answer is I don't know, and I would never have the temerity to ask someone if they were, during the casting process
Furthermore, Terry has not been linked to anyone in the past, and he has not been married either.
However, he has a son whom he dearly loves. This has led to even more confusion amongst the fans about his sexual orientation and love life. 
Check out similar stories: Dana Barron Stays Unmarried but Has a Son, Who Is Her Partner?
Terry Chen Is a Father
Terry gleefully announced the birth of his son in 2021 and has been on cloud nine since the little boy came into his life.
However, there have been no mentions of him being married or having a wife. 
He revealed his son in a tweet and gave his thanks to his little boy's mom.
From the statement, the possibility is that his little guy is adopted or the baby mama is a lover from the past.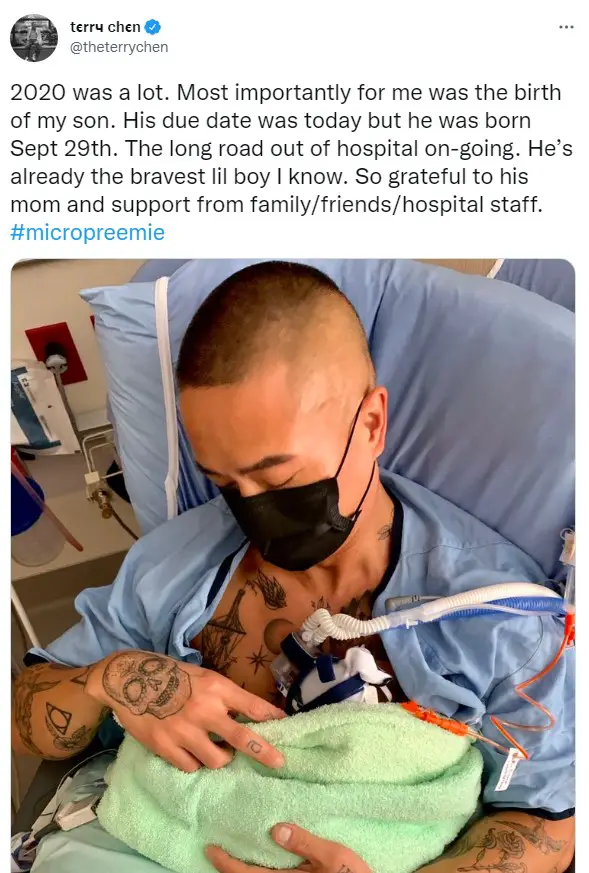 Terry Chen with his son (Source: Twitter)
Nonetheless, Terry has not given out specifics about his relationship with the baby mama, but he has made it clear that the little bundle of joy has changed his life for the better.
"Before him I would ruminate on life, love and purpose. Now he brings me clarity and above all unconditional presence," he wrote in an Instagram caption for a photo of him holding his dear child.
Moreover, Terry seems to be handling the new dad job pretty well. He's constantly posting sweet moments with his baby boy, and the fans are melting over the father-son duo. 
"I'm so grateful you picked me as your dad. You give me purpose everyday and I'm so proud of you and everything you've overcome just to be here my little warrior. The world is yours my beautiful boy. I love you to the moon," he wrote in another post.
It looks like Mr.Chen has got it all covered. While details about his partner are still under wraps, he has a fulfilling life with a new baby and a blooming career.
The actor stands at the height of 5'11" and has been active in the industry since the early 2000s.
He has earned himself a handsome net worth figure through his successful ventures. 
The exact digits aren't disclosed, but it's sure to be in a million-dollar range. You can see Terry on 'I, Robot,' 'Snakes on a Plane,' 'Demonic,' 'The Expanse,' 'The 100,' and many more.