Music
Story of Tom Higgenson's "Hey There Delilah"
Along with A Satisfying Net Worth, Tom Higgenson's Song About His Crush Garnered A Massive Recognization All Over The World And Now People Wonder If She Is His Wife.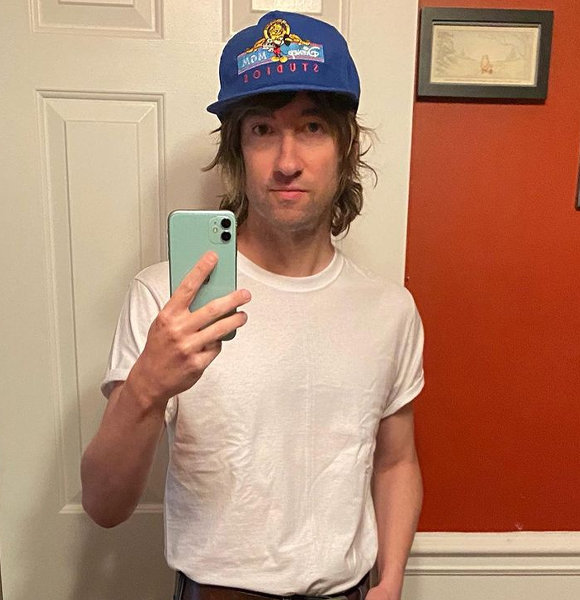 Tom Higgenson is someone who needs no introduction. His song, a classic; whenever you hear it, you just know the words, and you start to feel 1000 emotions all at once. 
A song that captivated a whole generation and helped people express their love to someone to whom they hardly could say anything. 
"Hey There Delilah" was a song that Tom Higgenson released back in the day, and when you hear it now, you get this fresh nostalgia that makes you want to go back to that time again. 
But a song that made people fall in love was a song that was very close to his heart, and rumors has it that it was a song that he dedicated to his lover. 
Who Is Delilah?
Delilah was not just the name of the song, but she was actually real. Tom, alongside his band members Dave Tirio and Ken Fletcher, formed Plain White T's. The song was released from the band name, but Dave and Ken had already left the band during the song's release. 
Shortly after the release, the song captivated millions and became a favorite, garnering many prestigious nominations, among which Grammy Awards was one of them. 
However, the song was made in regards to Tom's crush, Delilah DiCrescenzo. As per rumors, she was the one that inspired the song, and the song was actually made for her. 
"OHHH ITS WHAT YOU DO TO ME" 
Soorrryy! Cant help when the nostalgia hits. 
Surely, she made this amazing artist feel some type of way, but sadly the couple never made it together. In fact, they were never a couple. 
More News On Crush: Actress Erin Richards Reveals her Childhood Crush over her Onscreen Boyfriend on an Interview
In reality, Delilah was already in a relationship with someone else, and she was not "interested." However, later on, the real Delilah broke the silence and expressed how she actually felt about the song. 
As reported by teenVouge, Delihah would hear the song everywhere, and a part of her wanted to scream at the top of her lungs that "its about me," and another wanted to "cower" and "say it's not."
She also revealed that she felt the pressure not to let Tom's fans down as if they had known she had a boyfriend, they would have been disappointed. 
Hey There Dalilah Song
In an interview with ESPN, she said, 
"They'd be disappointed to hear I have a boyfriend. Every girl would want a song written about her, and they'd think I was ungrateful and rude to deny Tom. I felt pressure to live up to those expectations."
And the pressure indeed was real, but eventually, things played out well, and people understood that although the two could not be together, it is still a timeless piece that would touch millions more, and so it did. But it would have been a fairytale if we could associate her as Tom's wife. 
She also added how even if he was inspired by another girl, he would have made an amazing song about her and further said, 
" As far as I'm concerned, I was in the right place at the right time and met the right person — just the luck of the draw."
Moreover, the Plain White T's also took along Delilah to the 2008 Grammys event. After all, she was the soul of the song.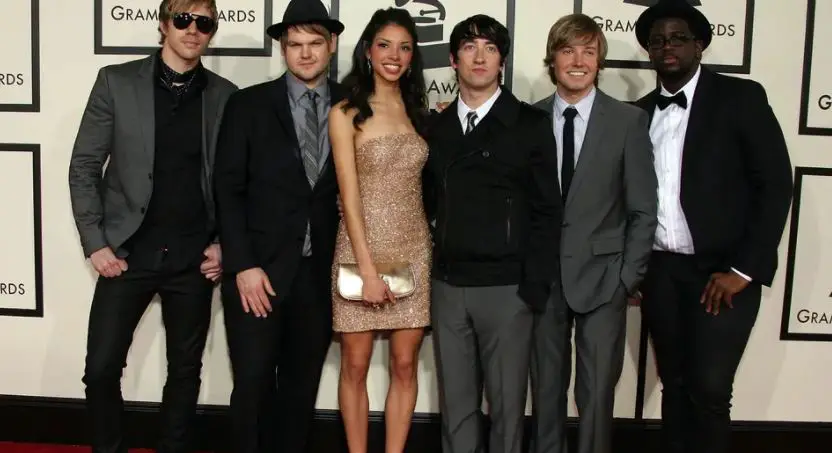 Tom Higgenson With Delilah And Rest Of The Crew (Source TeenVogue)
Even in 2021, people go back to this song and cherish old times, the new generation is making new memories on this song, and whenever it plays anywhere, emotions ride through like a wave. 
With the success of the song, the band gets royalties even to this day. So no wonder that they have accumulated a fortune over time, but sadly the band now is no more, and all of them have gone their separate paths. 
Also Read: Crystal Reed's Boyfriend Reveals Secret To Healthy Dating Affair; Any Thoughts On Getting Married?
Tom Higgenson's Net Worth 
Tom, alongside his two other band members, formed the Plain White T's. Formed in 1997, they recorded their first album Come on Over, in 2000. 
But their success only arrived in 2005 when they released their first studio album named All That We Needed, which featured the song "Hey There Delliah."
A new version of the song was again made after they signed with Hollywood Records, and in no time, the song reached #1 on Billboard Hot 100 and charted for two weeks. 
Coming to 2007, the trio had already broken apart. Kevin Fletcher and Dave Tirio both had left the band, and new members were formed. 
The members again left the band in October 2020, and now only Higgenson remains, who has devoted his career to the band for over two decades now.
During the span of his career and success of his song, he surely earns a good sum to this day, and it is of no doubt that his net worth is counted in millions. 
Although the band eventually could not perform near the expectation of many people, the song "Hey There Delliah" will always remind people of the band, especially Tom Higgenson.