Music
All You Need to Know About Tracy Chapman's Love Life and Net Worth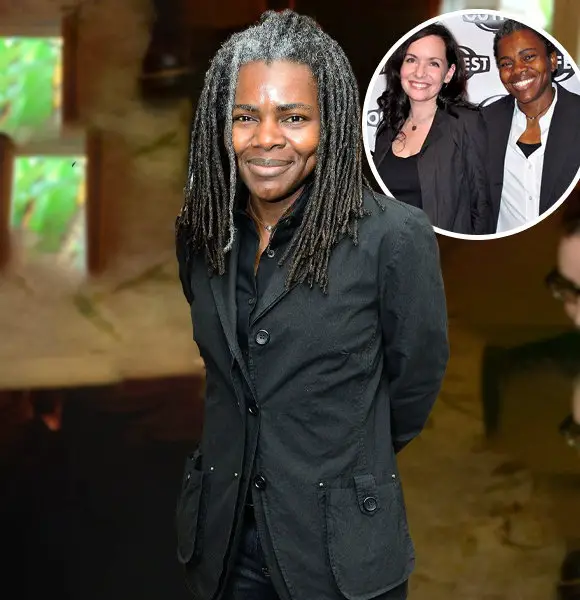 Turning her love for music into a full-time career, Tracy Chapman has been singing since the age of 3.
With an inclining net worth and amazing professional life, the singer's fanbase is also curious about her romantic life, which we have explored below.
Is Tracy Chapman Married?
Being a very private celebrity figure, the singer has been able to keep her possible married life away from the media.
As high the assumptions go, Chapman was previously in a relationship with two women.
Well, two that the whole world knows of.
Read About: Debunking Jimmie Walker's Relationship Rumors- Has a Wife?
In the mid-1990s, the soul singer was linked with an extremely exceptional published writer and author Alice Walker.
During an Interview in 2006, the author and former girlfriend Alice were asked about the secrecy and why the couple decided to maintain a low-key relationship.
And to that, Walker answered,
"It was quiet to you maybe, but that's because you didn't live in our area."
"I would never do that. My life is not to be somebody else's impact – you know what I mean? And it was delicious and lovely and wonderful and I totally enjoyed it and I was completely in love with her but it was not anybody's business but ours."
Along with the response, she also revealed about having journals of the couple's time together, which she would publish one day.
A written entry of a beautiful relationship?
We would definitely love that!
As Tracy loved to keep her romantic life private, there are hardly any details about how the former couple met or broke up.
Leaving us with endless questions about their beautiful relationship!
Moving on to her second relationship, which started around 2010, with Guinevere Turner.
Tracy Chapman with supposed girlfriend, Guinevere Turner (source: komitid.fr)
Turner is a well-known actress in the drama series 'The L Word.'
Meeting through mutual friends, the former couple went public with their relationship through Lesbian Film Festival and Los Angeles' Outfest Gay.
From attending the red carpet together to Turner addressing Tracy as her girlfriend, the couple was assumed to move in together.
After this public interaction, there has been an absolute hush about Chapman's dating life.
For all we can assume, the star may even be married to a husband or wife living the happiest family life with her partner.
Also Read About: Does Deena Dill Have a Husband?
But here, we do not assume things as the star has not come out with any statement regarding her romantic life.
So having patience, all we can do is wish her absolute happiness.
Moving on from her personal life, now let's take a look at the star's amazing career along with her net worth.
Tracy Chapman's Net Worth
With more than 7 million monthly listeners on Spotify, we can assume her net worth is hefty.
Tracy also earns massively through sales from Amazon music.
With more than 30 tracks across all streaming channels, the singer has an impressive net worth that grows day by day.
If we are talking about the numeric value, the star has a raving net worth of $6 Million, according to Celebrity Net Worth.
Stay with us for more updates, from her net worth to her personal life.