Entertainment
Viggo Mortensen Says He Maybe Gay? What Is the Truth?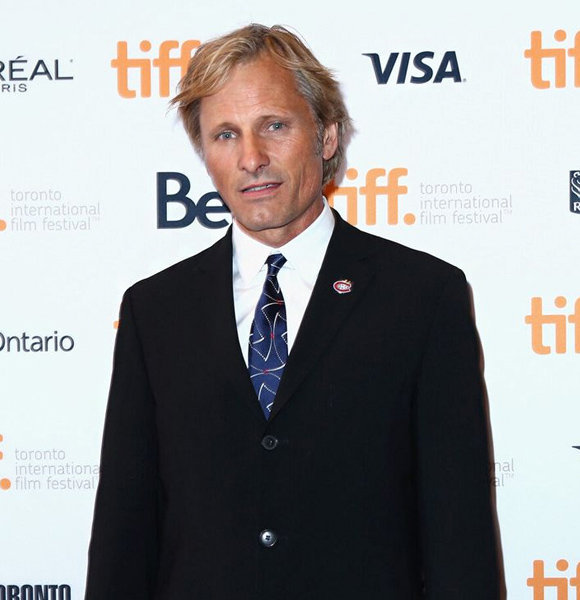 Well, who does not know Viggo Mortensen? He gained wide acclaim from his outstanding role (a lead role) in the epic trilogy, 'The Lord of the Rings.' 
'LOTR' is to this day known to be one of the most amazing movies to exist, and the fandom is ever-expanding.
As a result, the actors of the trilogy to this day are remembered and celebrated, Mortensen being one of them.
But one rumor that does not seem to leave Mortensen tends to be his gay rumor. Yep, it has been going on for a while now, and hopefully, we can put it to rest today. 
Is Viggo Mortensen Gay?
Mortensen sure is known for 'The Lord of the Rings,' but his professional credits are spread vastly.
The American actor has been nominated for Screen Actors Guild Award, BAFTA Awards, and Golden Globe Awards. 
He is notable for roles in 'The Indian Runner,' 'A Perfect Murder,' 'A Walk on the Moon,' and '28 Days.' 
And to add on, Mortensen is straight. Well, sorry to randomly throw it in there, but it's the truth. 
He was married to his ex-wife, Exene Cervenka, for over a decade. 
If this is not enough, he also has a wife named Ariadna Gil, with whom he has been in a relationship since 2009. And for all we know, that relationship seems to last for years and years to come.
As a father to one child with his former wife, he has been living his content life in private, away from the media, but still being persistent in the industry. 
He was seen in the 2020 movie 'Falling,' in which he was a director, producer, writer, and music composer. 
That's a lot on its own, not to forget he has two projects in post-production. 
As for the speculation, we feel it might have found its way because of his gay role in the movie 'Falling,' his debut directorial. 
One Does Not Simply Walk Away Now: Stranger Things Star Noah Schnapp Speculated to Be Gay
More on His Role 
He played the character of a gay man named John Peterson, and he is seemingly proud of his portrayal, at least we are!
While many people enjoyed seeing him take up the gay role and appreciated it, there was some criticism too. However, for Viggo, it does not matter, as he does not regret being a part of it.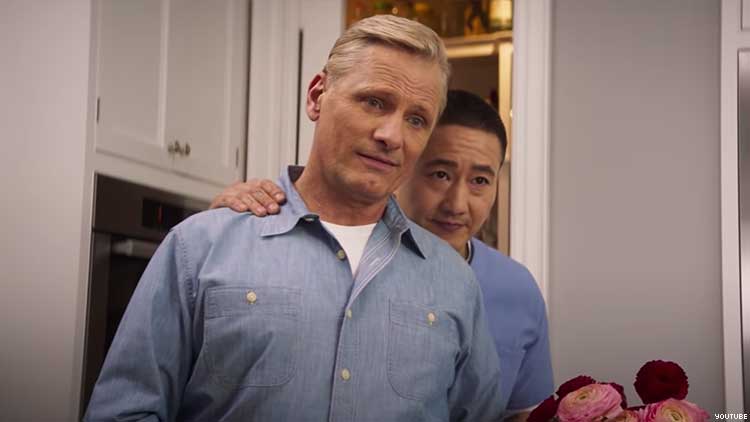 A Snap of a Scene From Viggo Mortensen's Movie 'Falling' (Source Advocate)
Look, these are the times we're living in, and I think it's healthy that those issues are brought up. The short answer is that I didn't think it was a problem.
He said while talking about his role in the movie and why he decided to do it. He further added, 
And people then ask me, 'Well what about Terry Chen, who plays my husband in the film, is he a homosexual?' And the answer is I don't know, and I would never have the temerity to ask someone if they were, during the casting process. 
And then he added a remark where he blatantly put how it is not anyone's business to assume if someone is gay or straight, saying,
 And how do you know what my life is? You're assuming that I'm completely straight. Maybe I am, maybe I'm not. And it's frankly none of your business.
That was one straightforward answer.
And keeping our business to ourselves, we still do feel he is straight, but well, what do you know, you heard what the man said. 
Nonetheless, it won't ever and cannot even take away the fact that Viggo Mortensen is one of the most talented actors with a wonderful personality. 
So, peeps, it does not really matter, as long as you get to love who you love!