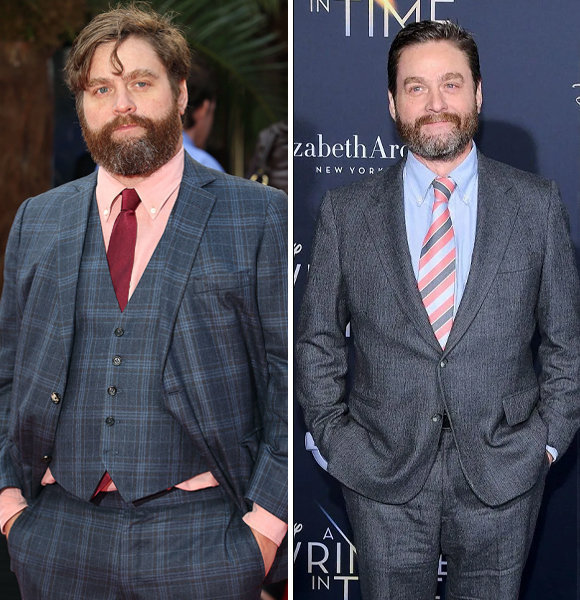 'Keeping Up with the Joneses' star Zach Galifianakis is filled with versatility and grace. Apart from rocking the entertainment industry with his incredible acting, he has also mesmerized Hollywood with his contributions as a comedian, musician, and writer. 
Besides his praiseworthy performances on screen, fans have ignited the spark of curiosity behind his weight loss journey that he underwent a few years back. 
Zach Galifianakis's Weight Loss Journey
While Zach marked his presence on the red carpet at Emmys, his fans couldn't help but stare at the amazing physique he had come up with all of a sudden. 
The unbothered king of Hollywood had undergone a tremendous weight loss journey that caught the eyes of almost everyone at the award show. 
His face did light up with the happiness of getting nominated for an outstanding lead actor on a comedy series, 'Baskets.' But another factor that added glam to his face was the confidence that never dims to shine on any occasion. 
The black suit made him gleam with elegance in the Emmys of 2017. Undoubtedly, he grasped the attention of a majority of the people who made their presence at the show.
By 2017, he did seem incredibly charming and handsome, but that wasn't the initial year since he underwent the transformation.
His journey to weight loss initiated a long time back. Since 2013, Zach stepped in, undergoing a change for himself.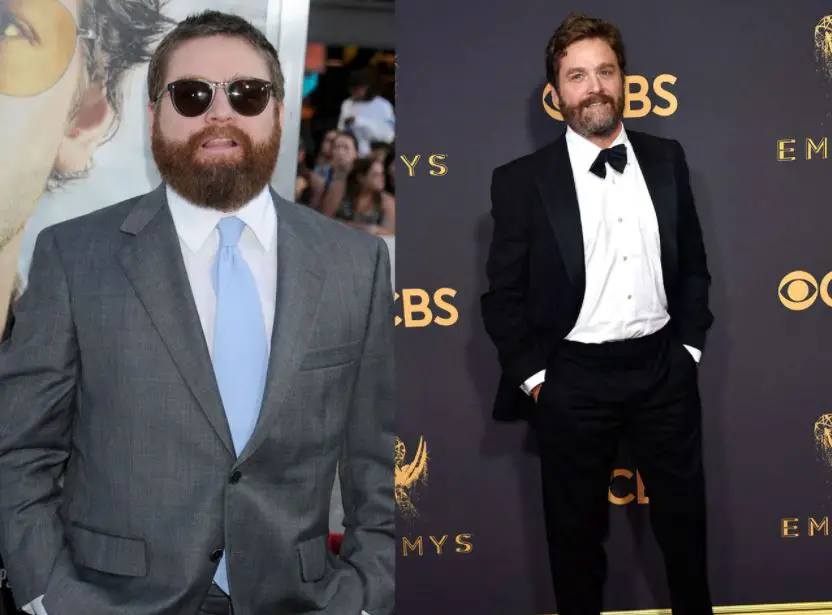 Zach Galifianakis after his weight loss (Image Source: Men's Journal)
A sudden urge in Zach to live a healthy lifestyle is probably why he chose to change his lifestyle. But whatever the reason might be, he sure made the right call, and now many of his admirers look up to him for his choice of fitness.
While coming across bundles of questions regarding his tremendous transformation, Zach did address the queries and came up with his answers on the show 'Conan' on TBS in 2013,
At first, he jokingly said how he underwent plastic surgery, but afterward, he answered with,
I tend not to eat food advertised on television. You have to eat whole grains and that kind of stuff. And you have to cut out whipped cream pizzas.
Moreover, he also added up on how he completely cut off alcohol for weight loss. Before putting off his weight, Zach had the habit of having vodka and sausage, which he later quit getting in shape.
Also, read Secret Behind Ashley Jensen's Weight Loss REVEALED!
In addition, his healthy eating habit also lessened the dose of his inhaler. The host, O'Brien, couldn't stop showering Zach with all the praisings he deserved.
The actor did lose a lot of weight, but his humor never descended; it has always been the same. 
Zach has always stood out in the entertainment industry, despite an inevitable competition.
But, his transformation has added shimmer to his radiating charm. He paved a long way in the industry marking his dominance.
However, the funny guy is still humorous as ever. Per a report, he put off a whopping fifty to sixty pounds since early 2014. 
To this date, Zach Galifianakis hasn't given up on his healthy eating habits and workout schedule.
Each time he marks his presence on the shows, he never fails to shine under the limelight. Indeed, the actor hasn't aged ever since he embraced a healthy lifestyle.