Sports
After 19 Seasons in Spurs, Tim Duncan Announced His Retirement
A leader on the field and legend of the field, one of most decorated star in NBA history has recently bid its star adieu and so has his playing career. One of the most understated players in the history of the game has decided to call it off after two decades of his excellent career.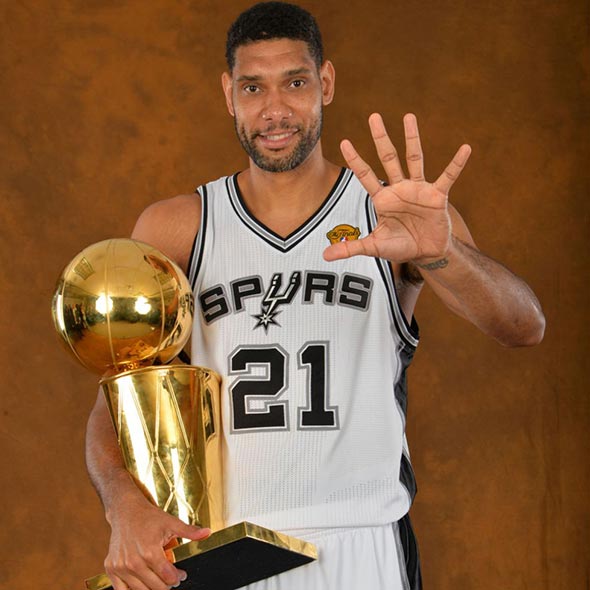 A leader, on the court, and a legend, off the court, Tim Duncan, bade adieu to what has been the most decorated career in NBA history. One of the most understated players in the history of the game has decided to call it off, hanging his boots in the very court, where he penned down a legacy.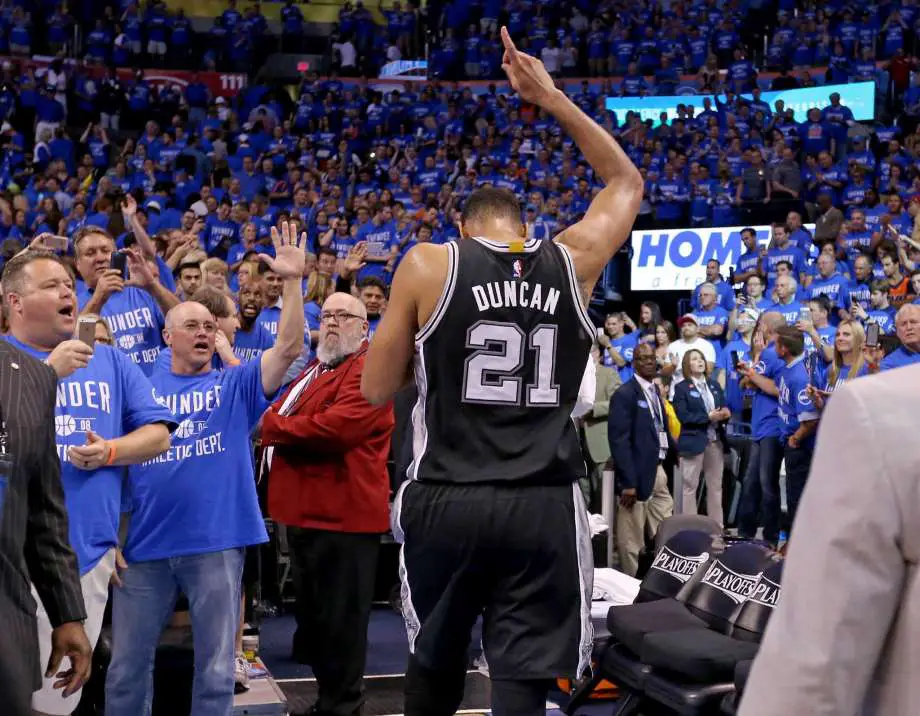 Caption: Spurs' Tim Duncan walks off the court after Game 6 of the Western Conference semifinals in his last game.
Source: mysanantonio.com
Duncan retires in typical Duncan way!
The San Antonio Spurs forward, Tim Duncan, signed off playing the final game of his career against Oklahoma City Thunder in the Game 6 of the Western Conference semifinals on May 12 issuing a low-key press release. The short extract from the press release reads,
"San Antonio Spurs forward Tim Duncan today announced that he will retire after 19 seasons with the organization. Since drafting Duncan, the Spurs won five championships and posted a 1,072-438 regular season record, giving the team a .710 winning percentage, which is the best 19-year stretch in NBA history and was the best in all of the NBA, NFL, NHL and MLB over the last 19 years."
For 19 long seasons of NBA, the NBA forward managed to stand firm as a pillar of the game; silent and never erratic.Moreover, Duncan's mouth never came into play during his career. He preferred remaining mum, unlike others who has their account of tales written in biographies. He always avoided the limelight and later retired in his own terms: wordless and inaudibly with no explanation. Neither was an emotional press conference, or a farewell tour was conducted. He simply walked off waving his hands.
Duncan's farewell stood as an antonym of legendary Kobe Bryant's, who had his last season choreographed as that of a Hollywood movie and was aggressively advertised with a lot of hype.
Duncan & NBA: An end of an era
 dPost Duncan 1997's Spurs draft, the Spurs rejoiced the best 19 year stretch in NBA history. His arrival led the team in four of the major sports in the US in past 19 years with a 1072-438 regular season record. Spurs won five championships with .710 winning percentage.
The retirement also brings an end of an era to Duncan-Tony Parker-Manu Ginobili, the most dynamic trio in NBA history.
In his NBA career, the 15-time All-Star appeared in a total of 1,392 games and averaged 19.0 points, 10.8 rebounds, 3.0 assists and 2.17 blocks in 34.0 minutes. He shot .506 (10,285-20,334) from the floor and .696 (5,896-8,468) from the free throw line.
The fitting send off by Basketball world:
"Tim Duncan is one of the most dominant players in NBA history. His devotion to excellence and mastery of the game led to five NBA championships, two regular-season MVP awards and a place among the all-time greats, while his understated selflessness made him the ultimate teammate." -Commissioner Adam Silver
"Greatest power forward of all time, Unbreakable power forward. No [elbow] could break him. No loss of a championship could break him. Nothing could break him."- Shaquille O'Neal told Stein.
"More cutthroat than people give him credit for," Los Angeles Lakers legend Kobe Bryant told ESPN's Marc Stein on Monday upon learning of Duncan's retirement. "I loved everything about him on the court."
Golden State Warriors coach Steve Kerr, who played with Duncan for four seasons, said it would be strange not seeing Duncan on the court.
"When you think of a Spurs game, you think of the opening tip and Timmy cradling the ball and looking down at Pop and Manu and Tony," Kerr said to ESPN. "The four of them really kind of define who they are. But Tim is the main guy, obviously."
The NBA forward won't be seen again doing wonders on the court, but the future generation will always derive inspiration from him to continue with surprises.