Sports
Abdel Nader Landed An Extensive Contract With Rock Solid Stats! Here's The Deal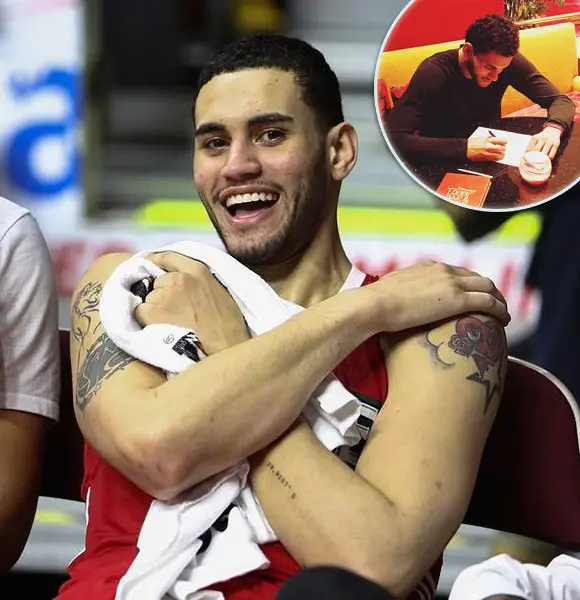 Abdel Nader, an American basketball player, has been delivering his best performances one after another every year. Abdel Nader, who played a significant role in his team victories, has recently signed a contract with the Boston Celtics. 
Considering his excellent performances, Nader was awarded the NBA Development League Rookie of the Year Award 2017, and now, it has landed him a full extensive contract with Boston Celtics. 
Well, we will today address the contract signed by Nader while addressing his personal life as well. 
Abdel Nader's Contract:
The Egyptian-American basketball forward, Abdel Nader marked the day, July 14, 2017, as one of the big days of his life, as he signed a 4-year, $6 million contracts with Celtics on the day.
The contract signing deals with one fully-guaranteed season, which was made official on July 15, 2017, according to a team press release. The contract is expected to have partial or complete non-guarantees after the first year, but those terms were not disclosed. 
Nader expressed his excitement on a phone interview about the contract signing with Celtics:
"Obviously, I was very excited. I had worked toward this point for a long time."
Shams Charania reported Nader's signing of the contract as, 

Charania Reports on the contract signing of Abdel Nader to Boston Celtics (celticsblog.com)
With his excellent 2017/18 season stats, Nader was named NBA Developmental League Rookie of the Year in 2017.
Boston Celtics' basketball player, Abdel Nader's 2017/18 stats (espn.com)
Nader first started his career at his high school where he averaged 23.8 points, 8.6 rebounds and 2.8 assists per game as a senior at Niles North. He even led the Vikings to a 24-6 record along with their first sectional championship and Central Suburban League titles and further went on to create history for his school after 47 years. 
Nader earned First Team All-State honors from the Chicago Tribune, garnered Chicago Sun-Times Class 4A Second Team All-State recognition, and went on to list his name in the ESPN Chicago All-Area team.
Later in his college career, Nader split his college career between Northern Illinois (2011-13) and Iowa State (2014-16). 
Nader played professionally after being drafted by the Boston Celtics with the 58th overall pick in the 2016 NBA draft. He joined the Celtics in the 2016 NBA Summer league and went on to become a part of Maine Red Claws of NBA Development League on October 31, 2016.
As a Maine Red Claws player, Nader averaged 21.3 points, 6.2 rebounds and 3.9 assists in 40 games, which also includes the high record of 99 three-pointers in the team. During the 2017 D-League All-Star Game in New Orleans, Nader made 16 points, four rebounds, and four assists.
After his contract on July 14, 2017, with the Celtics, Nader made his NBA debut on October 18 against the Milwaukee Bucks. Currently, Nader, who moved with his parents to the U.S. at the age of 3, is enjoying the $1,167,333 salary from Boston Celtics.
Abdel Nader's Dating Life:
When it comes to his love life, Nader isn't shy to flaunt his romantic union with his fans and followers. Nader's Instagram speaks volumes about his dating affair with his girlfriend Marina Eugenia, and he even shared a picture with romantic essence to mark Valentine's Day back in 2017.
Moreover, Nader shared another image, where he captioned the picture as "#Wife," but it remains unclear as to if the couple has exchanged wedding vows or not. 
Despite addressing Marina as his wife, neither Nader nor Eugenia has shared more details on the matter. So the issue remains unclear till this date, but it's bound to unfold soon enough!
So Keep visiting to be the first to know when that happens!