Sports
Bernhard Langer Is Accused of Cheating! All About The 59 Years Old-From Career Earnings to Family and Wife
Bernhard Langer is a renowned golfer from one of the nations of central-western Europe. He is also the one who has set records by winning Master Championship a couple of times and had a title of "No.1 Golfer" for the year 1986.
He was indeed the first golfer to be ranked number one, as the Official World Golf Rankings began the same year in 1986.
This famous player, who used to top the charts and make headlines with his brilliant play records, has recently been hit by a negative remark that he has been cheating with the game and other players.
But, is the accusation regarding the game play of Langer true? Let's find out the true story behind this and see what Langer has to say about the issue.
The Cheating Accusation!
The German golfer, Bernhard Langer has been surrounded with a fraud charge since last month, and it is indeed related to his technique of putting strokes.
While Langer was enjoying another dominant season on the Champions Tour, he got bestowed with an issue of violating golf's anchoring ban, which was the putting stroke of Langer.
Although United States Golf Association has defended the 59-years-old player, several prominent voices continue to cast aspersions on him. In response, Langer expressed his disgust on the recurring cheating accusation and spoke at Royal Porthcawl at the end of last month.
He told,
"I personally don't understand it because I'm a man of integrity and the last thing I want to do is break rules and be known as cheating or something. I mean, that's the very last thing I want."
He further said that people cannot question his integrity, as he has already conferred with the USGA rule officials and the Champions Tour officials.
"What's even stranger is that I have conferred with the USGA rules officials, with the Champions Tour officials, on a regular basis...And then you have a few people that come up on whatever it is, Twitter or somewhere else, and questioning my integrity, which is really hurtful. "
But Langer unveiled his plans to continue with his current stroke and described the accusations to be the result of jealousy.
"It's human to be jealous. If I was No. 180 on the Money List, I don't think anybody would be talking about it. But I've been No. 1 the last few years on a regular basis, and now McCarron has a lot of success, as well. We're actually No. 1 and 2 on the Champions Tour. So you're going to have people, you know, being jealous or whatever you want to call it."
The issue, however, seems to be settled now as the two-times Masters champ has already claimed the senior major title one more time, which is the 10th for the German legend in his career and third for this year.
Other Interesting Facts Of Langer Including His Family Information:
Bernhard Langer is the son of Erwin and Walburga Langer, who was born on August 27, 1957, in West Germany. He got married to Vikki Carol in 1984 and shares four children with his wife.
The couple has two daughters named Christina and Jackie Langer and two sons named Stefan and Jason Langer.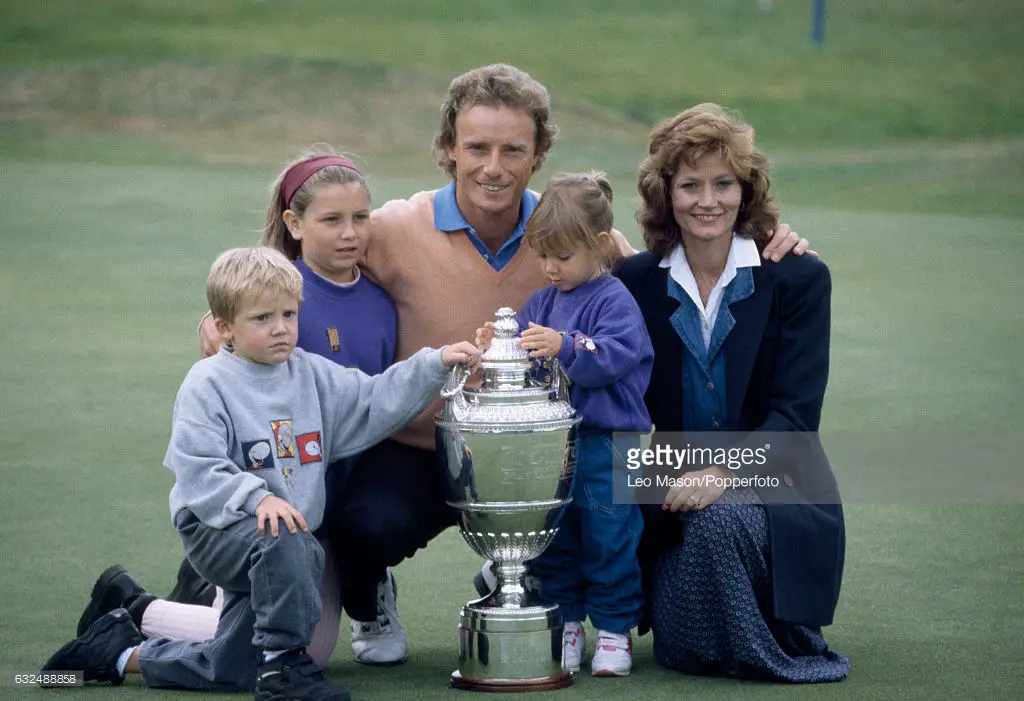 Caption: Bernhard with his wife, three children (Jason not in the frame) with Volvo PGA Championship Trophy 1995.
Photo Credit: Getty Images
Besides the family, this German golfer has a huge fan following who love his swinging technique.
Caption: Learning the swing technique of Langer (Published on June 11, 2015).
Moreover, Langer's career earnings have accumulated an enormous net worth of $25 million for him. The 3M Championship that accomplished on August 6 this year helped him earn $31,500, while on the other hand, he made $304,869 from The Senior Open Championship.
Recommended for you: Jack Nicklaus- The Man With Amazing Golf Swings