Sports
Jack Nicklaus- The Man With Amazing Golf Swings and 18 Wins in Major Is Better Than You Think!
At the age of 10, young Jack Nicklaus proved a prodigy in the golf, shooting a 51 over nine holes!
It was at Scioto Country in the year 1950, when the young Jack hinted us about the rise of a great player. A decade later, he began surprising people with his amazing golf skills, especially his swinging technique, as a professional player.
Jack is probably one of the most successful golf players that the world has ever witnessed and the icon proves it, holding the most significant record wins in golf. He has a total of 18 professional majors in his name, surpassing the staggering record of Tiger Woods with 14 major wins.
The Stupefying Career Records Of Jack Nicklaus:
Starting at a young age of 10, Jack recorded 51 shots over nine holes at Scioto Country Club. At the very moment when he achieved this, the talented young golf player's father was seeking to rehabilitate a broken ankle.
Additionally, in the latter days, people saw much more amazing game moments from this player, and they began to know him as a prominent part of the match.
Jack, who got tutored by Scioto Country Club, won the Ohio Open at the age of 16 and the International Jaycee Junior Golf Tournament at the age of 17.
Before turning as a professional golf player in November 1961, Jack won two U.S. Amateur titles in 1951 and 1960 while he attended Ohio State University.
His winning streaks don't end any sooner, as he finished second at the 1960 U.S. Open with an amateur-record score of 282, and also won the NCAA Championship in the year 1961. More victories were to come for the player after he began his career as a pro.
Jack "The Golden Bear," has recorded 18 major championship wins till now. The wins of majors include 6 Masters Tournaments, 5 PGA Championships, 4 U.S Open titles and 3 British Opens.
He won his first U.S. Open title in 1962 and earned his first titles of Masters Tournament and PGA Championship a year later in 1963.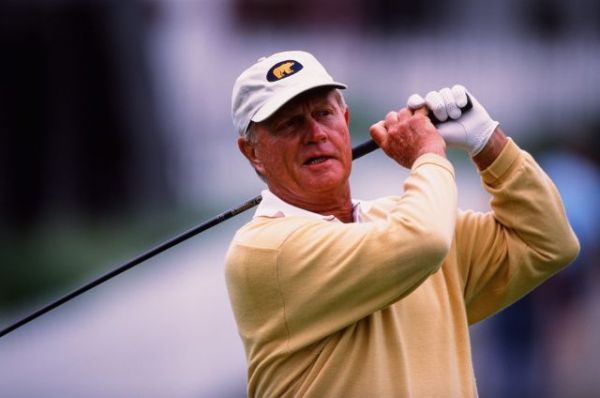 Caption: Jack in his play during the U.S. Senior Open at Firestone Country Club in Akron, Ohio on June 5, 2002.
Photo Credit: biography.com
The swing of the pro is famous to the extent that we can also view tutorials on his technique of swing.
A YouTube channel, known by the name Scratch Golf Academy, has created a similar tutorial video, which presents a two-time PGA Teacher Of The Year, Adam Bazalgette generalizing Jack's swing technique.
Caption: The swing technique of Jack (Published on May 30, 2016).
"The Golden Bear" has thence earned more recognition as the head of a prominent golf course design company!
The Family Of Jack Nicklaus:
Born on January 21, 1940, in Columbus, Ohio to parents Louis Charles and Helen Nicklaus, Jack Nicklaus is best known as "The Golden Bear."
Jack got married to Barbara Jean (Bash) Nicklaus on July 23, 1960, and shares four sons with Barbara, Gary (48), Michael (44), Steven (34) and Jack Jr. (55) and a daughter, Nancy Nicklaus (52) with his wife.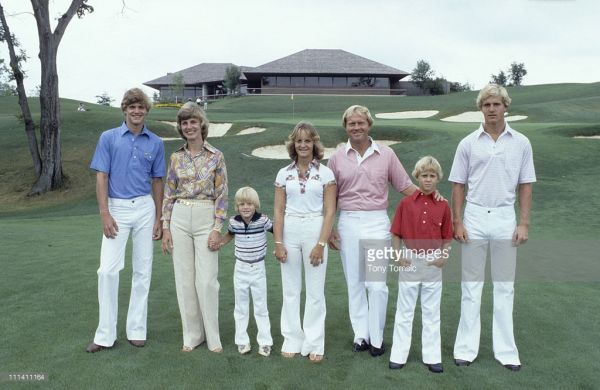 Caption: Jack along with his wife and children in a golf court.
Photo Credit: Getty Images
Jack is a successful player, who quotes the reason behind his success as:
"Success depends almost entirely on how effectively you learn to manage the game's two ultimate adversaries: the course and yourself."
Retired in the year 2005, Jack got listed in 'The Highest-Paid Retired Athletes' in Forbes with an estimated career earnings of $26 million.
Furthermore, he owns several awards and medals, such as ESPY Lifetime Achievement Award, Presidential Medal of Freedom, Congressional Gold Medal and so on.
Think we missed something? Do let us know in the comment section below!