Sports
Dalvin Cook Injury Update | His Stats, Contract, College, Fantasy Details
Bad news for the Minnesota Vikings' fans!
The Vikings star running back, Dalvin Cook, succumbed to an injury during the third quarter of the game against the Seatle Seahawks on Monday Night's match (2 December 2019). Dalvin collided with the Seahawks defensive end Jadeveon Clowney and immediately fell on the ground.
After succumbing to an injury, Dalvin did not make his return to the field, and the match ended with a loss for the Vikings at 37-30.
Dalvin Cook Injury Update/ Previous injuries
After the collision on the field, Dalvin walked to the sideline holding his right arm and later was escorted by the training staff into the locker room. More subsequently, it was announced that Dalvin had sustained a right shoulder injury and was in no condition to return to the field for the remaining match.
Later, NFL's spokesperson cleared the air as he announced that the player's condition was not serious. He further clarified that although Dalvin had suffered an injury to his clavicle, nothing was broken. 
Another NFL Star:- Julio Jones Salary, Net Worth, Contract, Trade, 2019
Well, the situation seems to be much better now as the player himself has said that he'd be good to go for the next match.
However, the star athlete is no stranger to injuries on the field. During his rookie season, his career suffered a massive set back due to a torn ACL, missing all but four games in the 2017 season. Further, in 2018, he again missed five games due to lingering issues.
Age/ Height/ Career
Born on 10th August 1995, Dalvin Cook stands at the height of 5 feet 10 inches (1.55 m) with a complimenting weight of 95 kgs (210 lbs).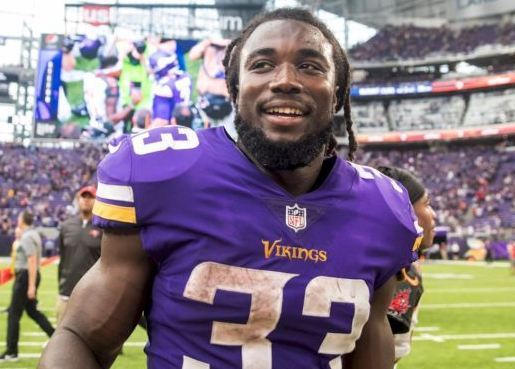 Dalvin Cook after a match in 2018 ( Photo: fulltimefantasy.com)
Speaking of his career, the player started playing football at a very young age. During his high school days at Miami Central High School, he was named a five-star recruit by Rivals.com. Later, he played college football at Florida State University, where he was named 2014 ACC Championship Game MVP.
After his impressive stats of high school and college career, he was drafted in the NFL by the Minnesota Vikings in 2017. He signed a four-year, $6.35 million contract with the Vikings, and the lucrative deal also included a $2.76 million signing bonus.
You May Be Interested:- Isaiah Crowell Fantasy Stats, Renewed Contract, Salary | Christmas For Him
Further, in 2019, Dalvin became one of the NFL's top running backs starting the season with three straight 100-yard rushing efforts. As of now, Dalvin is an elite fantasy running back and a valuable player for the Minnesota Vikings.
Dalvin Cook's Brother James Cook
Dalvin is not the only footballer in his house; his younger brother James Cook is following his footsteps and rising as a talented young player. 
The young athlete plays as a running back for the Georgia Bulldogs.