Sports
Isaiah Crowell Fantasy Stats, Renewed Contract, Salary | Christmas For Him
Isaiah Crowell, running back for New York Jets of NFL, almost lost his career due to...even before it began. He was...which led him to change his university finally landing at...He was then signed by...in...and had most of his career there. Later in...he was signed by...where he missed few games due to...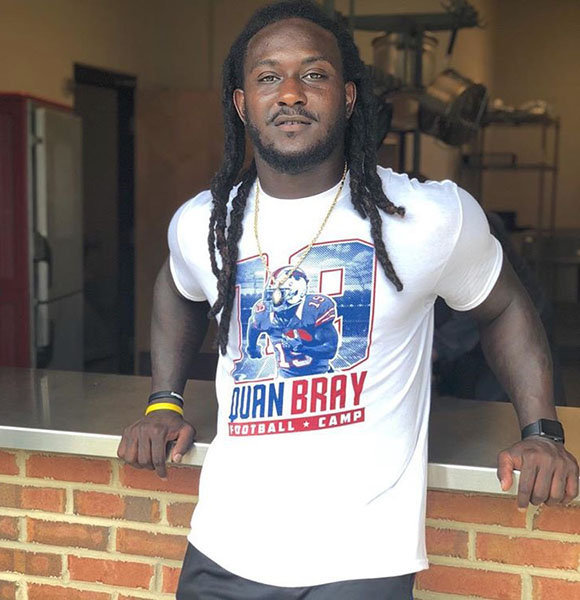 American football running back, Isaiah Crowell has not only been the favorite of National Football League but also of the fantasy world.
In spite of almost losing his career in football even before it began, the New York Jets player now has new turns in his career with new contracts and new opportunities to add numbers to his stats.
Just like any other players in the field, Isaiah also had to come forth with injuries, but he made sure to bounce right back into the game. Well, he sure is determined to have numbers onto his fantasy stats.
Injury Updates Of Fantasy Favourite
Isaiah Corwell, whose gameplay is a valuable asset for any team, is currently into the field perfectly fit playing for New York Jets. He had previously suffered injuries back in August 2018.
See Also: Lamar Miller Fantasy Stats: Contract Plus No Injury, Career Stats To Peak
He had suffered a concussion during the Jets' preseason opener against the Falcons while he fought his way running into the end zone. Isaiah took a run after catching a pass from Teddy Bridgewater.
After the run, Isaiah was removed from the game and was immediately placed in the concussion protocol. Since the injury, he jetted off back to New Jersey while rest of the team practiced in Richmond for their game against Redskins.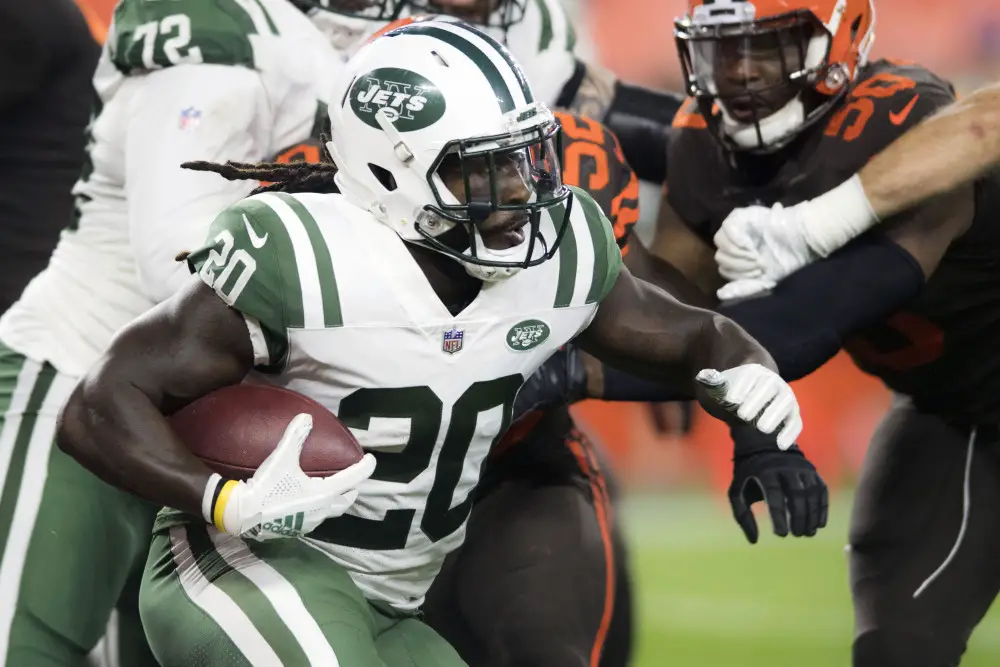 Jersey number 20 Isaiah Crowell in action for New York Jets. (Photo: thebiglead.com)
Isaiah missed the game against Redskins but joined his team for a match against Giants. He bounced right back into action with a carry of four times for six yards and even caught both of his target for 18 yards. 
Even though he performed well during the preseason game but after the game against Giants he missed practice hinting, he either banged up or under the weather for pulling out of practice. 
Transfer And Contract Highlights
Isaiah Crowell is not only a footballer but also a standout track and field athelete.
He had his hands in football since his high school days, and during his time there he was able to rush 4,872 yards with 61 touchdowns on 429 carries.
Don't Miss: Theo Riddick Fantasy Stats Amid Ankle Injury! Is There A Good News Or Bad?
In 2011, Isaiah enrolled in the University of Georgia, and as a freshman, he earned starting running back for Bulldogs. He carried on with his career, but in June 2012, he was arrested on possession of a weapon in a school zone almost putting a full stop to his college career.
He was dismissed from the University of Georgia under disciplinary issues. Later in 2012, he enrolled at Alabama State giving his career a kickstart. During his time there, he was able to rush 1964 yards with 30 rushing touchdowns along with 122 receiving yards and 36 receiving touchdowns.
In 2014, he was signed as an undrafted free agent by Cleveland Browns. In September of very same year, he made NFL debut. Among the rookies, he was ranked fifth in rushing yards ans second in rushing touchdowns.
Isaiah played for Browns till 2017 with an overall performance of 3118 rushing yards, 21 rushing touchdowns, 770 receiving yards and one receiving touchdown.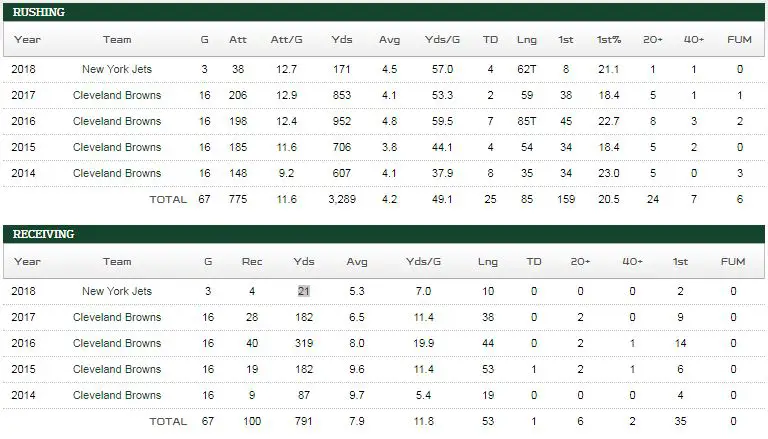 Isaiah Crowell Stats. (Photo: nfl.com)
You May Also Like: Chris Thompson Injury Causing Fantasy Buzz; NFL Running Back Stats​​​​​​​
In March 2018, he signed a three-year contract worth $12 million with New York Jets.
His new signing earns him a yearly salary of $4 million. Till date, Isaiah has rushed 171 yards for New York Jets with overall 4 rushing touchdowns along with 21 receiving yards for 3 games that he played for the New York Jets.