Sports
Hirving Lozano Current Team, Transfer News, Contract
Considered a top attacking prospect, soccer player Hirving Lozano is an exciting right winger who initially caught everyone's attention because of his footballing exploits at Dutch club PSV Eindhoven... He joined the Eredivisie side ahead of the 2017/18 season...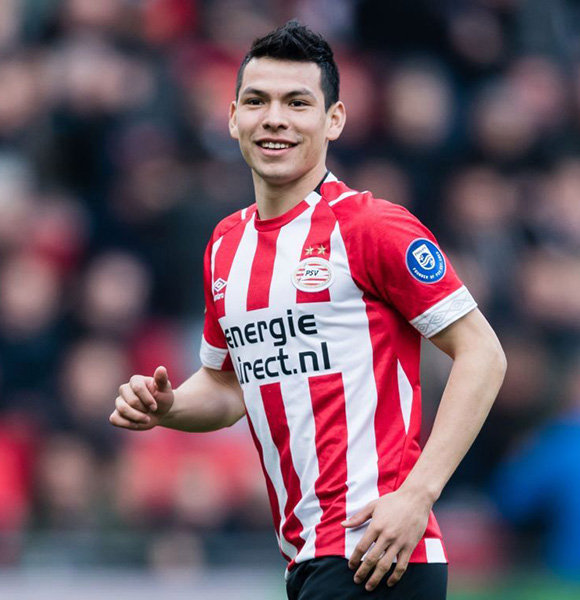 Considered a top attacking prospect, soccer player Hirving Lozano is an exciting right-winger. He initially caught everyone's attention with his footballing exploits at Dutch club PSV Eindhoven. He joined the Eredivisie side ahead of the 2017/18 season.
In the matter of two campaigns, the Mexican International went from being an aspiring soccer star to becoming one of the sought-after footballing talents in Europe.
FIFA 19 Stats Plus Transfer News
Managed by notorious Italian super-agent Mino Raiola, Hirving was on the cusp of landing a high-profile transfer move in 2018. But, it never materialized.
Soccer Related:- Real Madrid Ex-Coach Zinedine Zidane Age 46 Shocking Salary & Net Worth!
Fast forward to the year 2019: the explosive winger's FIFA 19 stats saw exponential growth. So did the interest of top European clubs, vying for his much-hyped signature.
His FIFA 19 ratings read 93 PAC, 75 SHO, 72 PAS, 82 DRI, 41 DEF, and 64 PHY.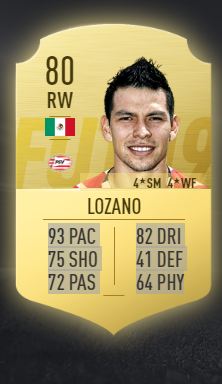 Hirving Lozano's FIFA 19 ratings (Photo:- futhead.com)
In June 2019, top European outlets suggested that Hirving was holding out a $50 million deal with Seria A side Napoli. Per reports, he wished to transfer to Manchester United, a club he supported since childhood.
Fellow BPL side Tottenham Hotspur were also one of the European teams, who showed interest in signing the dazzling forward.
Napoli Player Now!
In the end, the Italian footballing giant Napoli was able to woo Hirving into signing with the club. Per reports, PSV Eindhoven recieved $46.5 million (including add ons) in return.
Napoli fans and soccer fanatics across the globe praised the deal. Robbie Copeland of 90Min.com went further by dubbing the news as "the signing of the summer."
With the move to Napoli, the Mexican International broke three records. In addition to becoming the Italian side's most expensive signing till date, he also got crowned Mexico's most valuable export to the soccer world.
His transfer from PSV resulted in the Eredivisie club's most lucrative sale in its history. Back in July 2017, the Dutch soccer outfit had purchased Hirving for a meager $17 million in transfer fees from C.F. Pachuca.
Playing for his current team, Hirving is set to pocket an annual salary of $3.5 million. Per reports, Napoli slapped his contract with the release clause of a staggering $151 million.
Salary & Contract With PSV
The hype surrounding Hirving wasn't born out of thin air.
Related To His Current Team's Former Player:- Lori Harvey Engaged & Wedding Talks | Age, Who Is Biological Father?
Playing for his current team PSV, Hirving scored a combined total of 34 goals in the 2017/18 and 18/19 campaigns. A youth product of Mexican side C.F. Pachuca, he penned a 6-year-long contract upon his move to the Dutch club.
Per the terms set by the contract, the Mexican international would remain with his former team until June of 2023. Meanwhile, he would bag a whopping $1.2 million annually in salary. However, Hirving's move to Napoli made the initial contract obsolete.
Married Life - Wife & Kids
Hirving is married to his longtime partner, Ana Obregon. He and his wife Ana tied the knot in 2014. The duo met during the soccer star's stint at C.F. Pachuca.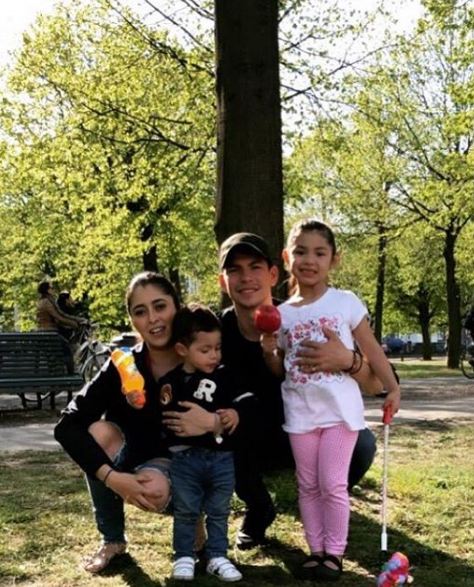 Hirving Lozano strikes a pose with wife Ana Obregon and kids for a family portrait circa April 2019 (Photo:- Hirving Lozano's Instagram) 
The same year that they got married, Hirving and Ana welcomed a daughter. Three years later, the Lozano-Obregon household turned into a family of four with the arrival of a baby boy.
Age & Family
Nicknamed Chucky, 24-year-old Hirving was born to parents Jesús Lozano and Ana María Bahena on 30th June 1995. His family hailed from Mexico City, Mexico.
From North America:- Christian Pulisic Earned Another Contract With The Current Team; Secures Place In Fifa17 With Rock-Solid Stats
The passion for soccer runs in his family. Bryan Mauricio Lozano Bahena, his younger brother, also plays football professionally in Mexico.
Height, Weight, Education
At five feet and ten inches (1.75 m) in height and 70 kgs weight, Hirving isn't a terrifying figure per se. But, his comparatively lighter physical stature provides him with the necessary stealth required to move past defenders.
Regarding his education, the former Pachuca player completed his schooling in his hometown of Mexico City.