Sports
Real Madrid Ex-Coach Zinedine Zidane Age 46 Shocking Salary & Net Worth!
Considered as the greatest ever to grace the game of football, Zinedine Zidane, or Zizou is a name every soccer fans know for his footballing skills and charisma. Post a heartbreaking retirement, the former Real Madrid's Central Midfielder, Zidane has gone on to replicate the success he achieved on the field, to the sidelines as well.
After achieving unprecedented success for the Los Blancos, Zidane shocked the world announcing his departure from the Spanish capital. However, the record maker, who managed to win three consecutive champions league trophy for Real Madrid, has some remarkable offers waiting.
With a settled personal life on the side, Zidane receives the full support of his family for whatever career path he chooses next. Happily married to the love of his life, his four sons also seems determined to carry forward their father's footballing legacy.
Life Post-Retirement: Huge Salary Figures Build Up Net Worth
After a trophy-laden playing career, which saw him win several collective and personal titles, including the greatest prize in football, FIFA World Cup in 1998, Zidane called quits on his playing career after the 2006 FIFA World cup.
You May Also Like: Dante Fowler Stats & New Contract | Shipped To The Rams For Draft Picks
One of the highest paid footballers with Real Madrid during his retirement, Zidane replicated his salary figures in his coaching career as well. Initially starting out as an assistant manager under the then Real Madrid head coach Carlo Ancelotti in 2013, Zidane soon filled in the big shoe post-Ancelotti's sacking in 2015.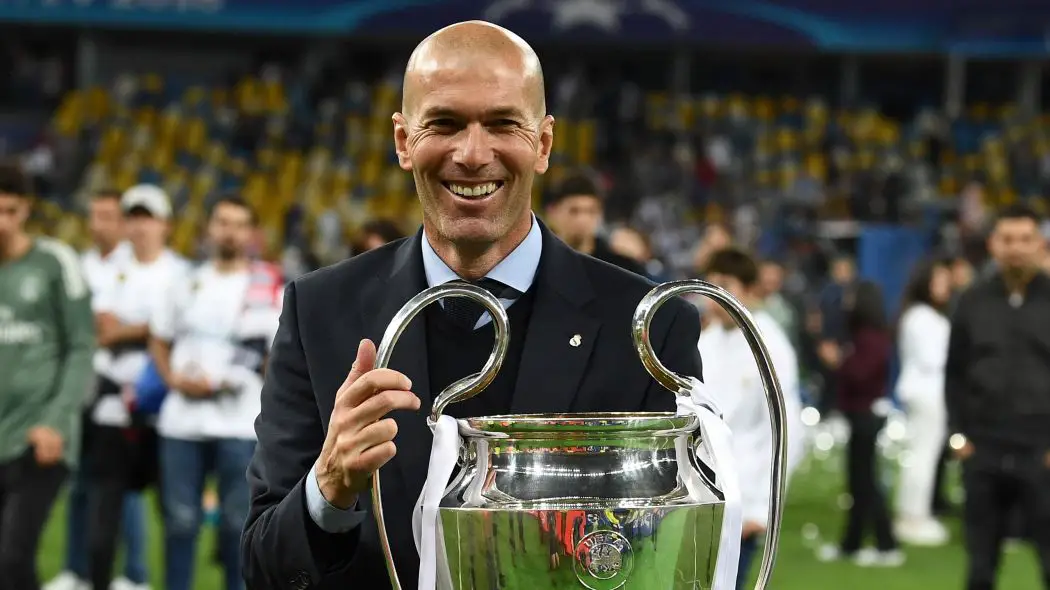 Zinedine Zidane lifting his third Champions League trophy for Real Madrid. (Photo: Eurosport.com)
Leading Real Madrid to their record 11th Champions League title in his first season with the white's, Zizou soon earned a mouth boggling contract from president Florentino Perez. His contract saw him earn a salary figure of $5.9 million per season, and made him one of the highest paid football managers in the world.
This huge salary figure contributed enormously to the former Ballon d'Or winner's net worth. After landing some staggering contacts in his playing career, his outstanding salary figures as a coach contributed significantly to building Zizou's net worth to $70 million.
Leaves Real Madrid: What's Next For History Maker at age 46?
After leading the Spanish capital side to their third consecutive Champions League title in May 2018, Zidane shocked the world with his decision to resign from the post of Real Madrid head coach. Following his shock announcement, Zidane clarified his decision with an official statement.
"The time is right. It's not a decision I've taken lightly. I thought about it carefully and it's the right decision, even though I imagine many may not agree. After three years Real Madrid needs a change, another way of working, another idea if we are to continue winning. I feel it's going to be difficult to continue winning. And because I'm a winner, I'm going."
However, post his departure from Real Madrid, the former French captain has not had a shortage of offers from the footballing world. He received a whopping contract offer from Qatar National Team, who offered Zidane around $226 million for four years, to prepare their team for the 2022 World Cup. The contract saw Zidane receive around $154k per day.
Don't Miss: Lindsey Vonn Delivers Retirement Letter; At Age 34, She's Done - Why?
However, there has been no indication of Zidane's approval of the contract. The former Real Madrid coach looks interested for a move within Europe, with Bayern Munich, and Manchester United rumored to be his preferred destinations.
Family Details: Happily Married With Wife, Son Following Father's Footsteps
With a glorious playing career, Zidane, standing in at a height of 6'1" has not received the attention he deserves outside the field, for being a wonderful family man.
Married to his wife Véronique Fernandez-Lentisco since 28 May 1994, Zidane has been a wonderful husband to his wife and a responsible father to his four sons. Enzo (b. 24 March 1995), Luca (b. 13 May 1998), Théo (b. 18 ay 2002) and Elyaz (b. 26 December 2005).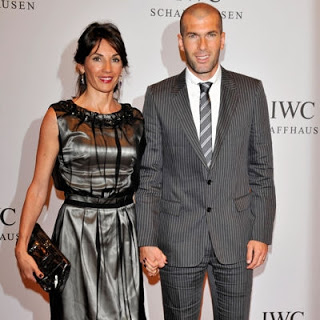 Zinedine Zidane alongside his wife Véronique. (Photo: kingskisinen.blogspot.com)
Read Also: Ryan Nassib, NFL Quarterback Stats, Salary & New Contract
With the sun settling down in his footballing career, Zizou's four sons look all set in their path to continue their father's wonderful football legacy. All four of them are associated with Zidane's former club, Real Madrid.
With the coaching of one of the best ever players and managers in the game of football, Zidane's sons seem to have an extra advantage on their side as well.