Sports
Dallas Cowboys Linebacker Jaylon Smith Latest News On Injury & Contracts
American football linebacker Jaylon Smith plays for Dallas Cowboys in the NFL. As he grabs win for the team, he also faced career-threatening...injury. Back in...Jaylon had to go through torn...along with...injury. Despite the injury, Jaylon found his way back into the field as he was drafted by...during the 2016 NFL Draft...
American football linebacker Jaylon Smith, who is signed to Dallas Cowboys in the National Football League (NFL), is adding numbers to his stats as he grabs win for the team.
Jaylon previously feared that his career in football would only last till his college days as he faced a career-threatening knee injury, but despite the obstacles, the Indiana native found his way back into the field sharing it with his older brother Rod Smith.
Recovering from his injury, Jaylon landed himself a contract with Dallas Cowboys, the same team where his brother serves as the running back.
With his talents and perfect physique, Jaylon climbed his way into the league and is now working magic for his team. At the same time, he is sharing romance with his girlfriend of years.  
On Injury And Contract Details
Jaylon Smith stepped into NFL after being drafted by Dallas Cowboys as the 34th overall pick during the 2016 NFL Draft. Before being selected by the Cowboys, he played college football at Notre Dame after showing his talent during his high school days being the best high school linebacker in the country.
Another Dallas Cowboys Player: Dallas Cowboys Randy Gregory; Wife-Like Girlfriend, Good Rep - Still In Trouble
Even in his college days, Jaylon won awards for being the top linebacker, but his career was threatened after he suffered a knee injury during Fiesta Bowl game against Ohio State back in 2015.
During the game, Jaylon, who stands at the height of 6'2" and possesses the weight of 245 pounds, tore his ACL (anterior cruciate ligament) and LCL (lateral collateral ligament) and even suffered from nerve damage in his left knee. 
He underwent surgery after the career-threatening injury. Before the injury, Jaylon was projected to be the first overall pick in the 2016 NFL Draft, but it all came crumbling down for the player.
However, he ended up being the 34th overall pick by the Dallas Cowboys signing a 4-year contract with the team which would earn him an average salary of $1,623,743 per year. 

Jaylon Smith career and season stats. (Photo: Espn.com)
With his determination and tough workout, Jaylon found his place back into the field playing for the Cowboys while leading its defense. Even though he missed the entire season in 2016, he played all of the 16 games in 2017. 
Dating To Engaged? Leighton Vander Esch Age 22 & Girlfriend, Dating To Engaged Details
Likewise, in 2018, he had an All-Pro level season winning games for the team while leading the defense at the same time.
Romance With Hometown Girlfriend
While Jaylon is making his way to the top as a linebacker, he has support from the love of his life in doing so. It turns out he is romantically involved with Nevada Jones, who is a basketball player at Indiana University Kokomo.
According to some outlets, the duo belonged from the same hometown but attended different high schools. It is not known how the couple met and fell in love, but the two seem to share a strong relationship base.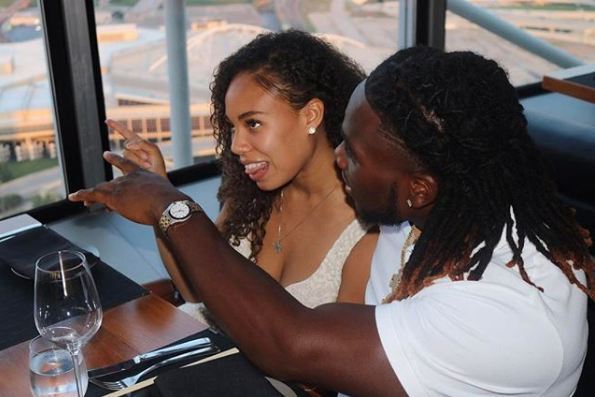 Jaylon Smith with his girlfriend Nevada Jones at Five Sixty by Wolfgang Puck. (Photo: Jaylon Smith's Instagram)
As Jaylon and Nevada both prefer keeping their romance low-key, hardly any details about their relationship has been revealed. However, Jaylon often posts pictures with his girl on his social media.
More From Liverampup: Michael Oher Has A Wife! A Drunken Scandal Revealed Married Life
Well, Jaylen has surely appreciated her presence in his life through his occasional remarks.