Sports
Khalil Tate Stats, Transfer, Salary, Parents
Khalil Tate is a junior class football player in the...has height of 6 feet 2...was expected to start as a junior...was featured on the cover of Sports Illustrated which...was recruited into the Arizona Wildcats...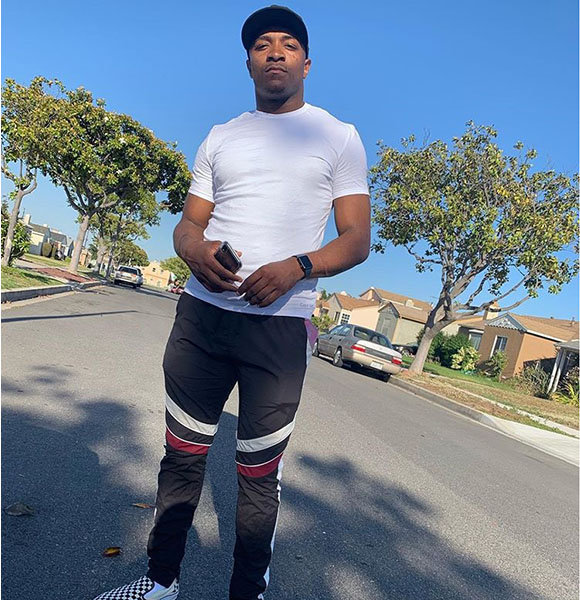 Khalil Tate is a junior class American football player of the NCAA league. With a height of 6 feet 2 inches (1.88m) and weight of 97.5 kg, he also plays as a quarterback for the Arizona Wildcats.
Know all about the details of his parents, early high school years, and present net-worth!
Parents & Siblings
Born into a family of caring parents; Brian and Lesli Tate, Khalil was raised alongside a sibling named Akili. His parents are so supportive of his work that they never miss any of his games.
To show his appreciation and love to his parents, Khalil has also worked hard to make them proud. Interestingly, he was featured on the cover of Sports Illustrated which was released on the exact day of his parents' 25th anniversary.
High School, Recruiting
In different instances, the recruiting services of college football, use the term Athlete on high school players. It is done to separate high school players, who have the potential to play multiple positions.
These high schoolers often become wide receivers or running backs because of their versatility.
In the case of Khalil, he was classified as an Athlete by two of the primary recruiting services. Although he showed his talents to evaluators, he struggled to reach new heights in his career.
Due to the lack of information about Khalil's playing position, it resulted in his relatively slow career start. He was considered a regular starter during his high school year.
Talking About Athlete:- Antonio Brown Married, Wife, Kids, Net Worth, Facts
After Khalil's graduation from high school, he was expected to start as a junior. In 2014 Tate completed 55.7% passes for a total of 1395 yards with 17 touchdowns and six interceptions while adding 1,287 yards with 17 scores on the ground.
His skill in the field was much appreciated, and he recieved a scholarship offer from A Pac-12 program in January 2015.
Unfortunately, many of the recruiting teams did not believe in Khalil's ability to play as a quarterback. And, he also could not convince programs what he wanted to do.
Instead, he got offered the roles of Athlete and Nickelback.
Only one program that believed in his ability to play as a quarterback was Arizona. So, he signed a contract with them in March 2015. According to Khalil, the only reason why he picked Arizona was because of their play style.
At the young age of 17, Khalil was recruited into the Arizona Wildcats program in early 2015.
NCAA Stats
In 2016, Khalil completed five of nine passes, two touchdowns and rushed for 79 yards in his debut game. In the whole season, he had three goals and three interceptions, completed 18 passes for 243 yards, and rushed for 237 yards.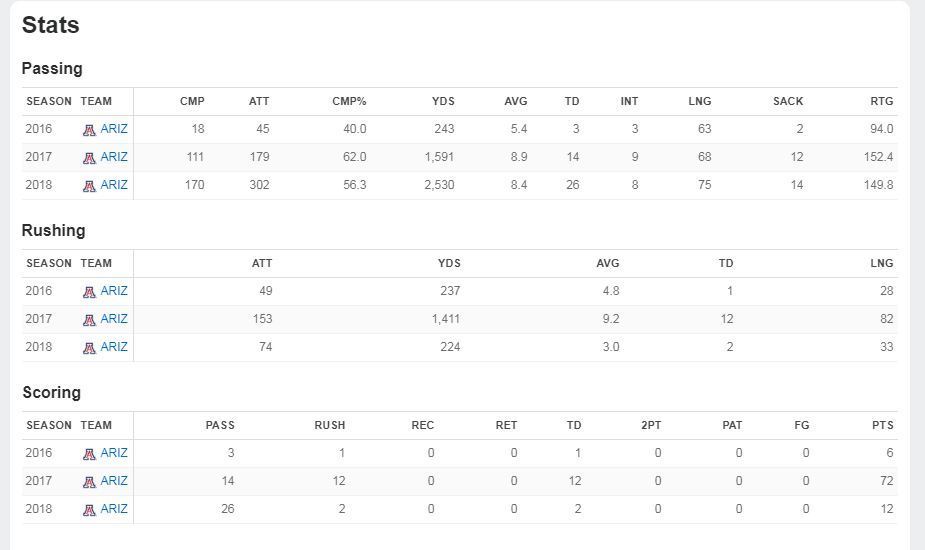 Khalil Tate's NCAA stat from 2016 to 2018 (Photo: espn.com)
Although he has been playing as a quarterback for more than three years now, Khalil's performance in 2018 was considered to be one of his weakest because of his injury. Due to his sprained ankle, he was unable to perform at his best throughout the season.
Transfer Talks
After a disappointing season in 2018 only scoring 12 points, it was speculated that Khalil would possibly leave NCAA and Arizona, either by transfer or entering the NFL draft.
Also From Arizona:- Jennie Finch's Married Life With Husband Gave Her Three Kids! On Her Way To Create An Athlete Family?
But, news about the transfer was nothing but talks. In December 2019, knowledge of Khalil continuing in the senior season came into focus. According to his team, Khalil will be seen in his former gear in 2019.
Since Khalil just began to shine in his career at the age of 21, any information regarding his salary and net worth is unknown.