Sports
Legendary Boxer and Cultural Icon, Muhammad Ali as a Father
From excelling as a glorious boxer, acting as the activist in rescuing his endangered cultures, to inspiring the million hearts, late Muhammad Ali has accomplished everything. To cap it all, The Greatest was also the winner when it came to playing his role of "The Father".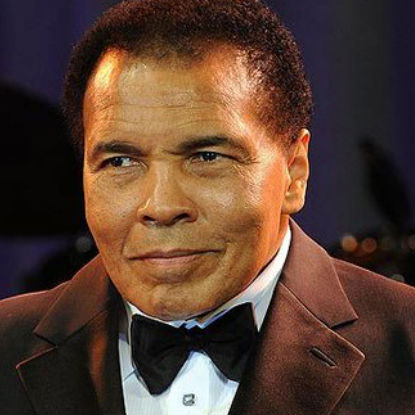 Quick Information
Relationship Status

Married

Eye Color

Black

Hair Color

Black

Hair

Short

Weight

6'3" (1.91 m)

Height/ How Tall? 6'3" (1.91 m)
High School

Central High School

Net Worth

$50 Million

Dating/Affair

No

Gay

No

Ex-Wife

Khalilah Ali (m. 1967–1976), Veronica Porché Ali (m. 1977–1986), Sonji Roi (m. 1964–1966)

Divorce/Split

Yes (Thrice)

Wife/Spouse

Lonnie Ali (m. 1986–2016)

Date of Birth B- 1942-01-17, D- 2016-06-03
Daughter/s

Laila Ali, Maryum Ali, Rasheda Ali, Hana Ali, Jamillah Ali, Khaliah Ali-Wertheimer, Miya Ali

Son/s

Ali Jr., Asaad Amin

Brother/s

Rahman Ali

Mother

Odessa Grady Clay

Father

Cassius Marcellus Clay Sr.

Ethnicity/Race

African-American

Zodiac Sign

Capricorn

Nick Name

The Louisville Lip, The Greatest, The People's Champion

Birth Name

Cassius Marcellus Clay Jr.

Profession

Professional Boxer

Birth Place

Louisville, Kentucky, United States

Nationality

American
From excelling as a glorious boxer, acting as the activist in rescuing his endangered cultures, to inspiring the million hearts, late Muhammad Ali has accomplished everything. To cap it all, The Greatest was also the winner when it came to playing his role of "The Father".
Having married four times in his life span of seventy-four years, Muhammad Ali went through rough patches in his personal life on numerous occasions. Muhammad Ali was the proud father of seven daughters and two sons, among which two are from extramarital relationships while one is adopted.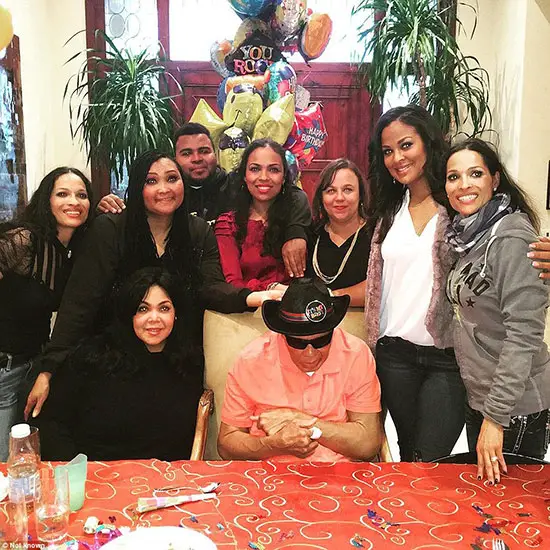 Caption: Ali with his children in his last days
Source: theson.co.uk
Sonji Roi, a cocktail waitress, became his first wife following their marriage on August 14, 1964, but their relationship hardly lasted two years as they reportedly divorced in January 1966 citing differences on religious perceptions. The couple didn't have any children together.
With Belinda Boyd (also Khalilah Ali), he was tied in the conjugal knot for around a decade and became the father of four children. Maryum Ali was the eldest of the siblings having born in 1968.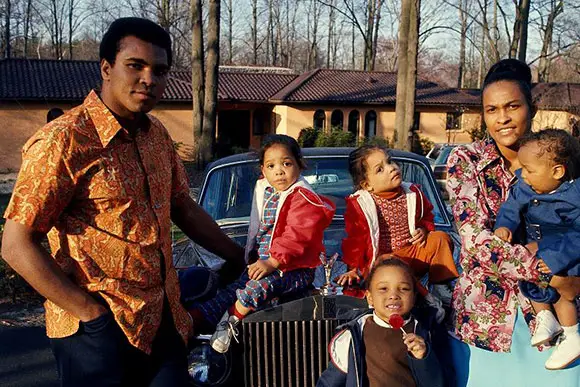 Caption: Muhammad Ali with Khalilah Ali and their children are photographed together.
Source: eurweb.com
Recognized by her nickname "May May," Maryum has successfully established herself as a rapper, Stand-up comedian, and actress. Mary has regularly stated that she have always covered her identity as Muhammad Ali's daughter and build her career on her own. She also explains to The Independent how good was Muhammad Ali was as a loving and caring father,
"He was actually so present. He made me feel like the most special girl in the world because he gave me so much attention to detail. His office was never closed. Every little scribble I did, he kept it in a box. He's got it down in his basement. He loved his children."
During the couple's stay in New Jersey, they were also blessed with twin daughters, Jasmillah, and Rasheda, who were born in 1970. They were followed by Ali's only biological son, Muhammad Ali Jr. in 1972.
However, Muhammad Ali and his son Jr. have always shared a bitter relation until legend's last days. The 43-year-old was quoted discussing his relationship with his father while talking to Dailymail, "In reality, it's like not having one (daddy). My Father can't do a thing for me; It's the same as not having one." He had been surviving with his poverty in Ghetto, alongside his wife and two daughters. However, it seems amends were made as Muhammad Ali Jr. showed up at his father's death-bed and also prepared an emotional poem dedicated to his father at funeral which reads,
 "This is a story about going to bury my father, Muhammad Ali. It's sunny not gloomy, as you can see. If he was alive he would say, 'Even the bees Love me. I must be the greatest. You see, Allah is with me. Right next to 'Float like a butterfly and sting like a bee.' Now I'm gone, and on my daily run. Here comes another one. Father's Day is a week away, so I'm going to take a moment to say, I know I'm early but Happy Father's Day! I love you."
After an affair of two years with Veronica Porche, an established model, and actress, Ali married in 1977 with Porsche, who had already given birth to first child, Hana, and was pregnant with Laila Ali at the time of marriage. Hana, who is also married to the Mixed Martial Artist Kevin Casey, have always heaped loads of praises of her father for the effective upbringing.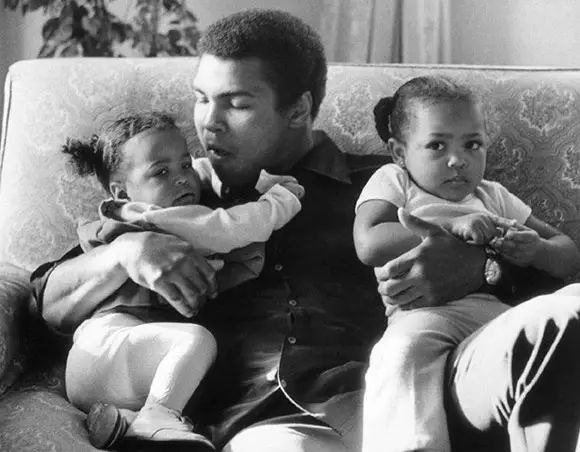 Caption: Ali with Laila and Hana during a photoshoot
Source: bongotimes.com
Talking to Independent, She said, "He loved us; he would tell us that all the time even with his sons he'd say, 'I love You, I love you, I love you.' He needed to hear it more than he said. He'd often ask, 'Let me hear you tell me you love me' over and over again. He needs to be loved, and he loved to loved."She has also co-authored "The Soul of a Butterfly: Reflections on a Life's Journey" with Muhammad Ali and is a freelance writer for CNN.
Laila Ali, the youngest daughter of Ali, is also a former professional boxer and was undefeated in her career. She also reflected on her father's caring attitude in Interview with Today, "He always put children first. His humanitarian work is about making sure kids have a brighter future." She added, "That's what I remember, just being kissed and hugged and him being the person that would give you anything you want because he wants to see a smile on your face."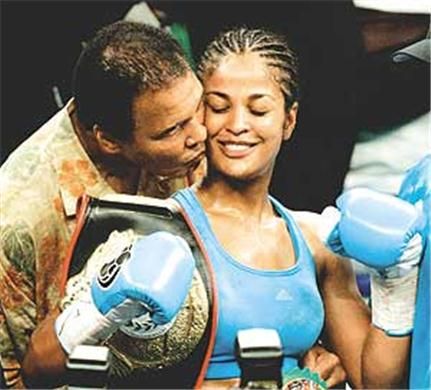 Caption: Ali congratulates his daughter Laila after her win
Source: time.com
Well! That speaks tons about what his children meant to him.
He, along with his wife Yolande "Lonnie" Williams, adopted the then five months old Asaad Amin, who have now grown up into a baseball coach. He has often talked about how Muhammad Ali used to influence him with his positive attitude. He even recalls going around for vanilla Ice cream and horror movies. Lonnie, too, talks about her husband and children's relation, "One thing that these kids never have to wonder about is are they loved."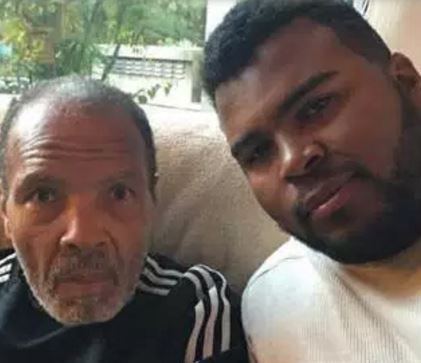 Caption: Ali and his adopted son Asaad Amin click a photo together
Source: Dailyentertainmentnews.com
Despite his infidelity issues and frequent marriage and divorces, he never let it impact his children's upbringing, by making sure everyone's demands were met, and everyone knew each other that included his children from his extra-marital affairs: Miya and Khaliah.despite his hectic schedule, he always managed to have dinner with his children. He would also amuse his children with his acute sense of humor. He never let his success of ring come in his way of raising his children.
With $80 million worth of property, that Ali left behind, waiting to be divided into nine halves, the fear of legal battle between the offsprings looms around. Recently, Kiiursti Mensah-Ali, his reported daughter from Barbara Mensah, Ali's girlfriend for twenty years, has been making the headlines. She reveals that Muhammad Ali would often visit her at their home in Houston. Although the authenticity of their relation is yet to be known, it still speaks for Ali caring his off springs. Muhammad Ali was always there for his children, and they were there for him too, surrounding him as he breathed his last on June 3, 2016.
His children paid tribute to him in different manners following his death. The gratitude that reflects on their tributes points out a common statement: Muhammad Ali was a great father.
His Children bade him Farewell: