Sports
Shane Larkin's Stats and Contract As Reflection To His Hard work
Leaving behind the possible career in baseball to try his hands on basketball should be one of the wisest decisions that Shane Larkin took in his life. Born in the family of star athletes, Larkin plays as a point guard for the Boston Celtics, who signed the contract as a free-agent in last year's July with the Celtics. 
Amidst the cutthroat competition that prevails mostly in the sports world, to retain one's position in the team requires much more than just talent and skills. And by the looks of Shane Larkins' career stats by far, his dedication and hard work have paid him off just right. 
So, today, let's take a detailed look at his stats and find out how has Larkin been doing so far!
Shane Larkin's Budding Stats And His Current Contract:
Shane Larkin, better known as "Sugashane," first played basketball for Dr. Philips High School in Orlando, Florida, and Shane's stats were decent since the beginning of his career as a basketball player.
Larkin, in his senior year, had 18.8 points, 6.4 rebounds, 6.3 assists and 3.5 steals per game. By the time he was at the end of his high school career, he had school record of 320 steals.
Later, when Larkin got transferred to Miami Hurricanes, the university arguably had the best team in the history. Moreover, Larkin even outperformed playing against the then number one ranked University with 18 points, 10 rebounds, and 5 assists, as the Miami Hurricanes blew out Duke by 27 points.

Shane Larkin's stats while playing for Miami Hurricanes (hurricanesports.com)
However, Larkin's career took a leap after he got selected by Atlanta Hawks and was traded to Dallas Mavericks during the 2013-14 season, where he made his NBA debut recording 3 points, 3 assists, and 3 steals. Larkin scored a career-high 18 points in a 110–107 win over the Phoenix Suns, earning points for Mavericks.
Similarly, he recorded 15 points and a career-high 11 rebounds when he played for New York Knicks, one of the two original NBA team. During July 2015, Larkin signed a contract with Brooklyn Nets, where he attained career-high six rebounds and 14 assists off the bench and even had career-high 20 points as a starter which glisters on his stats.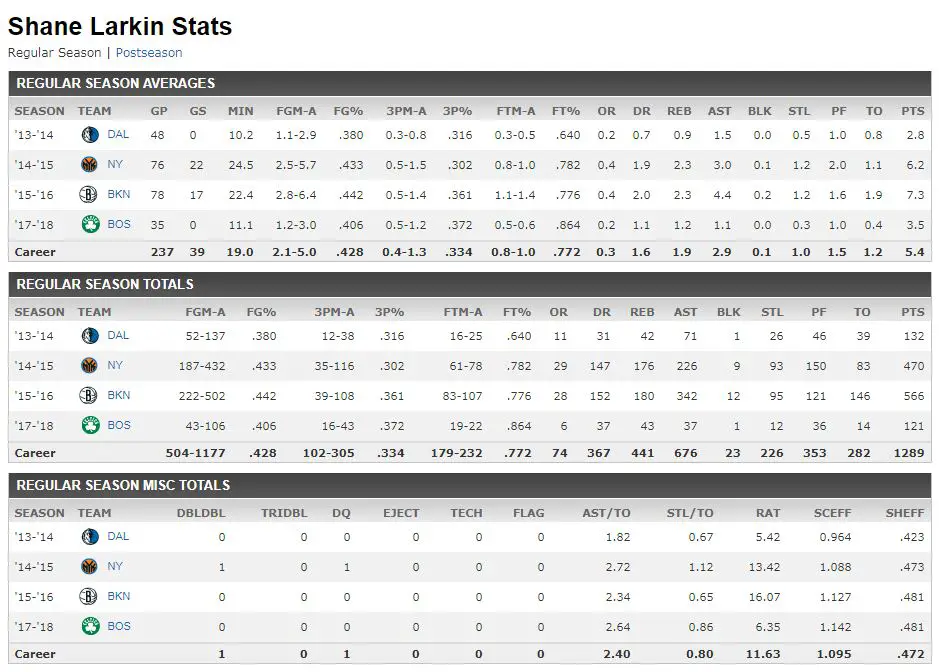 Shane Larkin's career stats from 2013 to present (ESPN)
Moreover, the very next year, Larkin was signed off to Baskonia, where he was named the player of the month in the Spanish league back in February 2017. On July 31, 2017, Larkin agreed to $6.3 Million offer that marked his comeback to NBA signing the contract with Boston Celtics.  Meanwhile, Larkin enjoys the salary of $1,524,305 being the 12th best-paid player of Boston Celtics.
Larkin shines in his career as he follows Barry Larkin's footsteps, the former Cincinnati Reds 12-time All-Star shortstop, Hall of Fame player and his father. Additionally, despite playing as a point guard, Larkin's ability to dunk is impressive too. 
Rookie Shane Larkin's dunk (Published on Jun 6, 2013)
Shane "Sugashane" Larkin's Bio:
Shane Larkin got his nickname "Sugashane" from Deion Sanders, an American football, and baseball player, who was his favorite athlete while growing up. Shane comes from a long lineage of athletes, including his father and his uncles.
Larkin was born on October 2, 1992, to parents Lisa and Barry Larkin. He shared his childhood with a sister, who goes by the Instagram name "iamcymcole."
Larking indeed loves his sister and is proud of her achievements, as made evident by his post on Instagram where he wished her on her birthday on June 2017.  
Shifting lights from his family, back in 2013, when Atlanta Hawks drafted Shane, he was rumored to be dating a young lady Priscilla Miranda. Larkin was seen celebrating with his girlfriend after he was drafted.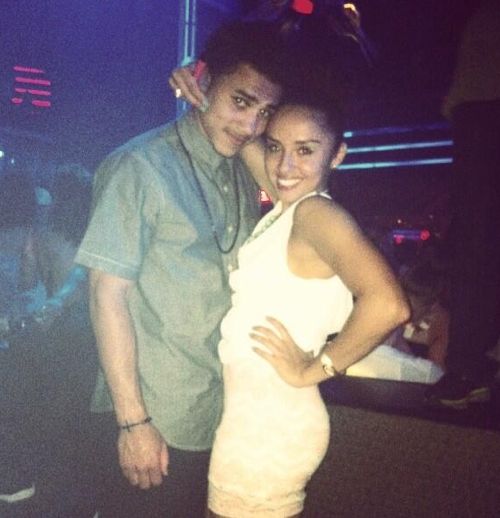 Shane Larkin and Priscilla Miranda (larrybrownsports.com)
However, that is all we got to hear about his girl as he has not spoken anything about his love life nor has been spotted with her since then. 
Think we're missing something? Do let us know in the comment section below!