Sports
Vikings' Stefon Diggs Injury Details, Stats, Contract, Net Worth
NFL player Stefon Diggs is the wide receiver of Minnesota Vikings. He is responsible for some historic win for the team, including his game against the Saints on 15th January 2018, where he scored the game-winning touchdown.
Furthermore, he has been progressing financially along with more significant feat on the field. So, let's take an in-depth look at his career stats along with the economic prosperity that the NFL has bought him.
Contract,Career Stats & Salary
Ever since Minnesota Vikings first drafted Stefon in 2015, he has been earning impressive figures. Judging by his contract with Vikings in 2018, he has received substantial raise for the upcoming seasons.
While he earned a base salary of $1,907,000 as per the 2019 contract, the NFL icon is guaranteed a salary of $10,900,000 with a $1 million raise starting from 2021.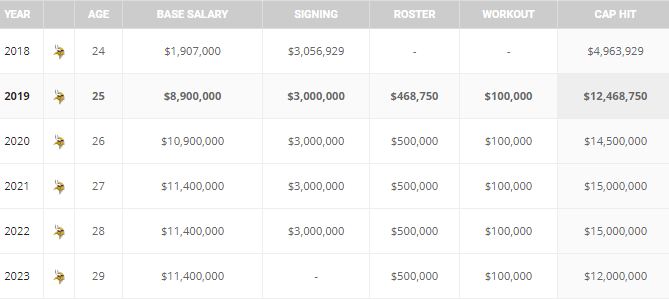 Salary of Stefon Diggs as per his contract with Minnesota Vikings from 2019 to 2023 (Photo: spotrac.com)
Moreover, he will be receiving an incentive of $ 9 million while earning $31,250 per game. So, there's no denying that his net worth will show figures in million once it's verified.
Career Stats, Injury
His financial worth doesn't come as a surprise considering his performance in the NFL. Ever since his rookie year in 2016, he secured the fifth rank as the NFL wide receivers with a 75 percent catch rate.

Career Stats of Stefon Diggs from 2015 to 2019 (Photo: spotrac.com)
However, during the athletes game against Seattle Seahawks on 2nd December 2019, he almost lost the game along with complications in his health after he reportedly suffered an injury.
What's Xavier Rhodes Injury Update? :- His Stats, Contract, Net Worth
Thankfully, the game ended in a tie of 17-17, and information came into light that Stefon was doing fine and hasn't suffered any significant injury.
Relationship Status, Daughter
As of today, Stefon isn't a married man, but he has already stepped towards parenthood. Along with his ex-girlfriend Tyler Marie, he shares a daughter who was born in 2016.
Although the two broke off following the birth of their daughter, there were speculation in 2018 about their reconciliation. After all, his ex was spotted along with his daughter, spectating his season-opening game on 9th September that year.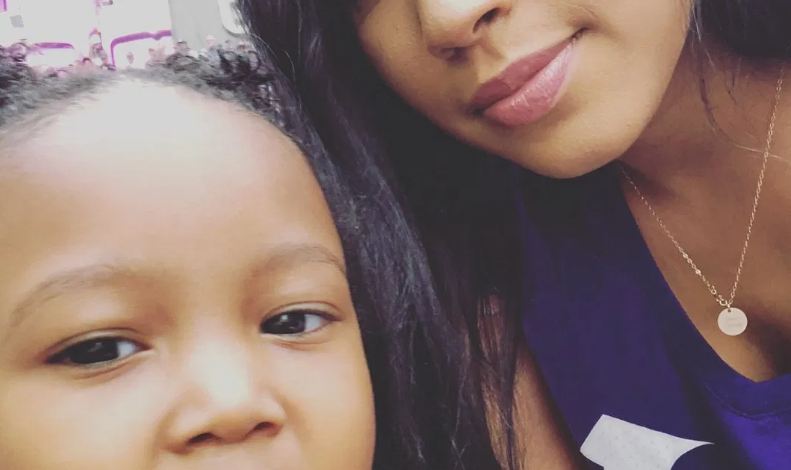 Stefon Diggs's daughter and ex-girlfriend Tyler Marie as pictured together on 2018 (Photo: sportsgossip.com)
But the rumors turned out to be untrue as in 2019 the footballer started dating actress Tae Heckard. However, his relationship with Tae was very shortlived as the two separated by September the same year.
Footballer Kyle Walker's Girlfriend :- Dating Life, Kids, Parents
As per barstoolsports.com, Stefon was the one who broke off as he reportedly wanted to keep his options open during the 2019 Season.
Facts Relevant To Stefon Diggs :
Stefon can be seen donning jersey number 14 of his team Minnesota Vikings.
He attended college at the University Of Maryland, whereas he did his schooling at Good Counsel High School.
His brother Trevon Diggs is a footballer as well and won the National Championship at Alabama in the 2018 season.
The player brought in 4 fantasy points by week in the 13th week of the 2019-20 season.
His father, Aron Diggs, lost his life to congestive heart failure in 2008.