Sports
Stephen Strasburg Contract Update & Recent Stats | What's His Salary?
Winner of the World Series MVP Award in 2019, pro pitcher Stephen Strasburg is making headlines once more !!
With a record-making deal in 2019, Stephen agreed to a seven-year addition to his contract with the Washington Nationals on 9th December 2019. His new contract yields a sum of $245 million and averages out at a salary of $35 million per season.
Stephen's deal broke two of the previous records; the first was the total amount of sum committed to a pitcher. Previously, the value was $217 million, $28 million less than the new record.
As for the average annual income, the record was held by Zack Greinke at 34.4 million - which is now broken by Stephen Strasburg. Taking Stephen off the market became the most significant news on the annual Winter Meetings for the MLB in 2019.
Recent Stats & Stephen's Previous Salary
The pro pitcher's efficiency on the field needs no boasting. In short, he has had an excellent season in 2019.
Also A Professional Player:- Michael Cooper's Wife and 4 Children: Family of Six, Residing in $1.1 Million Worth House
With an 18-6 win-loss record and a 3.32 ERA (Earned Run Average) in 33 starts and 209 innings, Stephen was off to an excellent start. In the following post-season, he went a complete 5-0 victory with a 1.98 ERA making his stats even more remarkable.
Stephen Strasburg's now-renewed contract was previously worth $175 million over seven years from 2017-2023. Now, with a new contract signing, he is officially with the Nationals until the year 2026.
Family Details: Wife & Kids
Former college sweethearts, Stephen met wife Rachel Lackey at the San Diego State University - where both his mother Kathleen Swett and father Jim Strasburg went.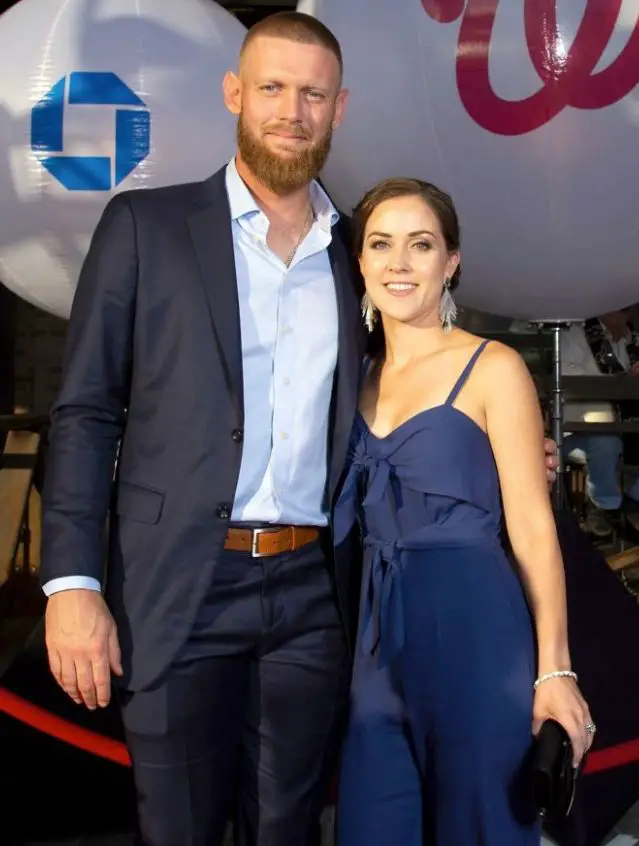 Stephen Strasburg with wife Rachel Lackey on 26 March 2019 at the home opener of Washington Nationals Dream Foundation (Photo: georgetowner.com)
The two soon began dating and eventually got engaged to one another. Stephen proposed to her roughly around 18 months after the two had started seeing each other.
Soon, Stephen and Rachel held a small wedding at South Coast Winery near San Diego on 9th January 2010.
Another MVP In Baseball:- Christian Yelich Dating, Family, Net Worth
Together the married duo has welcomed two kids. Both daughters, his eldest named Raegan was born in October 2013, while his youngest was born on 25 April 2017.
Interesting Tid Bit On Stephen, Bio Details
Stephen joined the MLB scene through the Washington Nationals in the year 2009.
He was born in San Diego, California, on 20th July 1988.
The pro pitcher stands at a height of 6 feet 5 inches (1.93 m).
Stephen has had multiple injuries throughout his career. The one considered to be his worse injury is on 21 August 2011, tearing his ulnar collateral ligament. He was officially out of the competitive scene for 12 to 18 months.
In his college years, he struck out 23 batters in a college game. He did the same in the major league setting a record of 14 strikeouts in his debut on 8 June 2010.