Sports
Sue Wicks: Pioneer in WNBA to Come Out as Lesbian. Amazing Career as Player and Coach
A former woman's basketball player or say pioneer in WNBA has revealed one of the important facts of her life. Yes, she had a short career in WNBA but she couldn't hide a fact that she is a lesbian.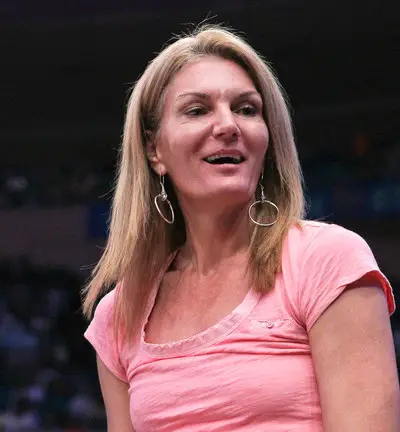 Lesbians, or more appropriately proud lesbians, running around the court with basketball during WNBA matches has become such a common sighting these days. As we delve into the history, we will realize that the commencement of this "coming out of the closet" dates back to the time when this lady demonstrated guts that never seen before .
Caption: Wicks during her playing days
Source: newsday.com
The women we are talking about is none other than Sue Wicks, who was inducted into Hall of Fame in 2013. Former New York Liberty player Sue Wicks, who retired in 2002, is the first active WNBA player to admit the fact that she was gay.
In an interview with the weekly magazine, Wicks was asked whether she was a lesbian.
"I am," she said. "Being from New York, if you're gay, you're gay. I think it's important that if you are gay, you not be afraid to say who you are."
In the interview, Wicks told Blige Ebiri of Time Out that she usually does not like to answer questions about her sexual orientation.
"You worry the issue might become so much bigger than the sport," she said. "As an athlete, it's a little annoying when that becomes the point of interest. But I would never avoid that question, especially in New York."
The veteran has also spoken up urging the younger generation to raise their voice.
"I can't say how many players are gay ... but it would be easier to count the straight ones. I'd love to see a couple of women profiled, too, especially if they had a great, solid relationship, just to show that in a positive light."
Wick's celebrated playing career:
Wicks has played only for six years in WNBA for New York Liberty but has spent more than 15 years playing professional overseas. Wicks started her career at Rutgers University from 1984-1988 and finished as school's all-time scorer. She was Kodak All-American player on three different occasions 1986, 1987 and 1988. She was named player of the year Atlantic 10 Conference winning the Atlantic 10 Tournament MVP award three years in a row (1986-88).
In 1988, Wicks was named Naismith Player of the Year, U.S. Basketball Writers Association Player of the Year, Women's Basketball News Service Player of the Year, and Street & Smith's Player of the Year.
Sue Wicks then played for NY Liberty since 1997 to 2002 and was named in 2000 WNBA All-Star team, and she also won Kim Perrot Sportsmanship Award in the same year. All in all, she finished WNBA career with 823 points, 182 assists, 788 rebounds, and 158 blocks. When she retired, she was ranked 8th in the WNBA in career shots blocked. Wicks was also a member of the Pan American Games team which captured gold in 1987. Wicks was inducted into the Rutgers Hall of Fame in 1994.
Wick's Coaching Career:
Wicks couldn't keep herself away from the game. After she retired from professional basketball career, Wicks formed an all-girls basketball camp in NY. She was hired as the Coordinator of Operations of the Rutgers women's basketball team and the following year, she was already the assistant coach of the team.
Wicks was also inducted into the Hall of Fame in 1994 of Rutgers Basketball Team and also University's Hall of Distinguished Alumni in 2005. She had her jersey retired from Rutgers women's basketball team which is a biggest compliment and tribute to any player. In July 2006, Wicks joined Saint Francis College in New York as Assistant Coach.
Moreover, she is best known as one of the most celebrated players in WNBA. She had a legendary career both as a player and as a coach. Along with her career, she has been fighting over lesbian's rights and is famous in the US as well as worldwide. She is currently associated with various colleges as a basketball coach.